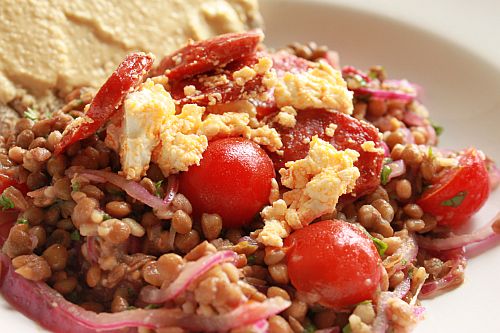 Lentil, red onion, cherry tomato, chorizo and (paprika dyed) feta cheese salad
We had bought some Chorizo for our 'Baked' Haddock yesterday, in the knowledge that we would probably get around 3 meals out of the 225g M&S packet.  Which is good, as it set us back nearly €5.00.
This Chorizo is made in Spain and claims that it's from 'The Farm…' which is rather ambiguous, in truth.  It does say on the packet that it's from M&S assured pork from farms within Spain.  Not as much information as I'd like about my meat but it's something at least.
We've been becoming very fond of Chorizo of late after it single-handedly made a whopper of a dish of our Paella so I'd really like to find a good producer of it in Ireland – if there's such a thing – or at the very least a good supplier of the yummy stuff.  I might take a walk over to Magill's over on Clarendon Street (Dublin 2) or check out some of the meat stands at The Meeting House Square Market and see if I can find any chorizo enthusiasts.  Because it don't half help to add flavour to things.  Phwoar.
What you need for Lentil, Red Onion, Chorizo and Feta Lemony Salad for 3
I made this salad for two Chorizo enthusiasts and one vegan.  If you're cooking for vegans too just follow all the instructions but leave the last step (adding the chorizo and feta) out
300g puy lentils OR 2x400g tins of puy or green lentils
1 red onion, chopped in half then thinly sliced into half-moons
A good handful of cherry tomatoes, halved

1 lemon
1 clove garlic crushed
50g chorizo, thinly sliced
50g feta cheese, crumbled
Good bunch of parsley – let's say 2 tsp chopped – finely chopped
Good bunch of coriander, finely chopped
Start by marinading your red onions in a big bowl with the juice of 1 lemon.  To this, add your crushed garlic clove and your cherry tomatoes.  Leave to marinate for ten minutes.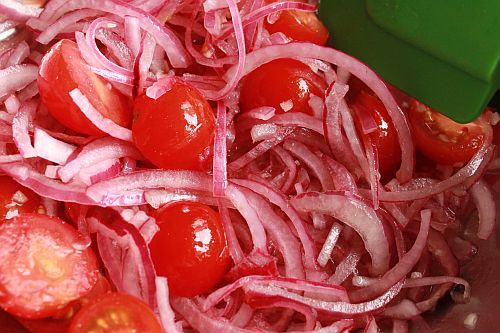 Meanwhile, you can cook your Puy Lentils according to the packet.  They don't take longer than 15 minutes  so it's not too bad.  Or you can use tins, like I did, which are absolutely fine.  Just be sure to wash them out in a colander first as some times they tend to be a bit starchy.
If you're using Chorizo, it's time to pop the chorizo slices into a pan over medium-heat and dry fry them.  The oil the hot chorizo releases is all that's needed to cook the  yummy stuff.
Once your lentils are ready, add them to the big bowl with the onion marinade and mix everything together.  Now add all your lovely herbs, and season well with salt and pepper.
Divide between bowls and place over the non-vegan/vegetarian a sprinkling of hot chorizo and a crumbling of feta cheese.
You can serve it with an extra slice of lemon, in case anyone prefers their salad with a bit more zing.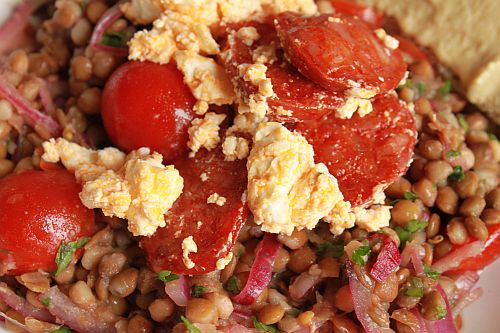 TUNE
Nouveau Noise are an electronic two piece from Dublin and they're pretty amazoballs.  They are releasing their debut album this Friday night in The Academy 2 but they are also playing tonight (30/6) at the Twisted Pepper for HWCH 2010 launch party.  Whoop!  Here's their track Cinnte.