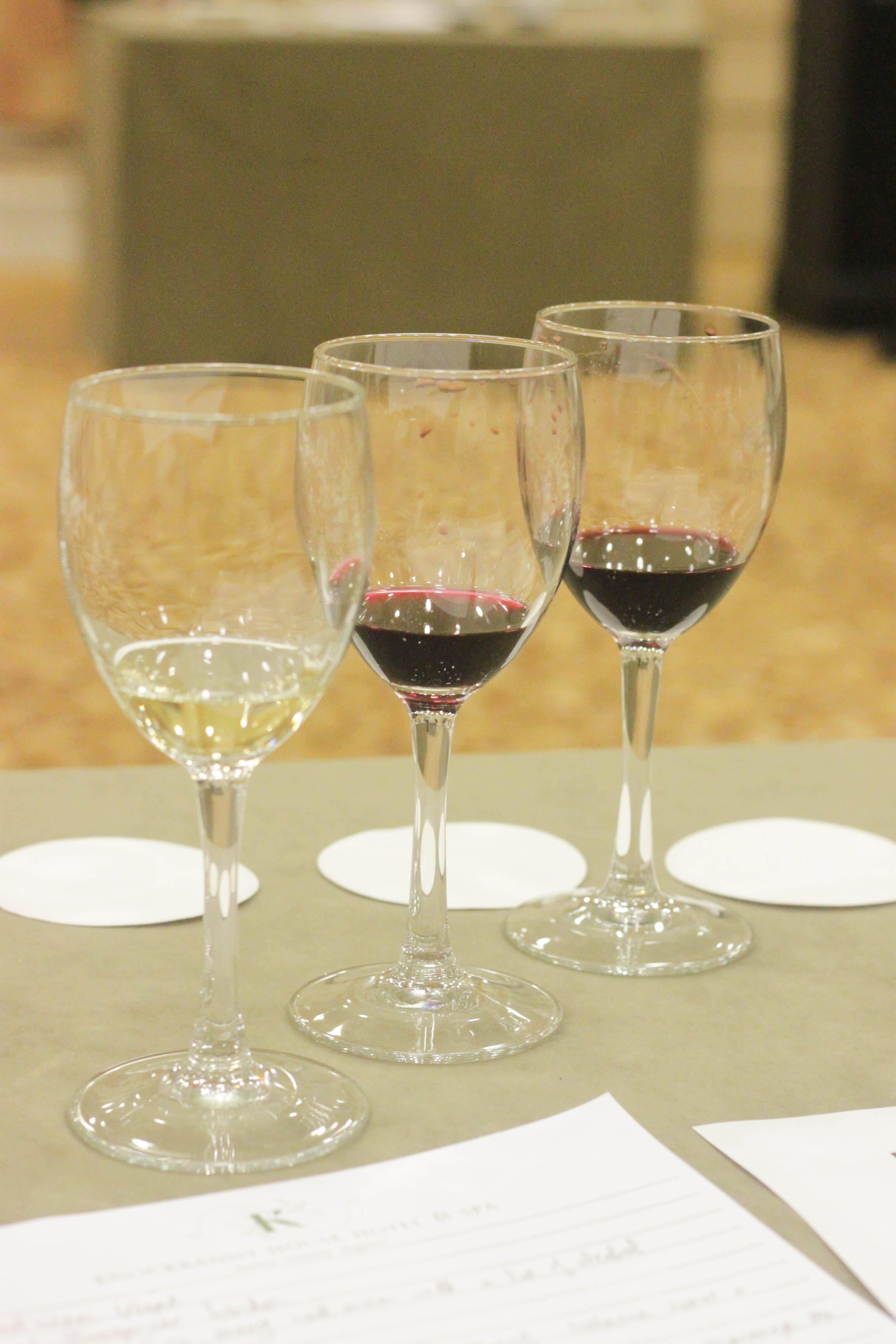 There's an amazing scene in Chris Morris and Charlie Brooker's TV show Nathan Barley when Dan Ashcroft is asked what are his Top Five Supermarket Wines in an excruciating job interview. His clutching-at-straws-answer is "French… Italian… Spanish… um… Dutch… Southern French…"
When people ask me what are my favourite wines, my own answer is not totally dissimilar to Dan's. I tend to say something along the lines of "Umm…red wine?". Which is, upon reflection, a much crummier answer than Dutch wine.
So when I was invited by Host PR to review Knockranny House Hotel & Spa's Wine Weekend, it wasn't just the allure of a complimentary stay in a beautiful hotel that had me packing my bags for Westport. The potential to educate my palate and to pick up some new wine adjectives – how many times can one describe a wine as "fruity" without feeling a fraud? – was too enticing to decline.
The Wine Producers' Weekend (in association with wine importers Cabot & Co) ran over this weekend (the 27th and 28th of January) and is not the first of its kind at Knockranny. The packages available were €135 per person sharing for one night, or €189 per person sharing for two nights, which included tutored and blind tastings and wine masterclasses from selected European wine producers during the afternoon of the 28th. It also included an especially designed Tasting Menu in La Fougère, as well as breakfast in the same beautiful dining room.
I was not only lucky enough to be invited down for a complimentary trip, but I was also allowed to bring a guest. Aoife Barry was the delightful company I chose for the quaffing trip and we signed ourselves up for two masterclasses, hoping that we would return from Westport with some impressive wine knowledge. And vocabulary.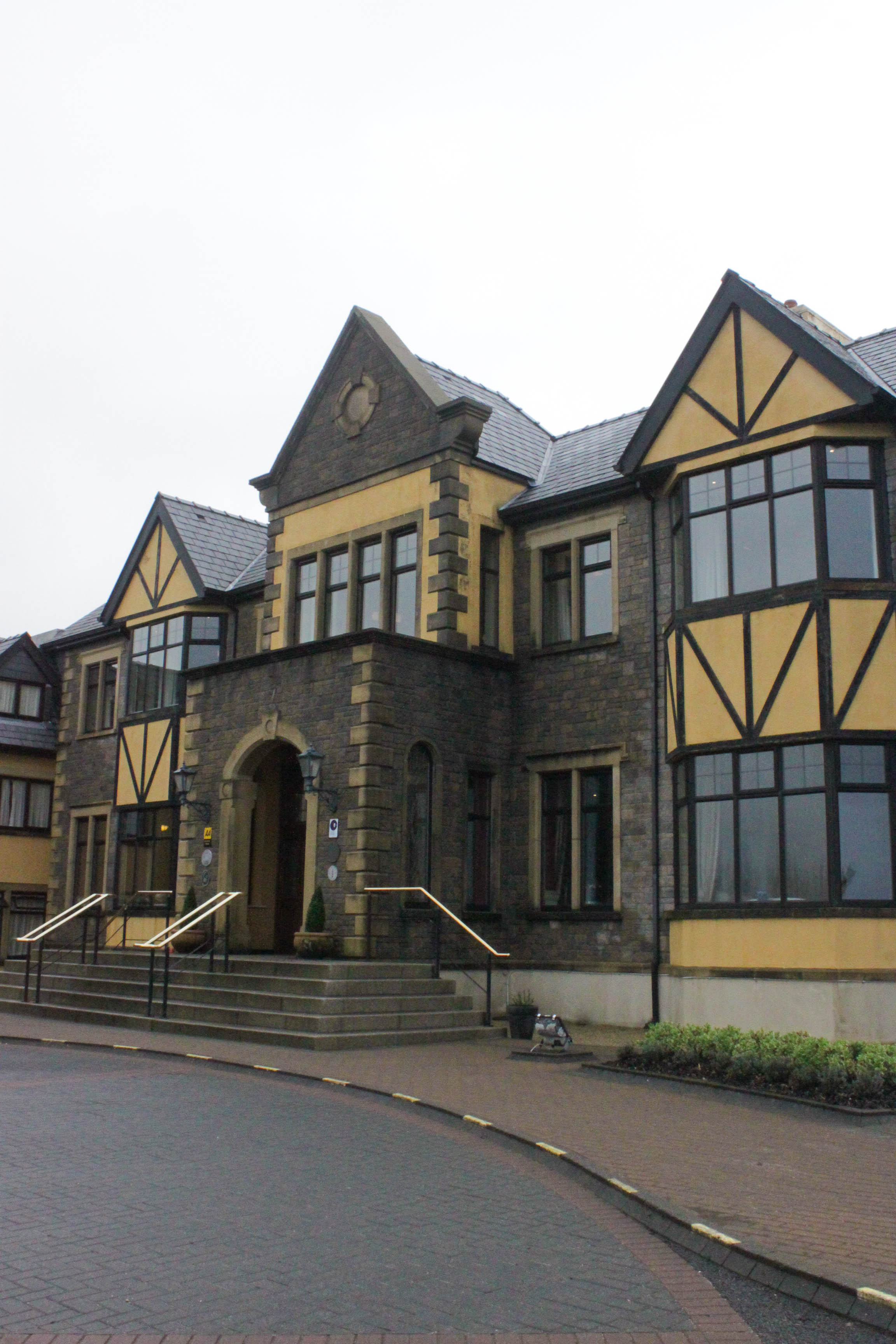 Knockranny House Hotel & Spa sits upon a hill about a ten minute walk from Westport, overlooking the town and out towards Croagh Patrick. Even on the maudlin, drizzly day we arrived you could still make out Clew Bay opening up into the Atlantic Ocean, making for a rather impressive driveway.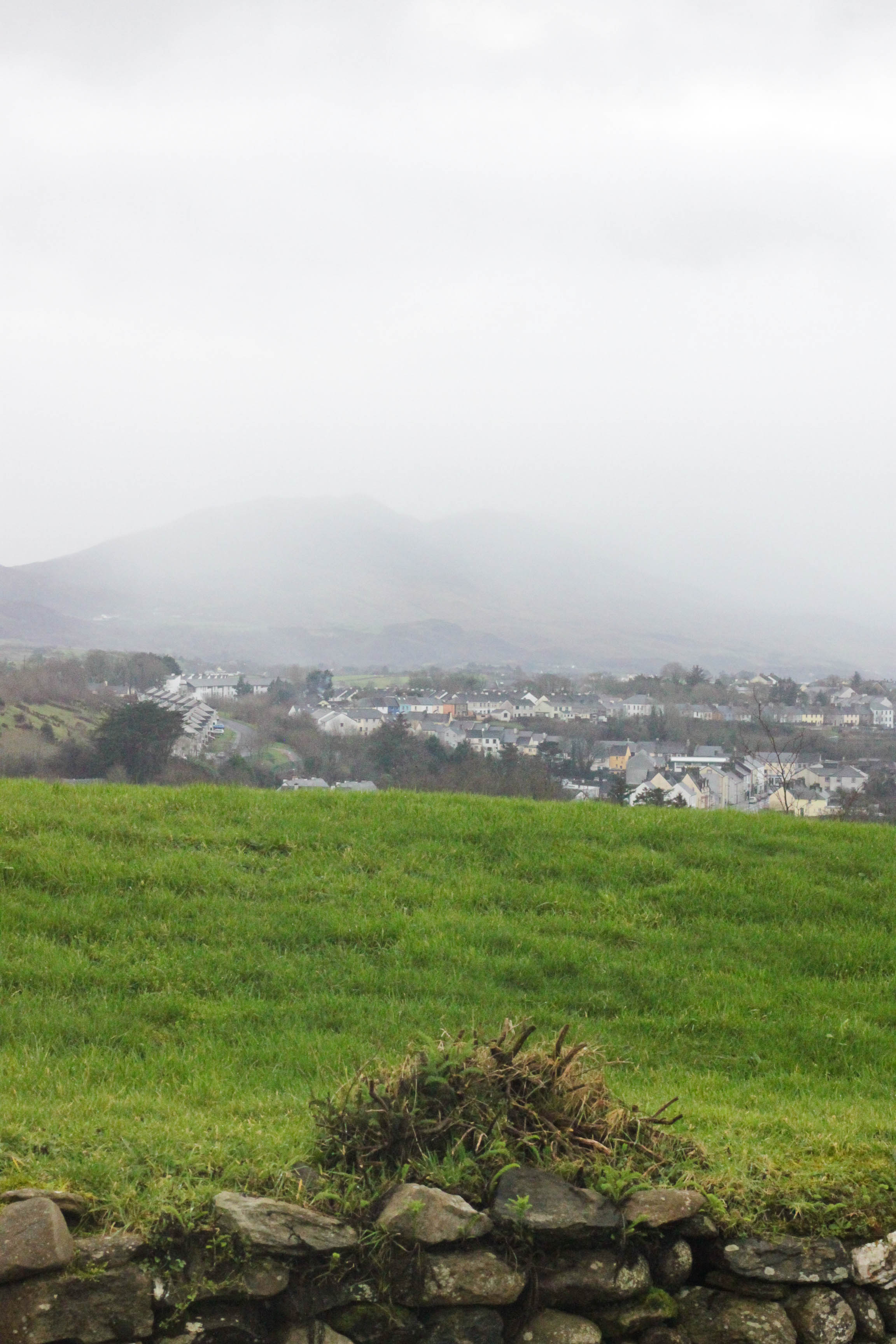 The facade of the hotel is deceptively pedestrian. From the outside, it's far more understated than the rooms we found ourselves in and doesn't denote the exceptional service that we enjoyed throughout our stay.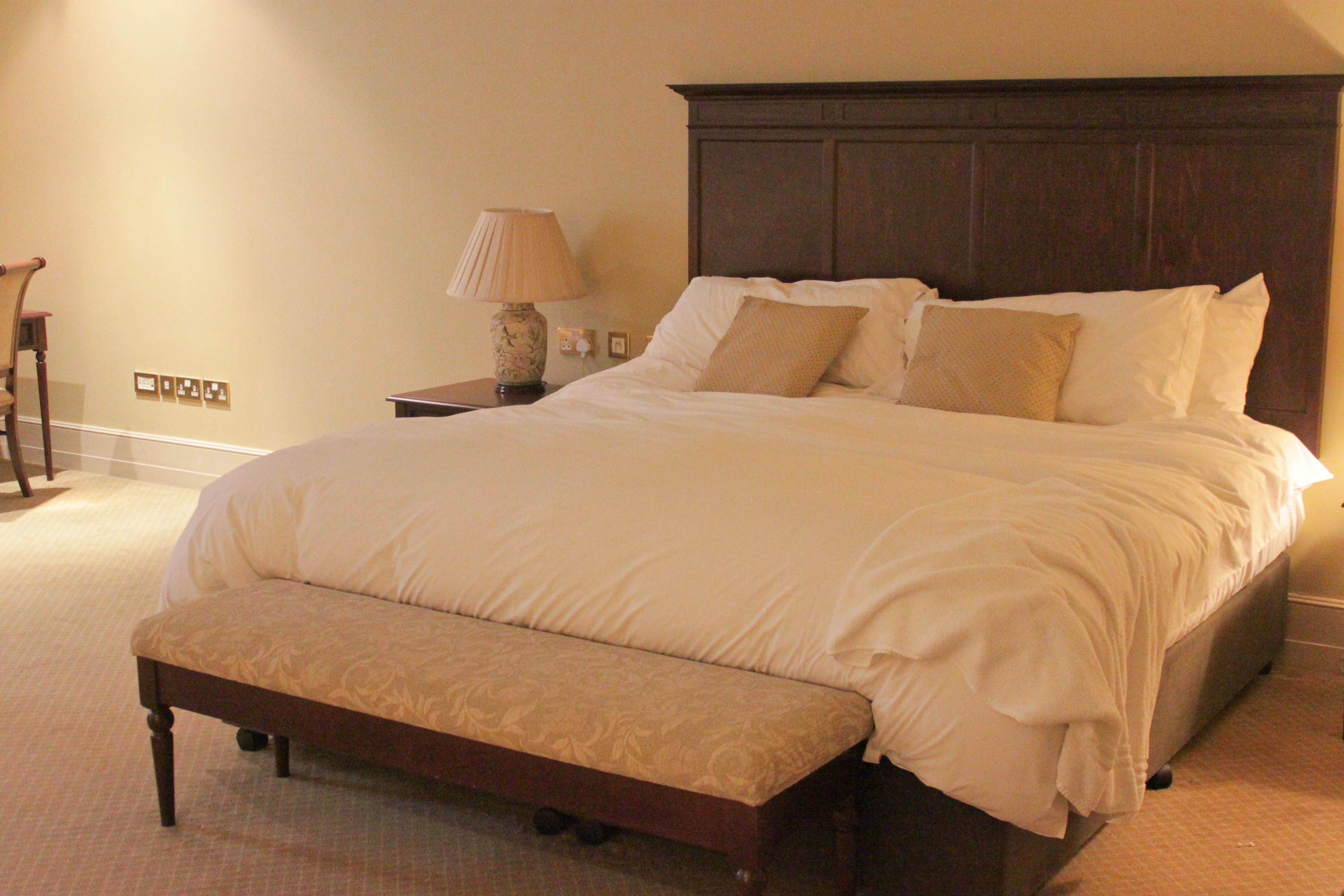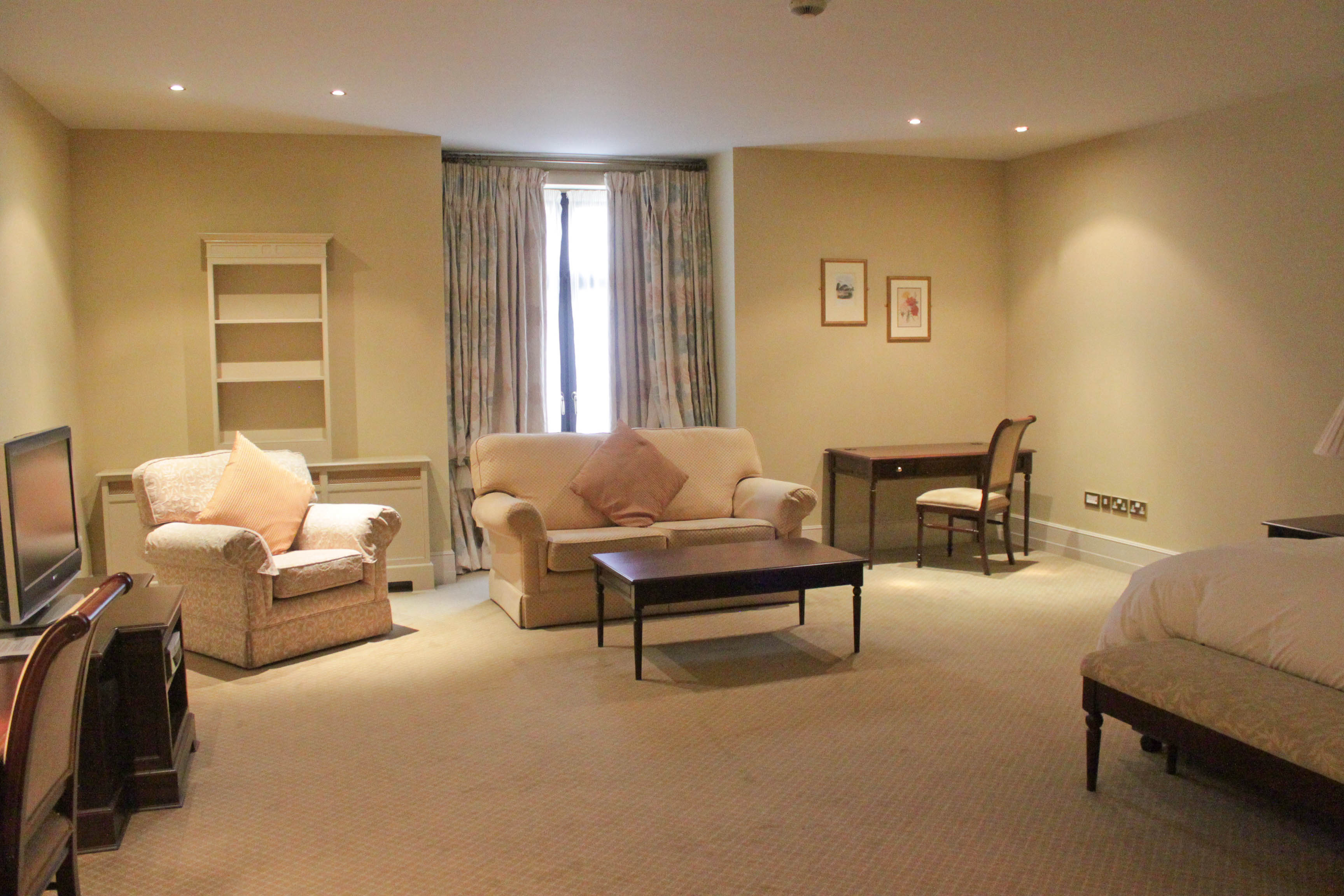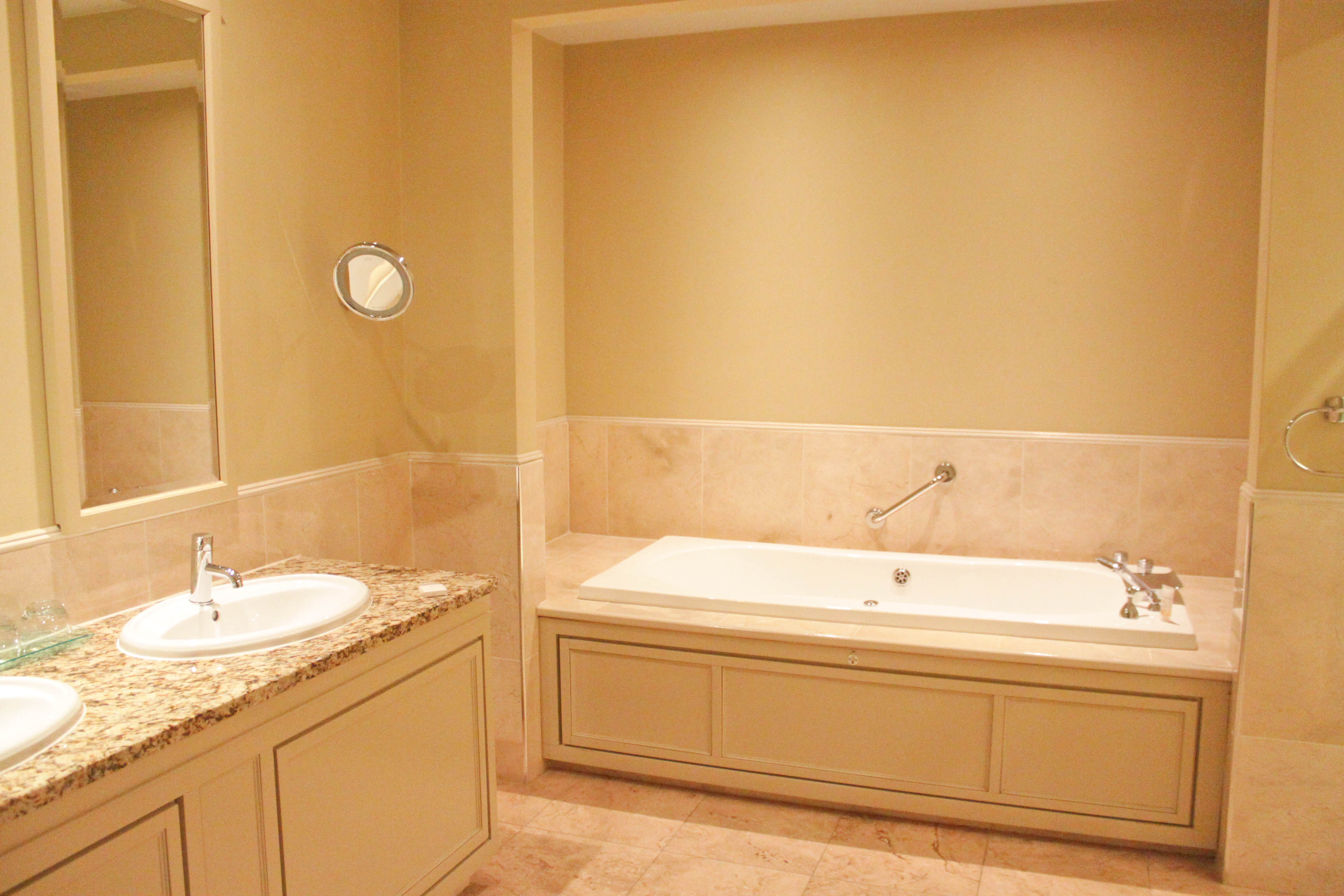 (Yup, I took photos of the bathroom. It was too amazing to not snap.)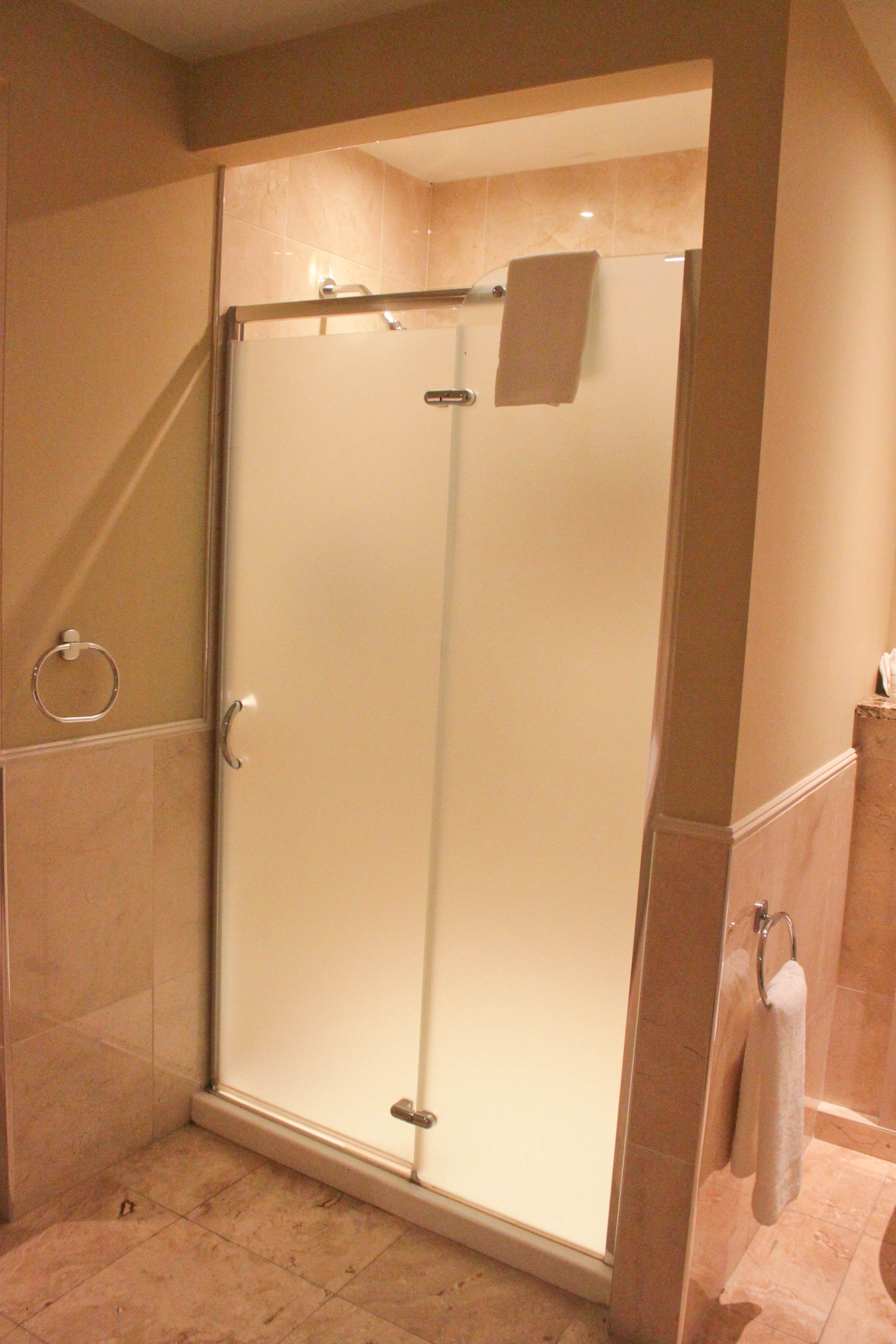 After dumping our stuff in our rooms upon our arrival on Saturday afternoon – and doing a giddy dance at the plumpness of the pillows and the refinement of the restrooms – we headed for the Cocktail Lounge of the hotel, where the wine tastings were to begin at 3pm. Seven outstanding wine producers were set up in the lounge, their bottles (with prices ranging €10 and €35) ready to be tasted and our questions ready to be answered.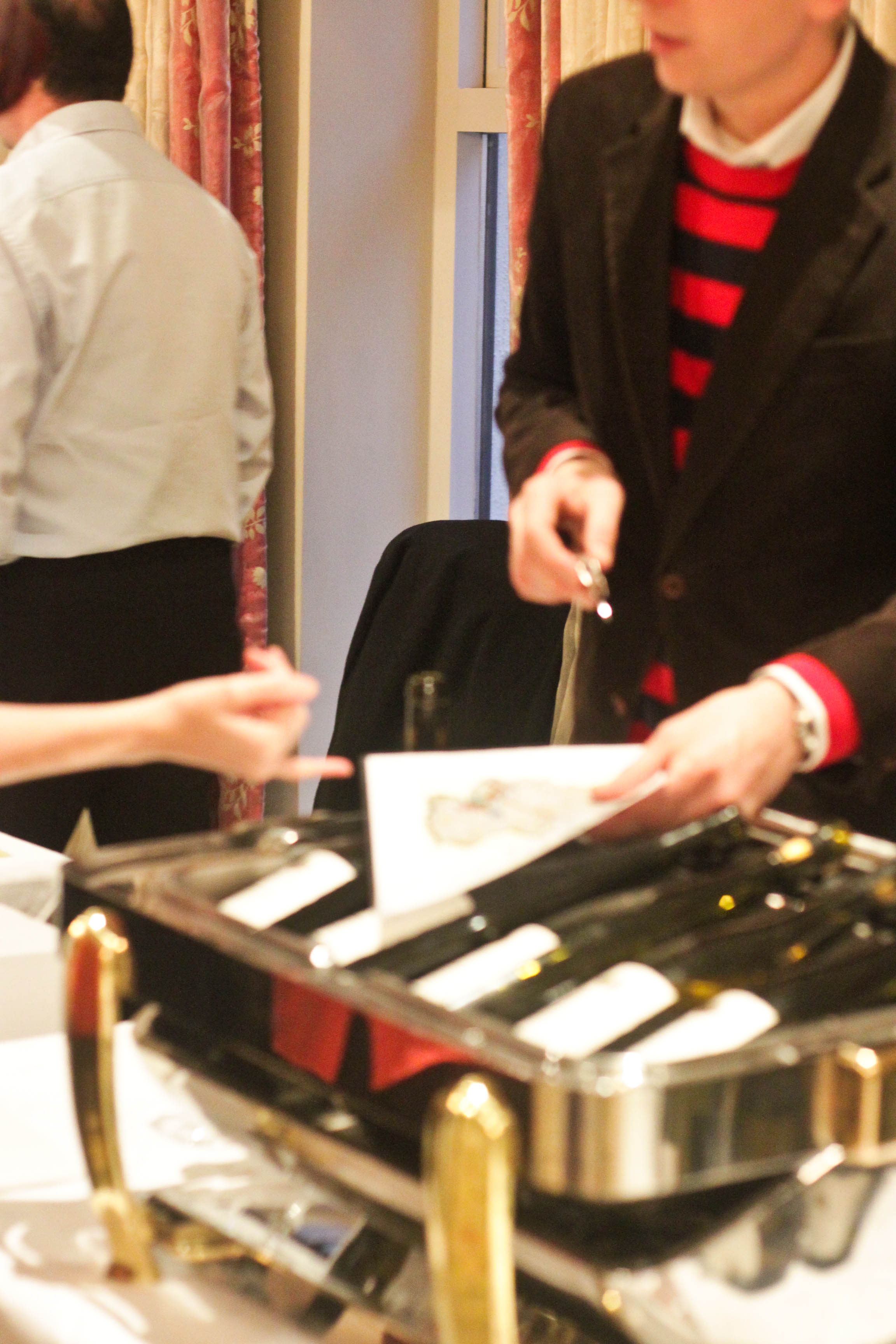 There were a total of four masterclasses running throughout the day. The first was with Emmanuel Guillot-Broux of Domaine Guillot-Broux about organic winemaking, followed by the class about the rise of Reisling with Gregor Breau of Weingut Kunstler, the third  hosted by Paolo Masi of Fattoria di Basciano in Tuscany and Renato Vacca of Cantina del Pino (whose dazzling Barbaresco must get special mention as my wine of the weekend) about the diversity of Italian wine, and the final class of the day concentrating on Austrian's Blaufrankisch wine hosted by Roland Velich of Moric.
Myself and Aoife went for the first and last of the classes, kicking off our day with a twenty minute session listening to the affable Emmanuel Guillot-Broux about organic wine. Not only did we learn about the process of producing organic wines in this family-run vineyard, but we heard the differences between organic and bio-dynamic, and the importance of terroir or, more simply, the land wine is produced on. Plus, we got to taste four of his stunning wines, my favourite of which was the intricate 2003 La Moyette Bourgogne Pinot Noir.
The class led by Roland Velich of Moric also touched on the return of an emphasis on terroir for wine lovers. It seems the wine market has been moving away from highly industrialised wine production where wines from all over the world can taste basically the same, and people's taste for the unique is growing at a great speed. The Austrian variety of Burgenland's Blaufrankisch is causing a stir in the wine world for rivaling the best of the best of red wine. We had a taste of three varieties, including a white, and were particularly taken with the rich, blueberry flavours of the deepest red, which goes by the name of the Moric Blaufrankisch.
Although I still have a lot to learn about wine, I can certainly relate to the passion of the wine producers I met over the weekend. There was lots of talk of terroir and locality and authenticity, which are the qualities that I respect in the passionate artisan food producers I've met around Ireland and beyond.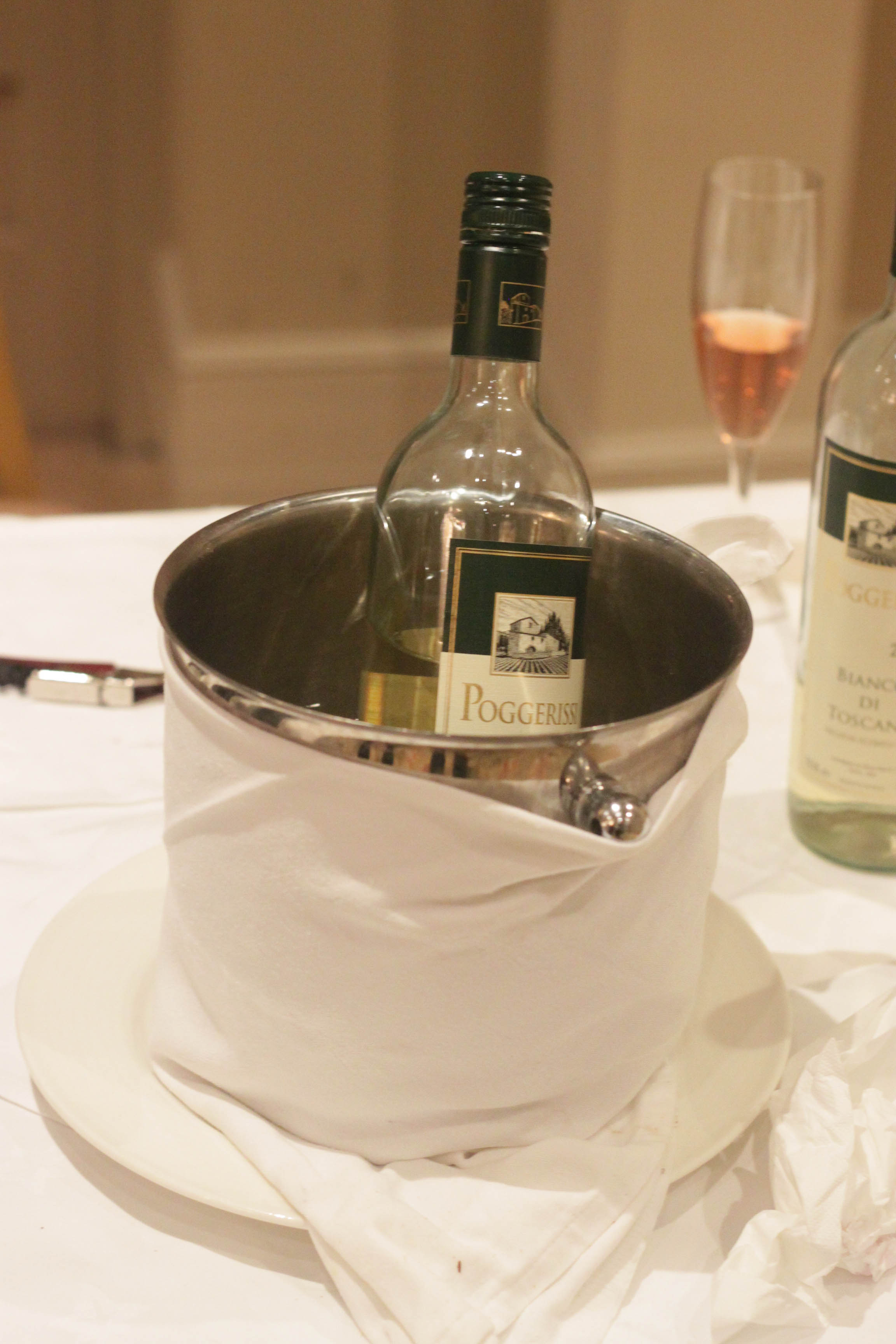 Speaking of food, with La Fougére's Head Chef Seamus Commons at the helm, we had an inkling that our eight-course tasting menu designed to highlight the qualities of eight of our producers' wines was going to be a bit special. It was certainly up there in my top three meals of all time, as each delicate course after the next displayed an outstanding cunning in the kitchen. What impressed me most, perhaps, was how Commons' happily adapted the eight-course menu to suit Aoife Barry's vegan diet. She declared it the best meal of her life.
We were part of a group of 24, which included bloggers, journalists, TV food researchers, wine writers and eating enthusiasts, as well as the wine producers themselves. Conversation circled around food and wine for the evening, but there were a few silences when the centre of attention became Commons' food. I don't think anyone said a word throughout the venison course. Wow.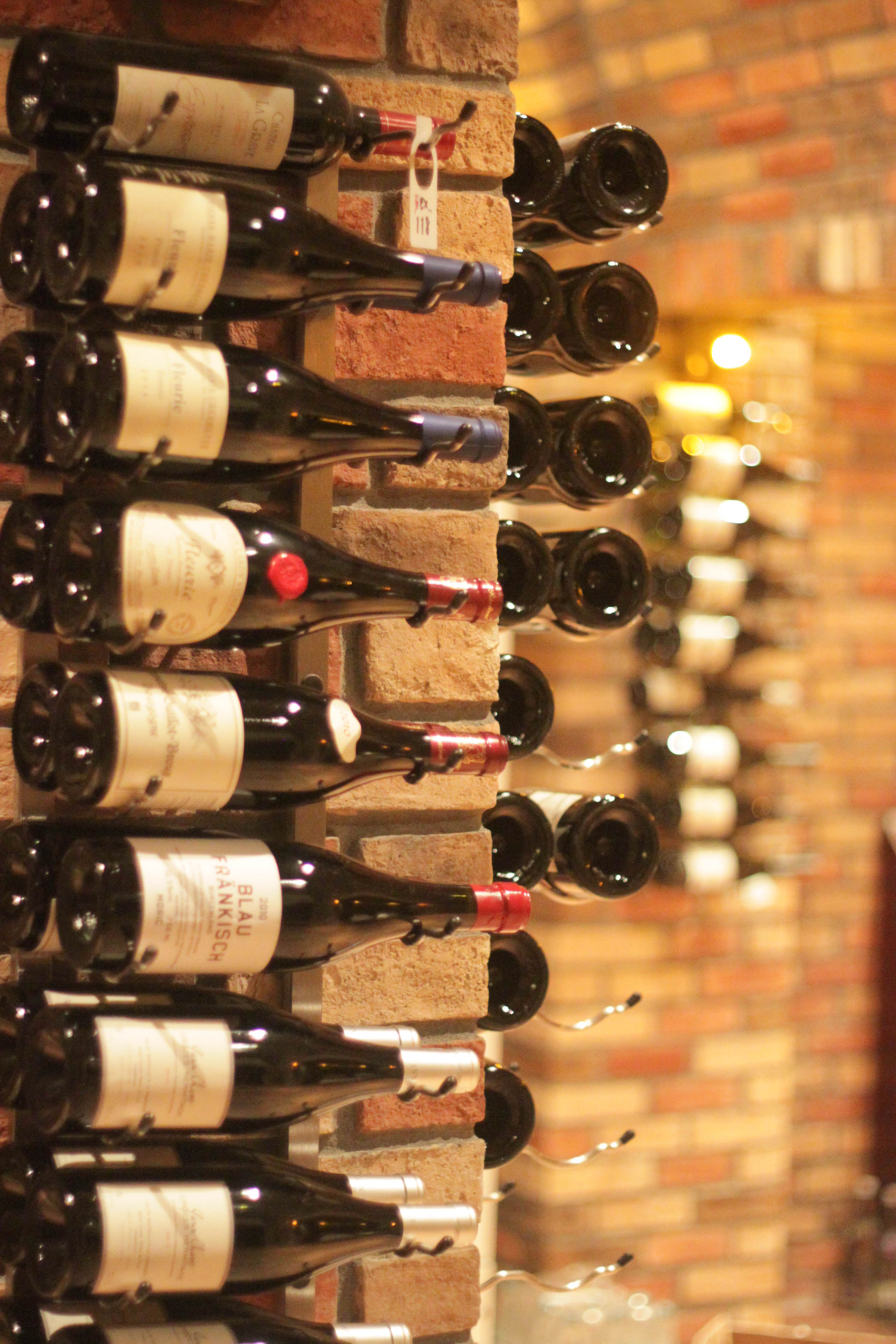 After a perusal of the restaurant's walk-in wine cellar, we sat down to freshly baked breads with melting butter and pesto. Aoife B was presented with dairy-free butter and cheese-free pesto to go with her vegan breads.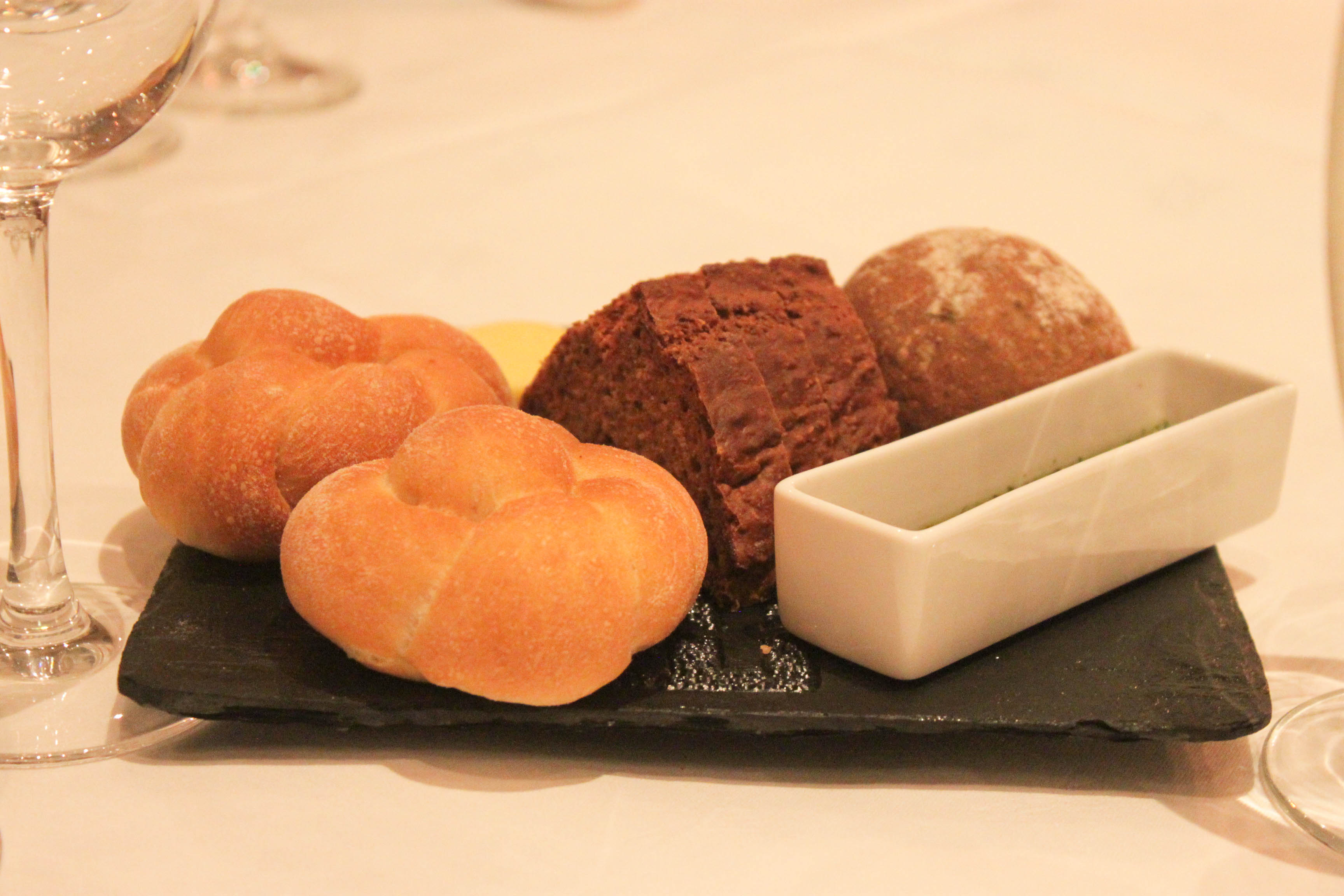 Our first course was Lightly Cured Organic Sea Trout which came with smoked tomatoes, pickled cucumbers, avocado purée, dill and almond crumbs. Outstanding, and paired with La Riva dei Frati Prosecco di Valdobbiadene NV from Veneto, Italy, it was some start to what unfolded as an exceptional meal. Aoife's vegan version was acovoda purée with smoked tomato, almond crumb and pickled cucumber.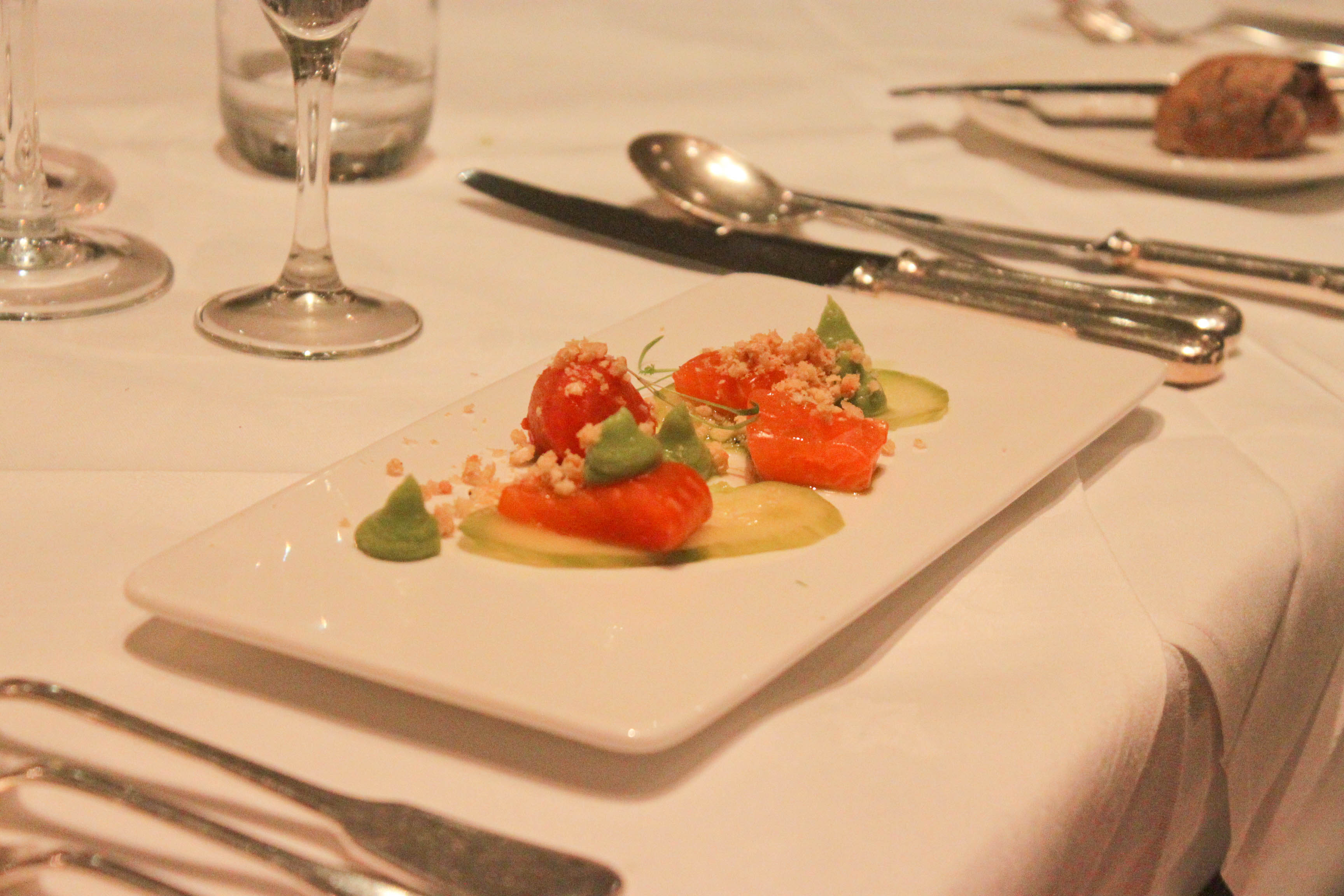 The delicious Verus 2010 Pinto Gris from Slovenia was chosen to go with the Seared Scallops, which arrived perfectly golden and scattered with pickled mushrooms and kohl rahbi cress, with the staff adding the final touch with a pouring of sweetcorn velouté. So, so, so delicious. Aoife's vegan version was identical apart from the lack of scallops on her plate.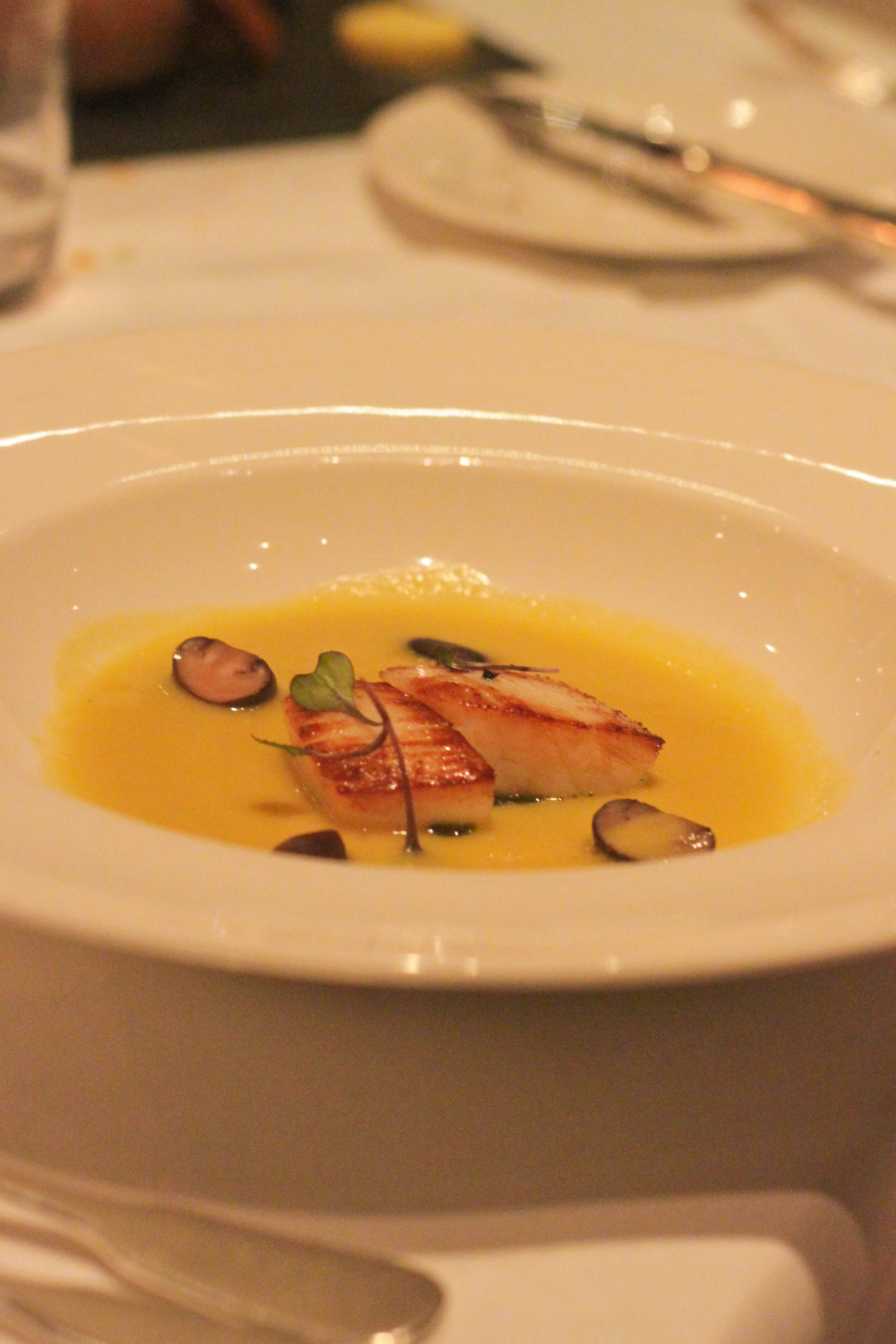 Our next stop was the Country Style Terrine, which was accompanied by a carrot remoulade, quince and cracked hazelnuts. Washed down with Germany's Kunstler Hochheimer Herrnberg 2010 Riesling Dry, it was a rustic rags-to-riches tale in food form.  Incredible. While we got stuck into our terrines, Aoife enjoyed a carpaccio of beetroot, baby beets, compressed celery and apple and hazelnuts.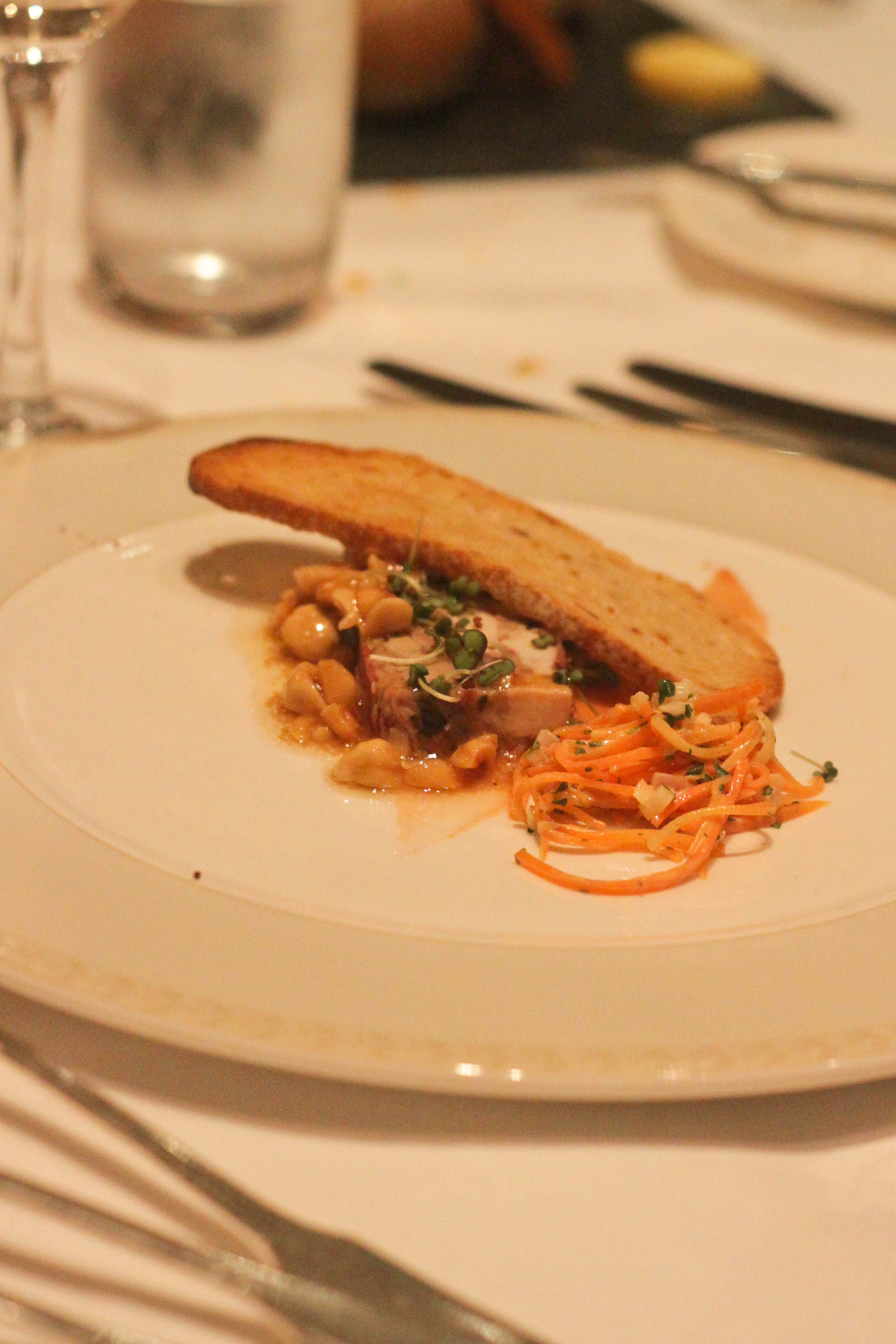 We had a little "break" with Lemon & Lime Pina Colada Slush. A slush puppie for grown-ups, mine was slurped into oblivion within seconds. Aoife B was able to knock this totally dairy-free treat back with the rest of us.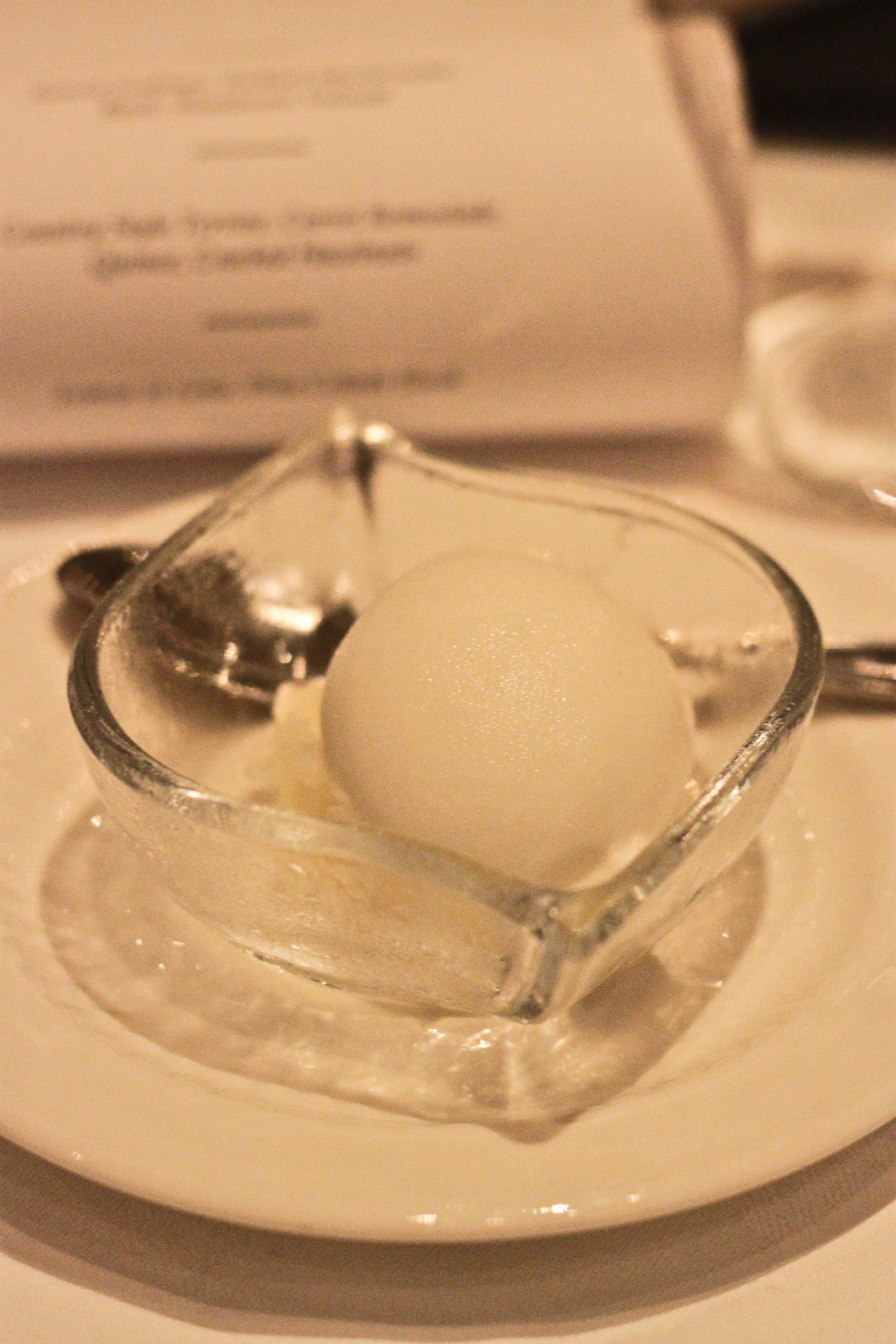 The Venison Brick (yes, BRICK) came with seared loin of venision, a celeriac and red wine purée, pickled artichokes and gin jus. This is when the Moric Blaufrankisch from Austria really came into its own, the flavours of venison and the berries of the wine having a veritable fistfight on my palate. In a good way, obviously. Aoife's vegan butternut squash and pinenut risotto with an undercurrent of sage kept her very happy indeed.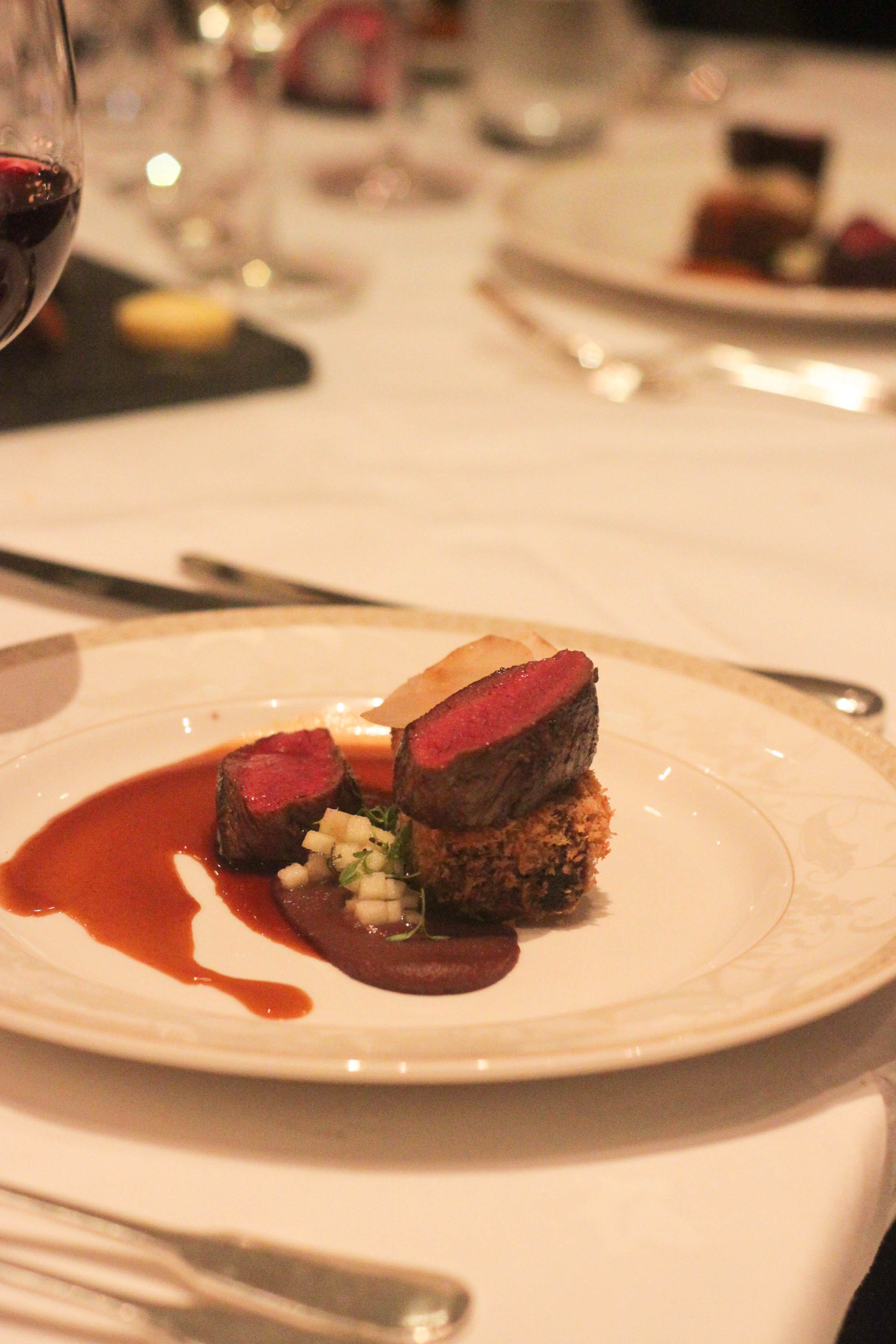 I couldn't believe that we still had three courses to go, but was glad that we hadn't been spared the Roast Pork Fillet. It came with a cider braised pork shoulder mini-pithivier, for goodness sake, as well as mustard fruit, cabbage and parsley root. By this stage, we were all ready to get our pens and paper and scribe profoundly-felt love letters to Chef Commons. He'd even sorted Aoife out with some roast tofu, braised aubergine, tomato jam and hummus.
To make sure this meal reached a truly extravagant levels before dessert, we were poured a choice of two wines to match our pork. We could sup on the organic Guillot-Broux Bourgogne 2010 Pinot Noir or the Italian Fattoria di Basciano 2009 Chianti Rufina. Again, it was the Guillot-Broux Pinot Noir that had my attention, though the Chianti was beautiful too.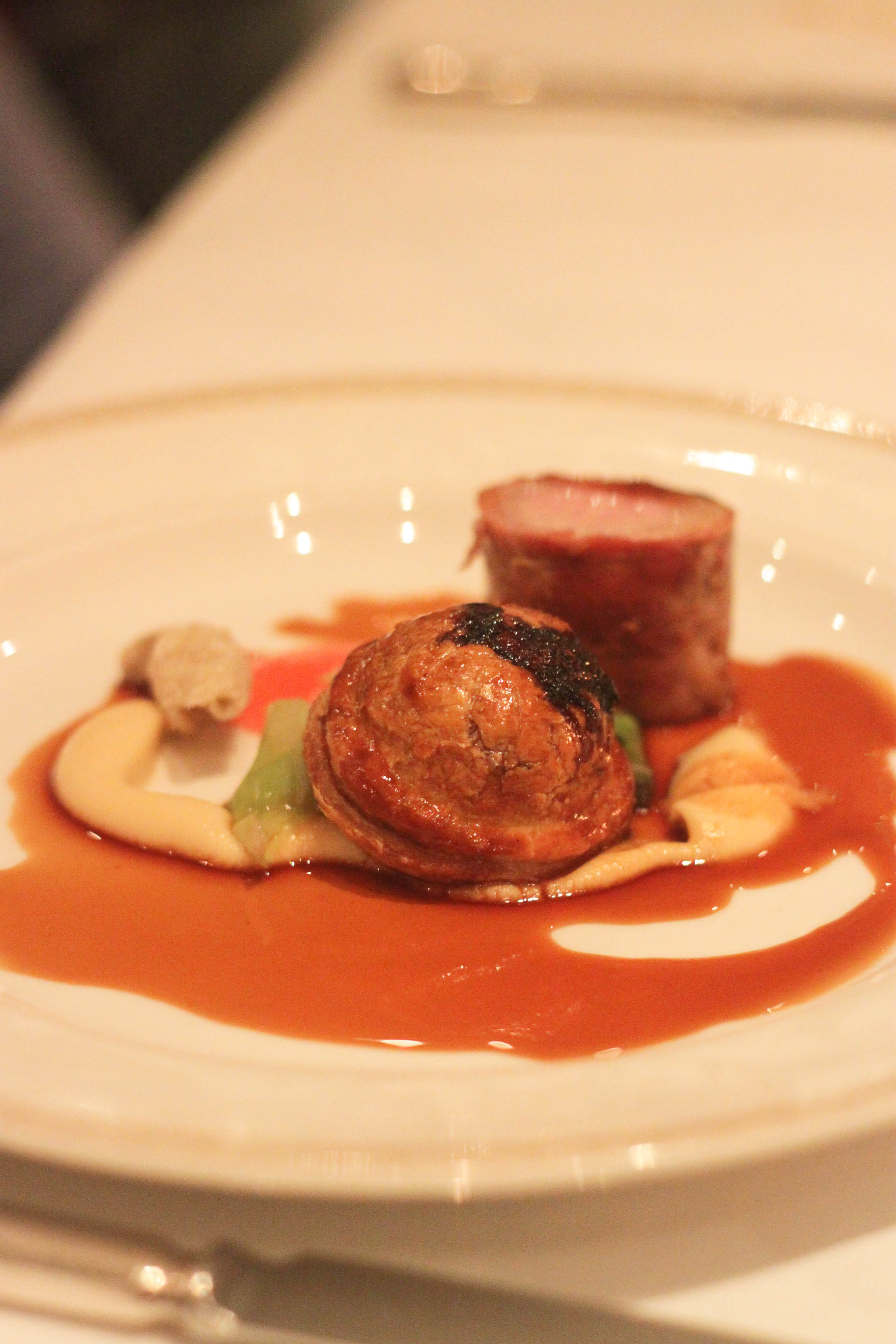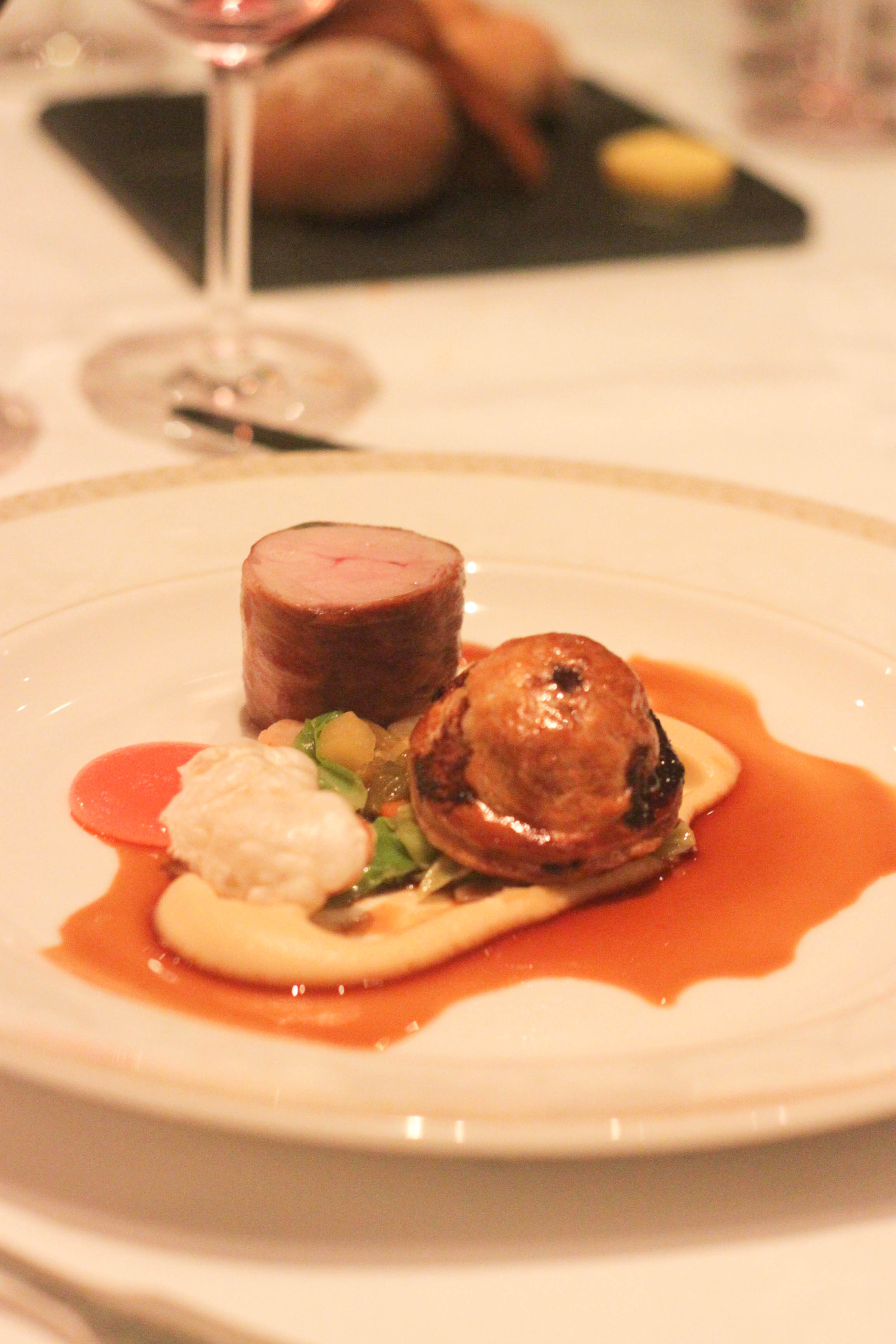 We had another little "break" with Apple Jelly upon which sat pear mousse and cinnamon foam. Aoife's was almost the same, but had dried cranberry and crackle crystal alongside the apple jelly.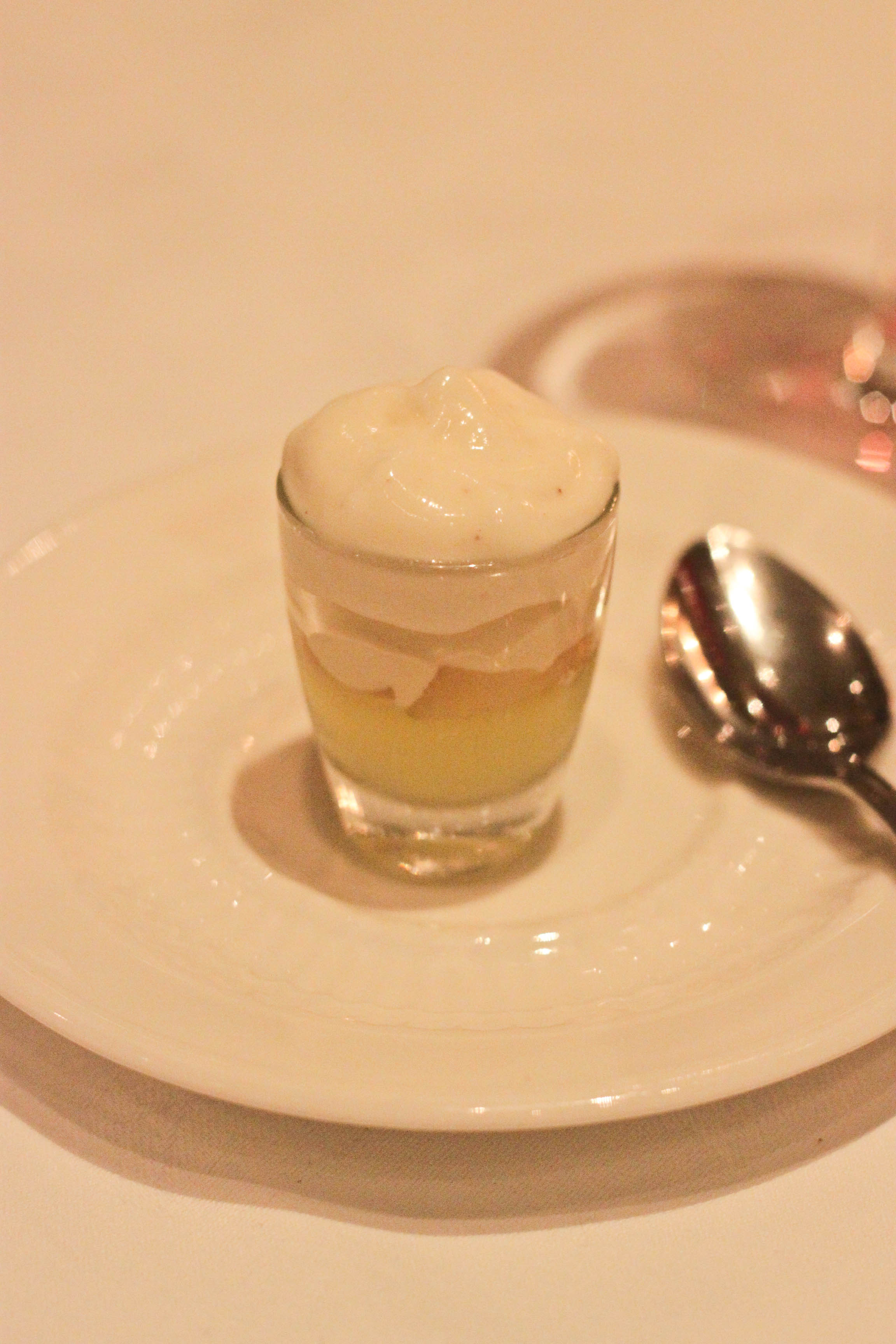 Our meal was rounded off with a Cranberry Pana Cotta which was inside a chocolate mousse house. Inside it. Like a chocolate hat for the pana cotta, topped with a dazzling chocolate crisp as a feather in the hat.
Aoife's vegan version was a spiced pineapple, with more of the pina colada sorbet and slush with the chocolate crisp sat on top.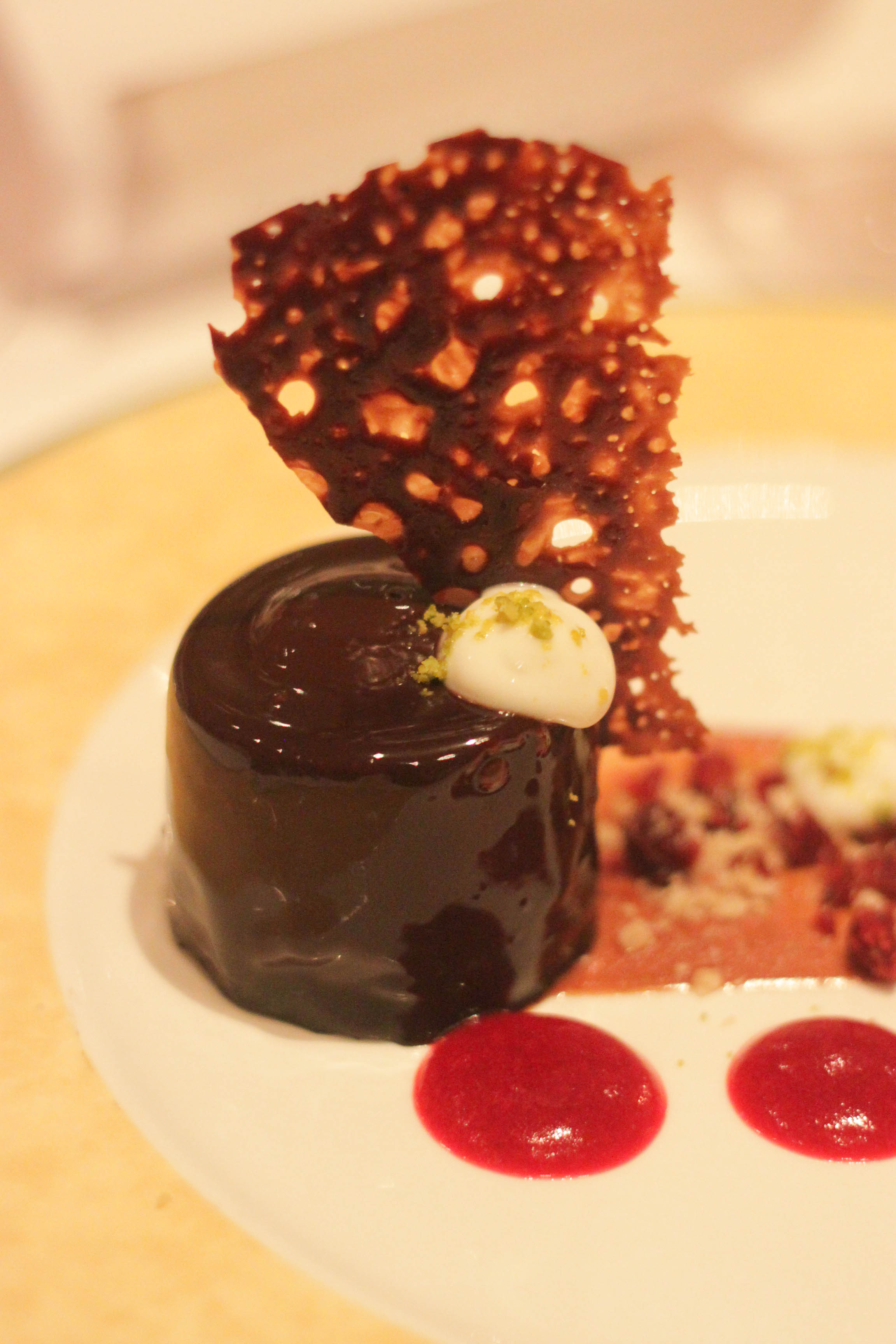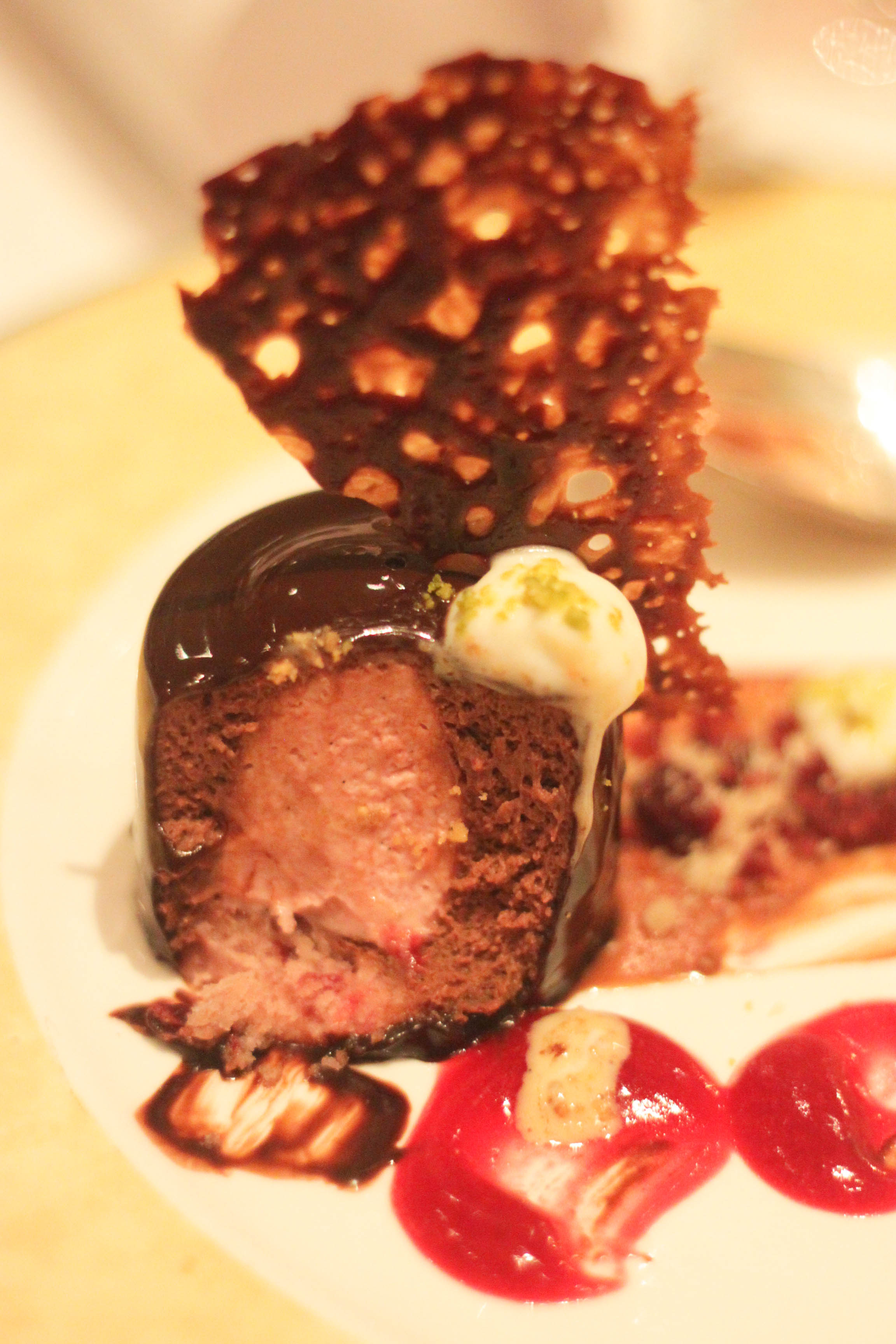 The other half of the dessert was the orange rippled ice-cream and the sprinkling of crispy cranberries and biscuity bits and blobs of cranberry coulis and…well…let's just say we were all a bit delirious and giggly at this point. The dessert wine of 2009 Aldo Degani Recioto della Valpolicella from Veneto, Italy made for a truly giddy end to the meal.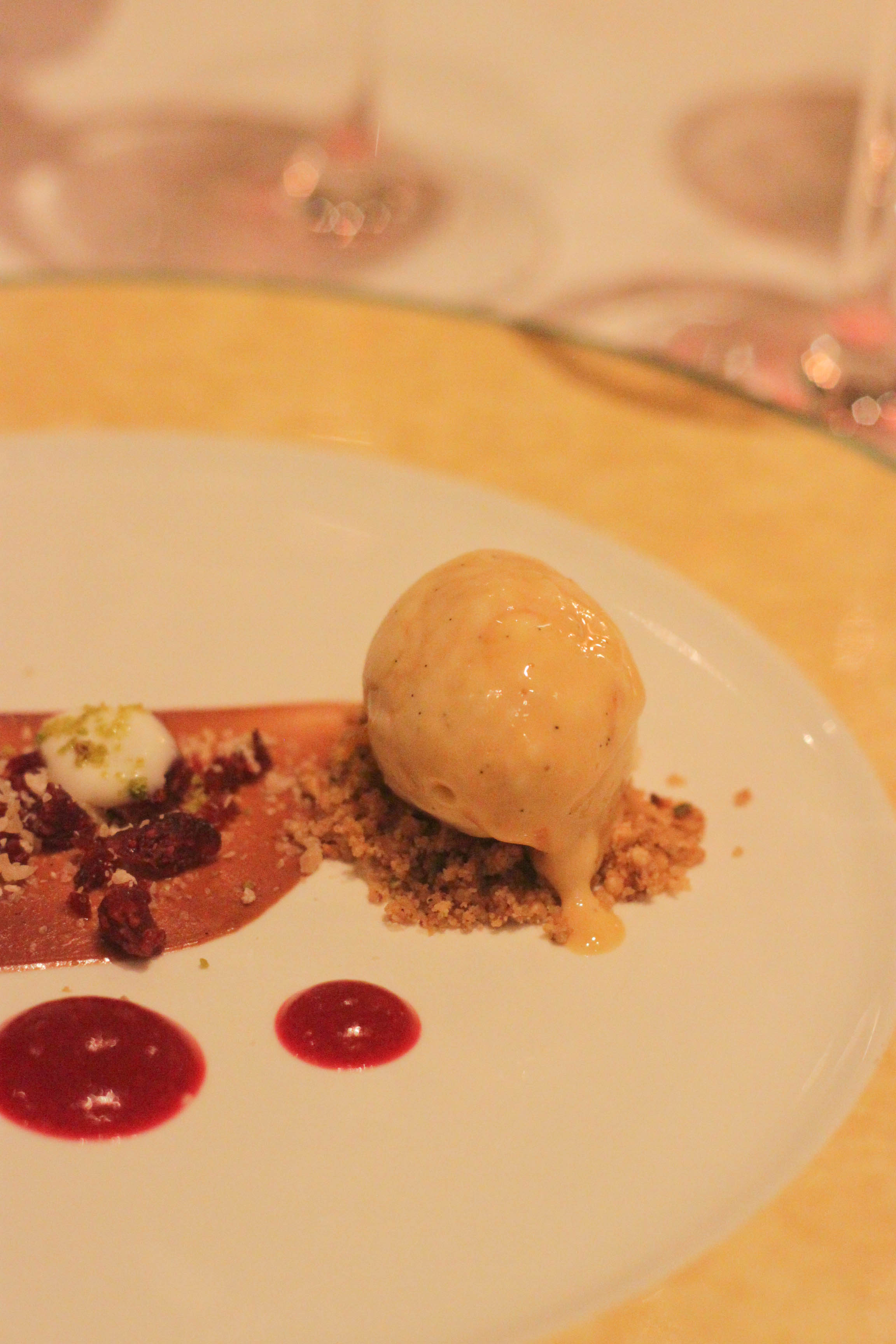 I suppose we all calmed down a bit when coffee and tea arrived, but then these petit fours were plonked in front of us…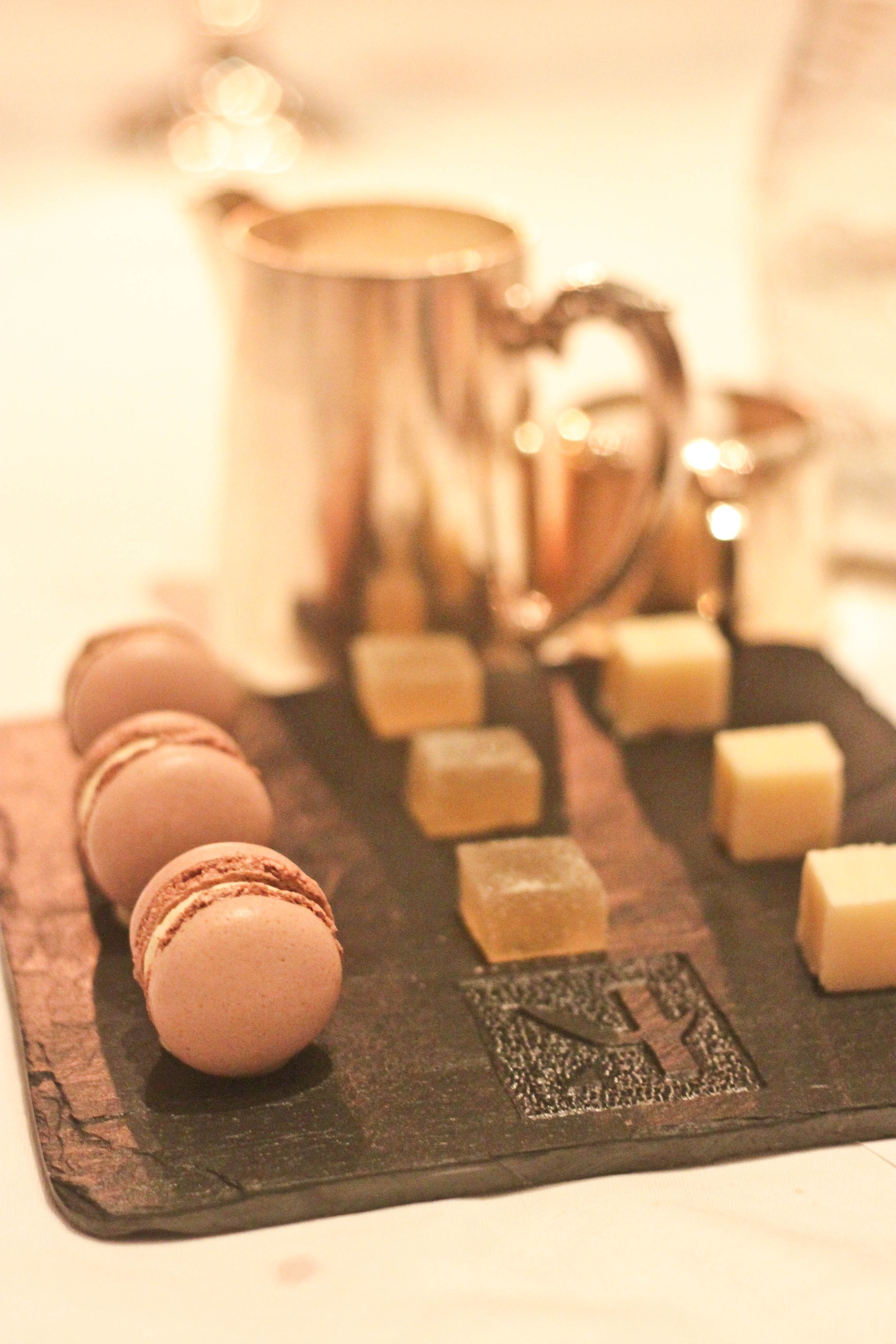 Pretty incredible, eh?
A nightcap was called for and after that, we all rolled off to bed. I was asleep within minutes, sinking into the giant marshmallow-cloud that was my king-sized bed. Haven't slept so well in weeks.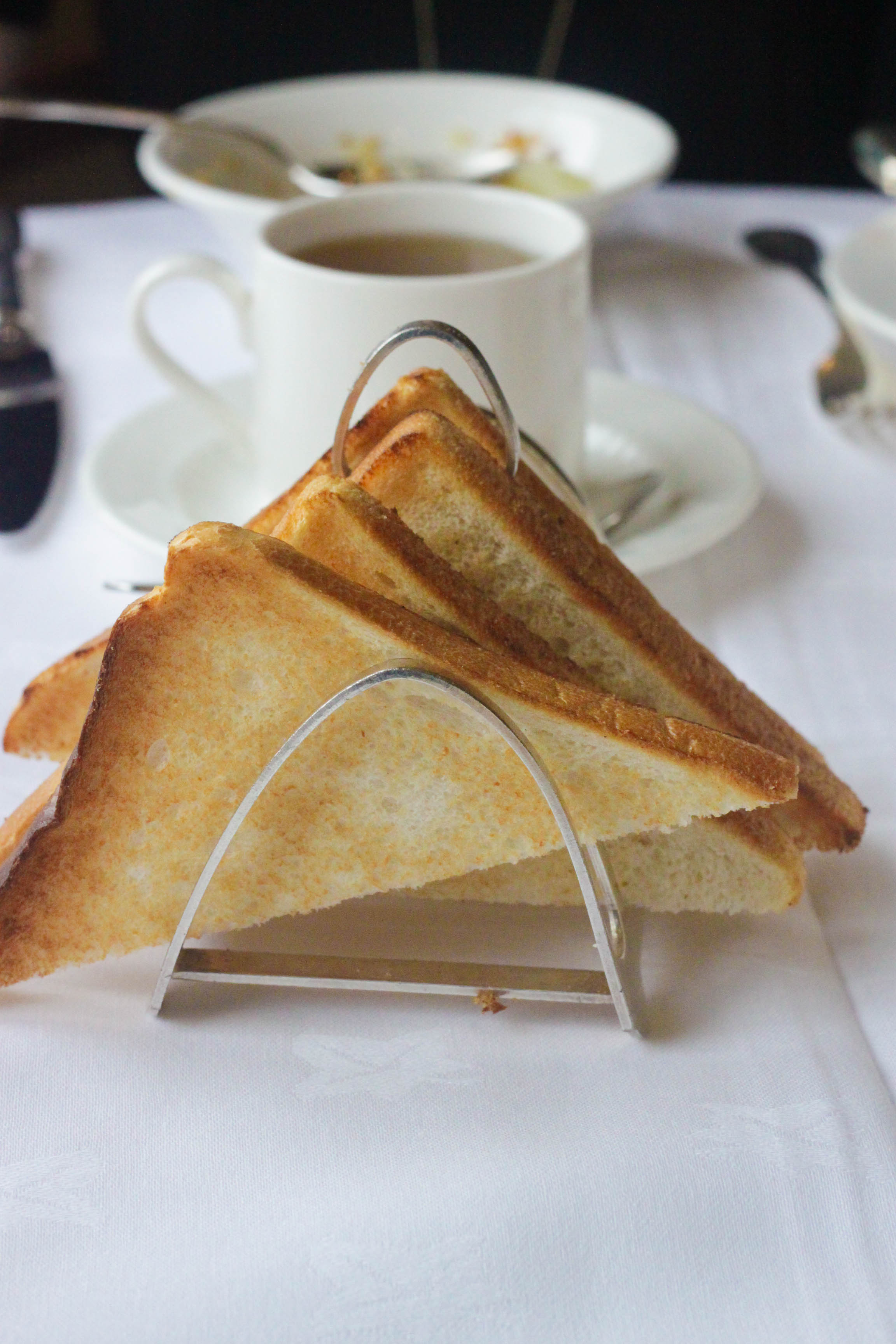 Amazingly enough, I had room for breakfast the following morning. I had to go for the local Kelly's of Newport black pudding, and had it sat with a petite potato cake and perfectly poached eggs. Heavenly.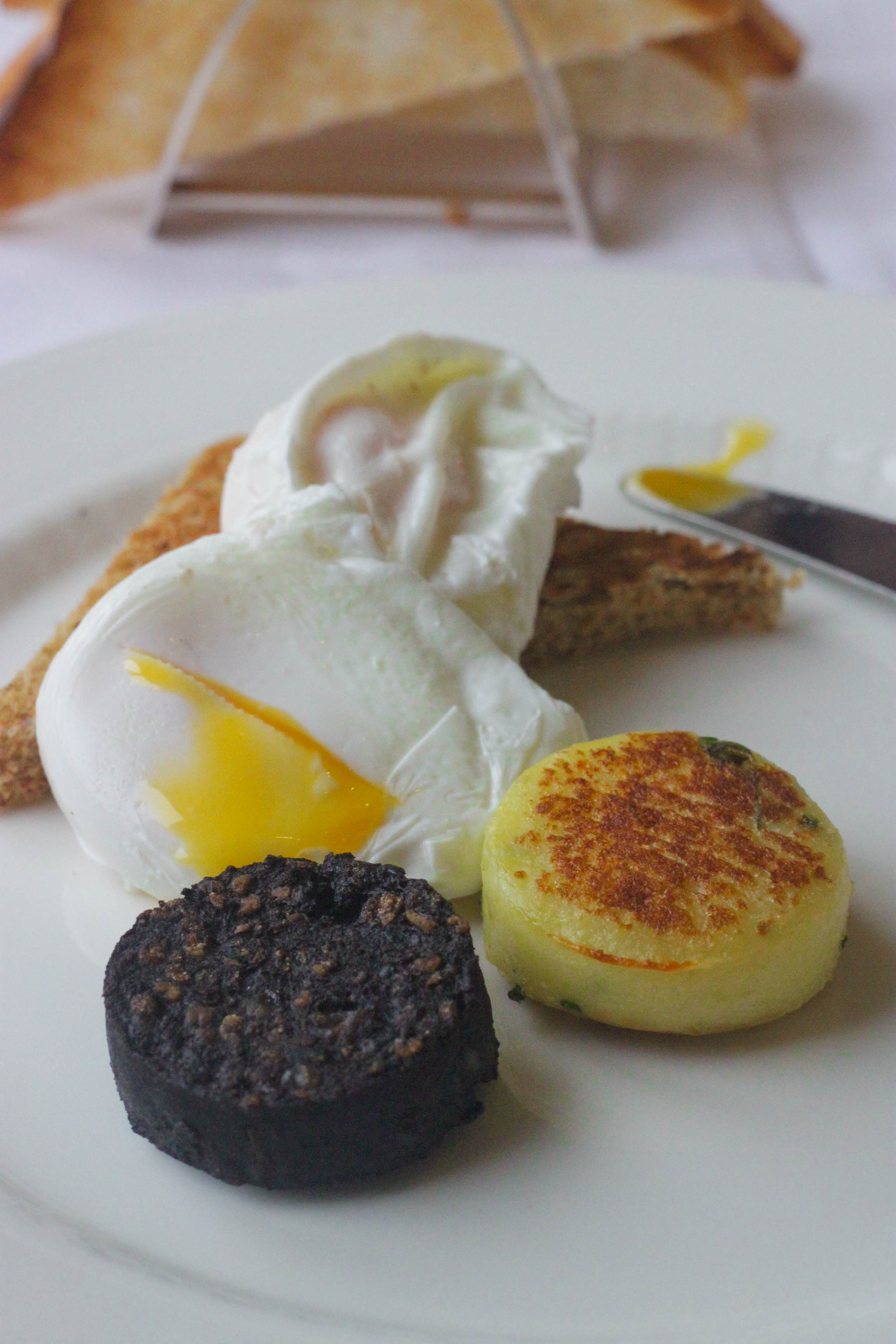 Aoife B stuck with fruit, granola and toast, which saw us living up to our naughty and nice nametags over breakfast.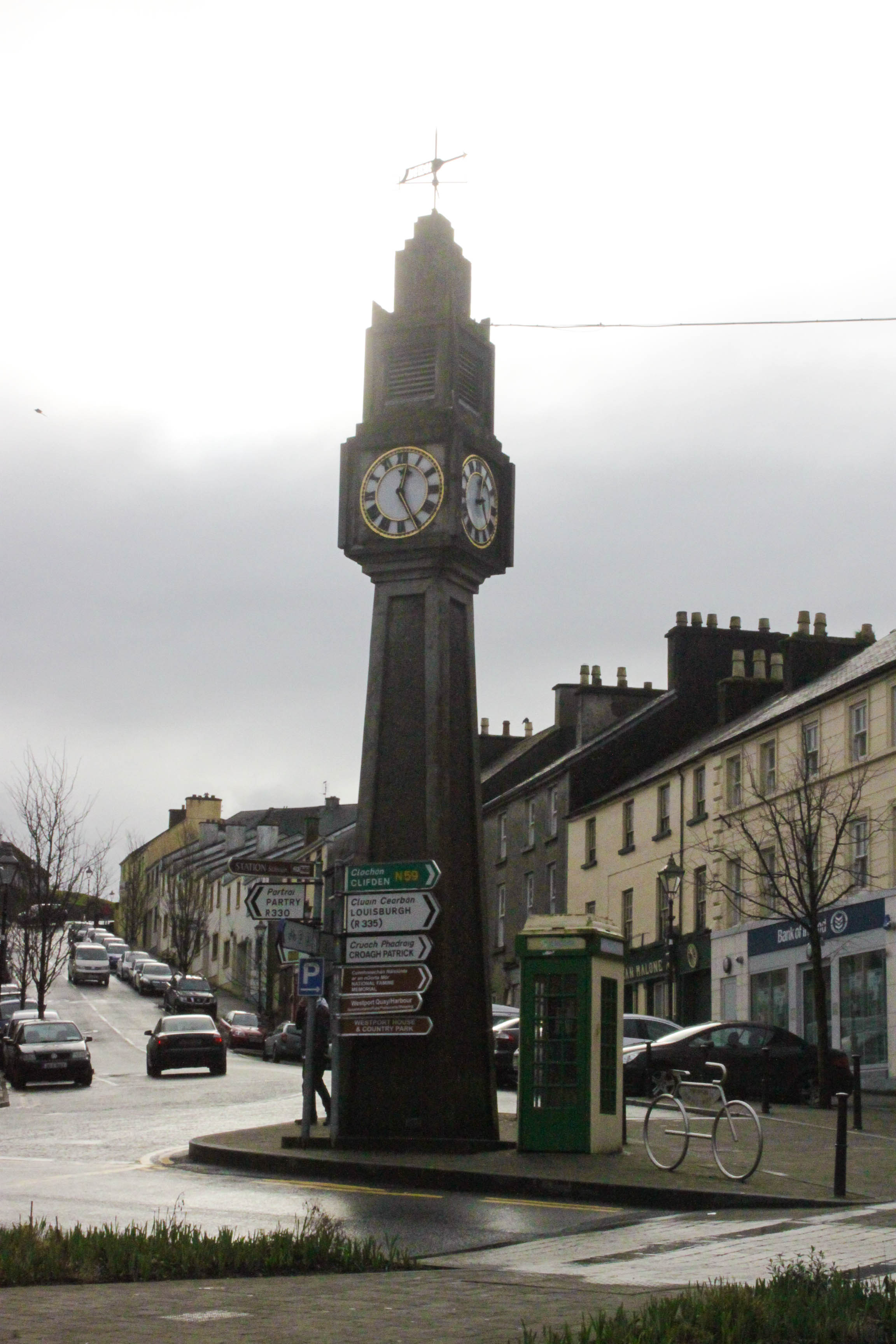 With an aim to walk off a bit of the previous evening's meal, we wandered into Westport and quickly found ourselves in Market 57, a dangerous place for any kitchen gadget addict. We soon realised that to walk off our incredible food at Knockranny, we'd best walk back to Dublin. Instead, we found ourselves on the train with the Sunday papers, talking over the incredible night's food and what we'd learned about wine. It was agreed that we both like good wine, where the producers give deep consideration about how their wine relates to the area it's created in.
It was also decided that we need to investigate more wine classes to help us fully build up our wine vocabulary. It'll be a tough road, full of imbibing different bottles and swilling various grapes, but we'll just have to be strong.
Keep an eye on Knockranny House Hotel & Spa's website for details of up-coming Wine Producers Weekend, as well as their special offers. If you find yourself in Westport, do consider the hotel for lunch or dinner. Or both.
I was a guest of Host PR over the Wine Producers Weekend. My accommodation, food and wine experience were all complimentary. Many thanks to the Host PR team for hosting such a wonderful weekend and thank you to the Knockranny House staff for making the weekend such a memorable one.
Westport
Co Mayo
http://www.khh.ie 
And here are the eight wine producers who made it such an intoxicatingly delicious weekend.
Cantina del Pino, Piedmont, Italy
Fattoria di Basciano, Tuscany, Italy
Weingut Moric, Burgenland, Austria
Jen-Marc Millot, Burgundy, France
Domaine Guillot-Broux, Burgundy, France
Weingut Kunstler, Hochheim-am-Main, Germany
Verus Vinograd, Jeruzalem, Slovenia
Categories: Blog Trips Tags: Knockranny House Hotel & Spa, Wine Tasting