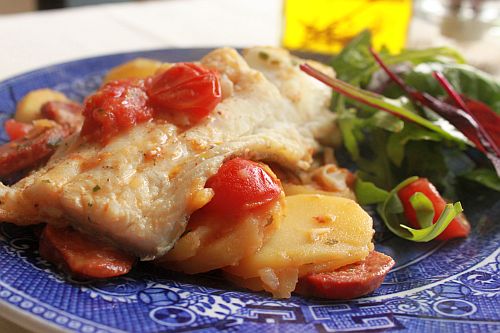 This Tuesday night supper wasn't really baked but some of steam-fried.  But let's stick with baked, to allude to a more healthy type of cooking *ahem*.
In fairness, this is rather healthy.  We got some nice Haddock from Kish Fish down the road and found this recipe which I followed to a T.
It was a nice quick supper but here are a few things I'd point out:
I don't know about using Haddock in this.  I love Smoked Haddock but I'm not too keen on the unsmoked stuff.  This could well have been down to the way I cooked it, but the Haddock was slightly too fishy for me.  This is strange as it's supposed to be one of the milder fishes.  Perhaps it was because I forgot to take the skin off.  Hmmm…perhaps.  Got any recommendations for a nicer alternative of white fish?
Be careful that the potatoes don't stick to the botttom of the pan – keep them moving more regularly than it suggests on recipe.
I used white wine instead of sherry, which was totally fine.  I mean, who has Sherry in their cupboards these days??
TUNE
Loving Janelle Monae these days – check  out her track Tightrope over on The Hype Machine.
Tightrope – Janelle Monae – The Hype Machine
Categories: Dinner