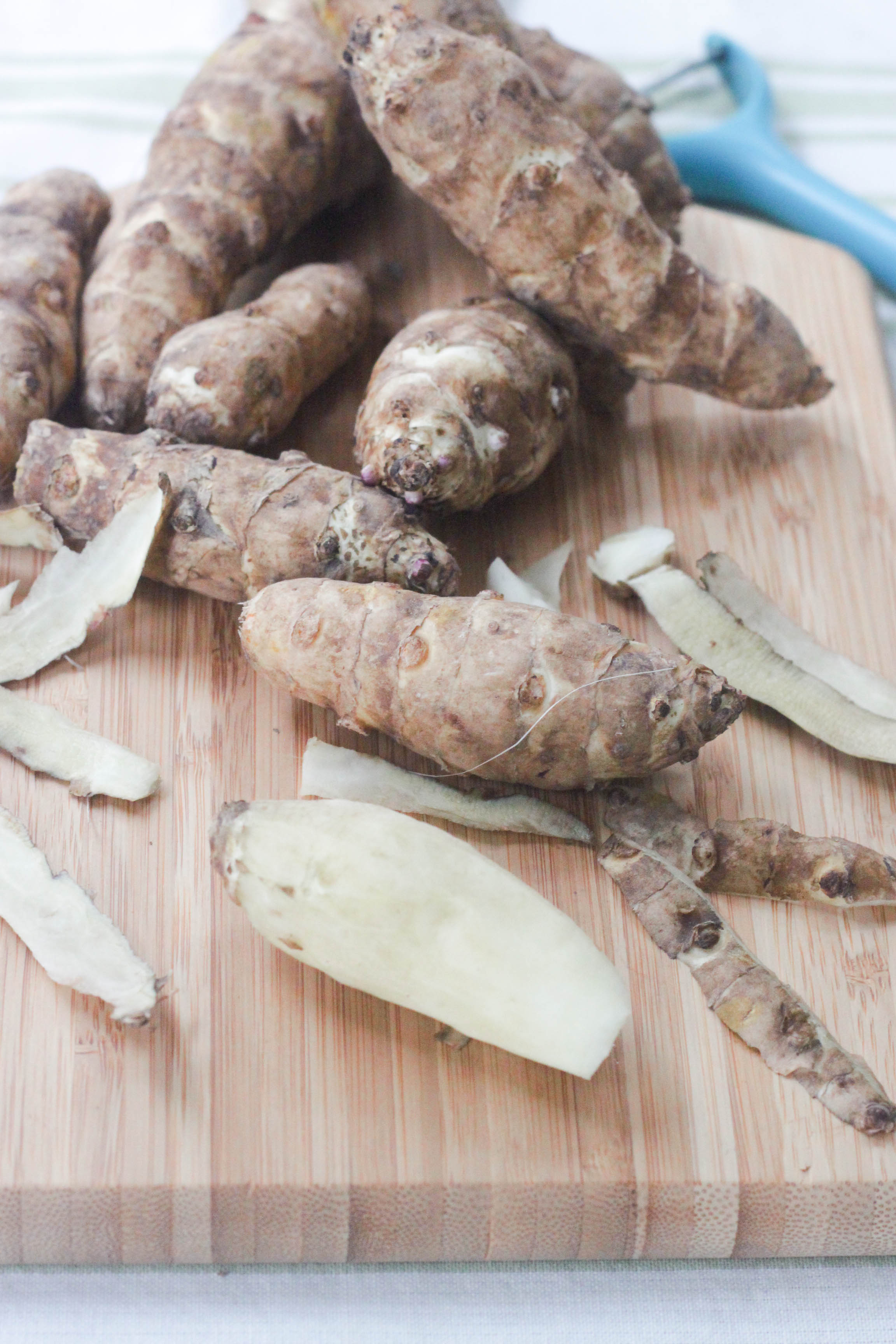 Poor old Jerusalem artichokes are often avoided due to their *ahem* flatulent properties. These interestingly tubular vegetables, which are a cousin of the sunflower, are native to North America and are quite like a mushroomy potato. They're often found in soups, but I prefer to roast them and use as a base for a banging pasta bake. And I've since learned from fellow blogger Stef that roasting them does alleviate their propensity to cause parpiness.
Upon seeing a bundle of the 'chokes in last week's Home Organics bag, I thought I'd quite like to try them as a topping for a puff-pastry tart. On Saturday afternoon, I rolled out my shop-bought pastry, gave the 'chokes a bit of a roasting and created a savoury tart that went down very well at lunch time.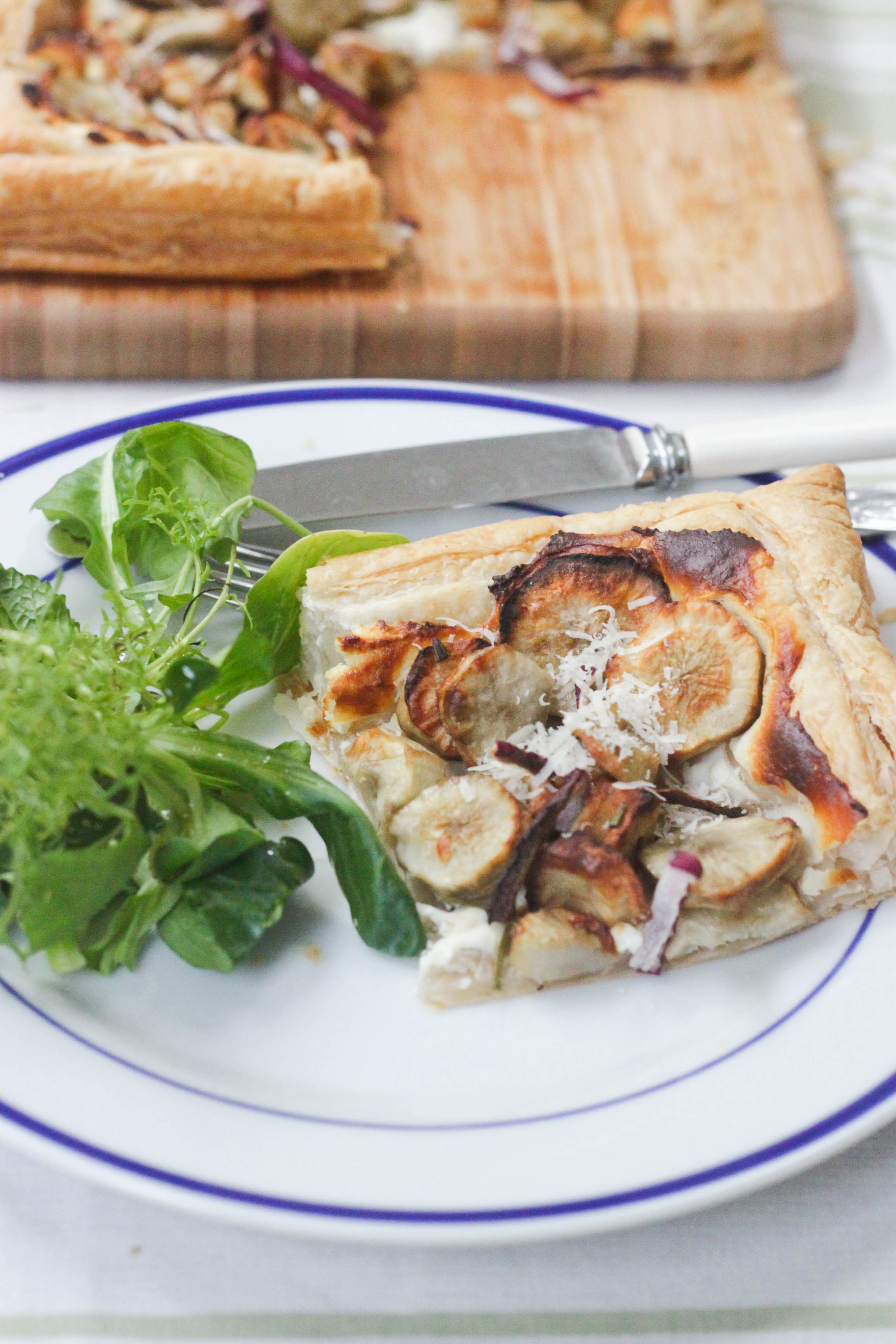 What you need for a Jerusalem Artichoke Tart for 4
6 to 8 Jerusalem Artichokes (you'll find them at your local farmer's market or fancy food store)
3 cloves of garlic
Olive Oil 
Salt 
1/2 lemon 
1 sprig of fresh rosemary
1/2 red onion
1 sheet of shop-bought puff pastry, defrosted
50g of soft, spreadable goat's cheese
1 beaten egg
Grate Parmesan
Start by pre-heating the oven to 200C/180C fan/Gas Mark 6.
Peel and finely chop your artichokes. Put them into a roasting dish. Peel and roughly chop the garlic cloves and add the roasting dish. Drizzle with olive oil and sprinkle with a good pinch of salt.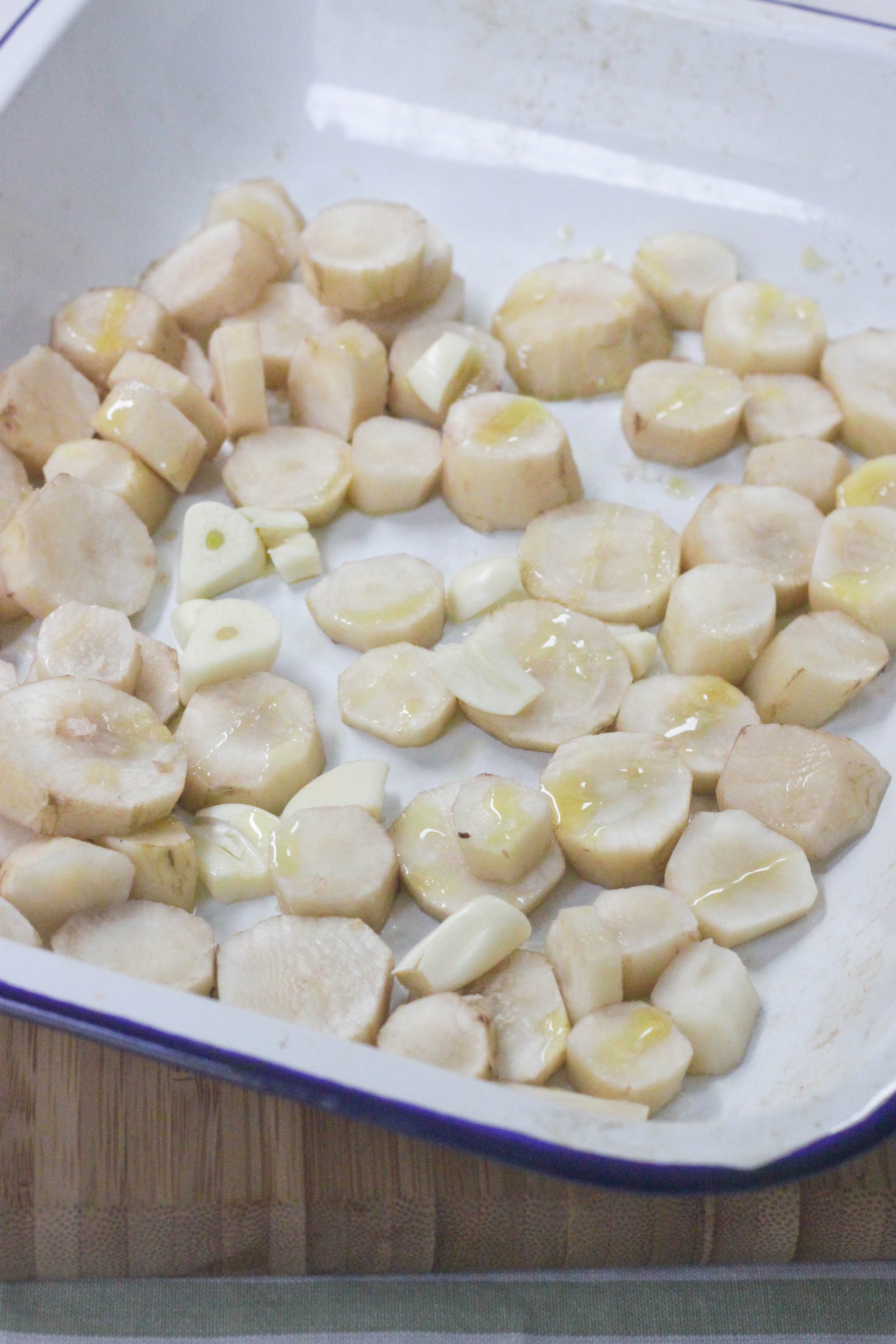 Roast for 30 to 35 minutes until they're tender. Make sure to shake them halfway through so that they get evenly browned.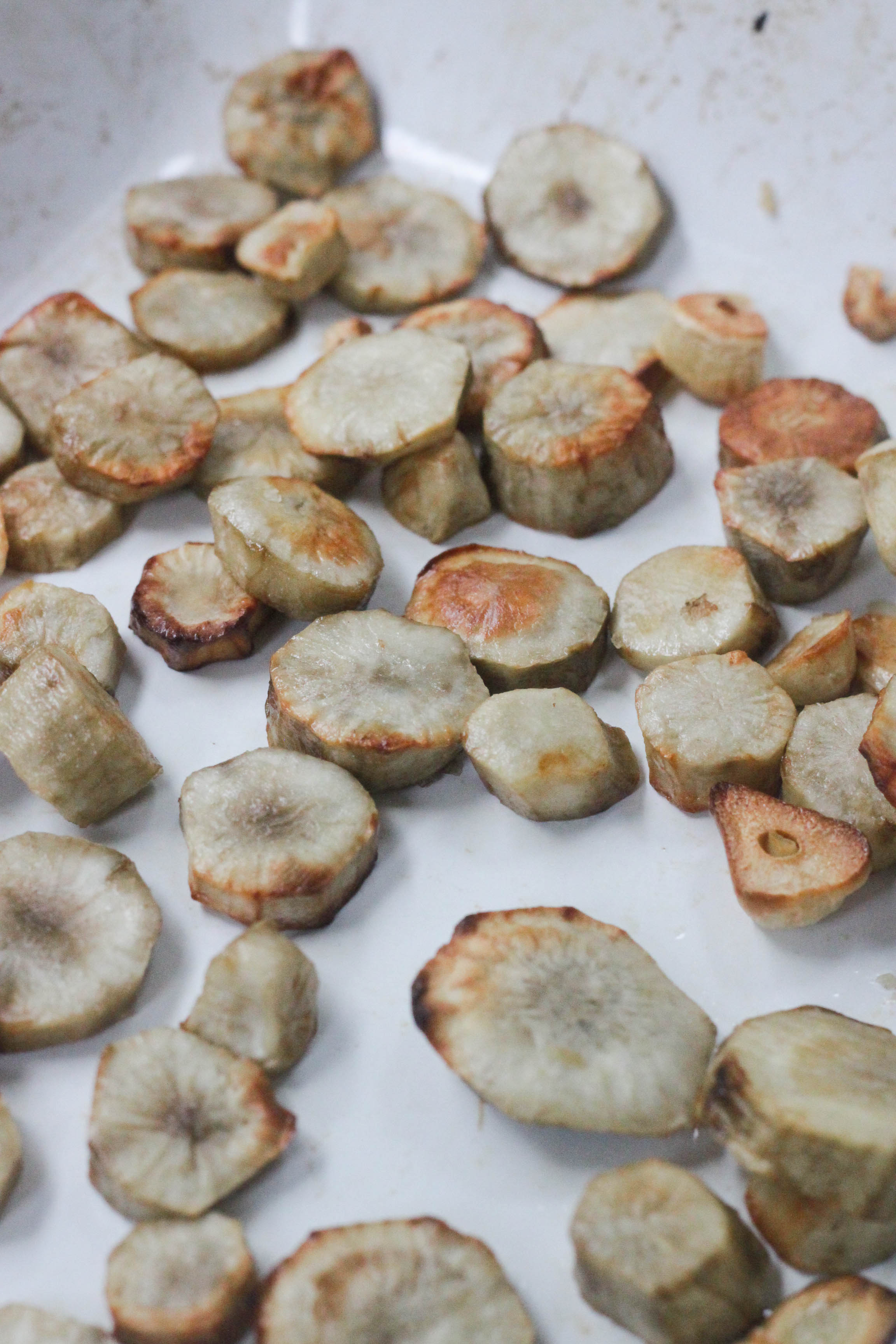 Meanwhile, finely chop  the leaves from the sprig of rosemary and finely slice your red onion.
When your 'chokes are ready, remove them from the oven but leave the oven on. Roll out your puff pastry sheet and put onto a greased baking sheet. Using a sharp knife, score a border into the pastry about two centimetres from the edge. That will help the pastry to puff up around your filling.
Spread the goat's cheese all over the inside of the border. Top with the roasted 'chokes and sprinkle over the rosemary and the red onion slices.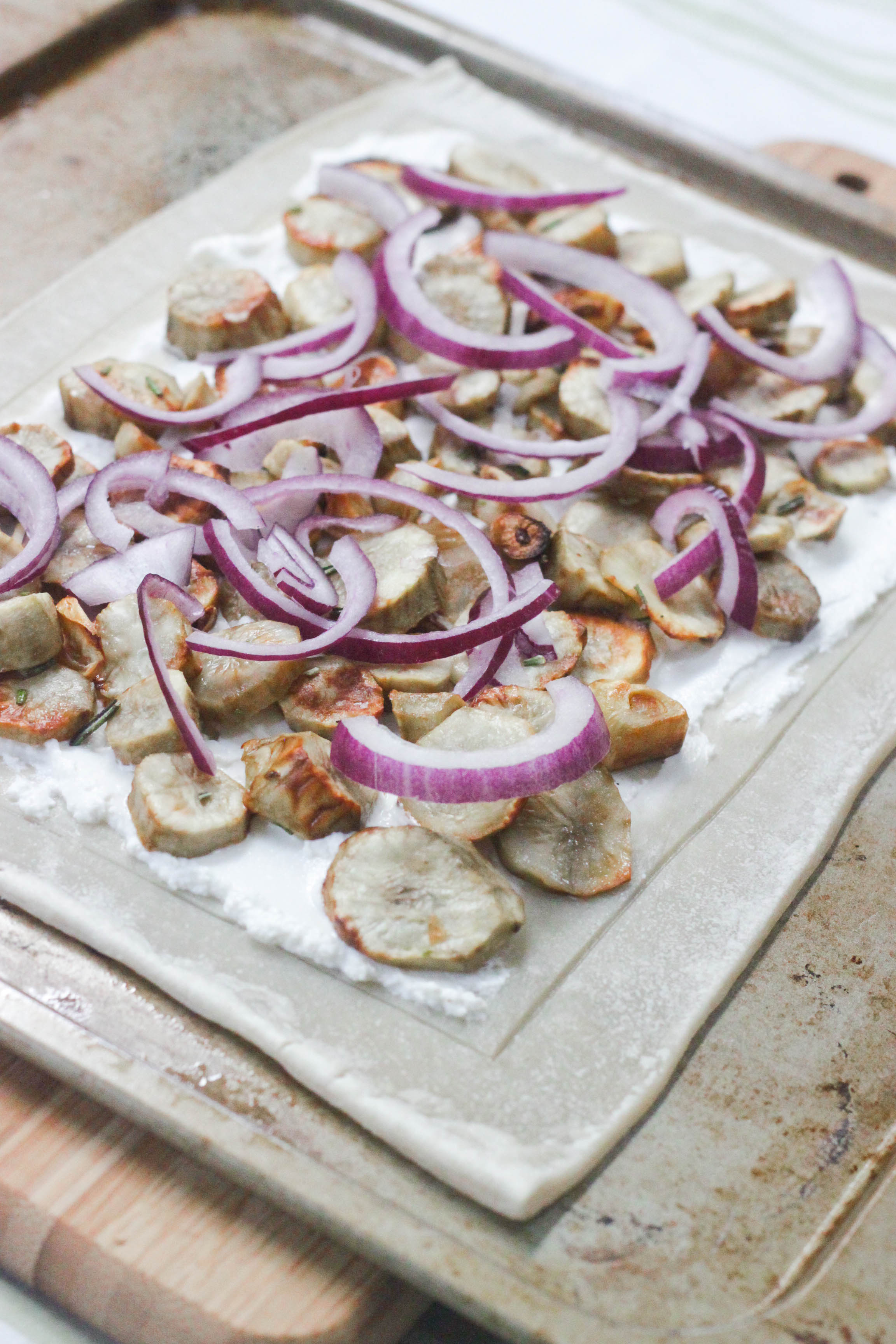 Brush the edges of the pastry with the beaten egg so that it'll take on a lovely golden colour.
Return to the hot oven and cook for another 20 minutes, until the puff pastry has risen and the toppings have taken on a golden hue.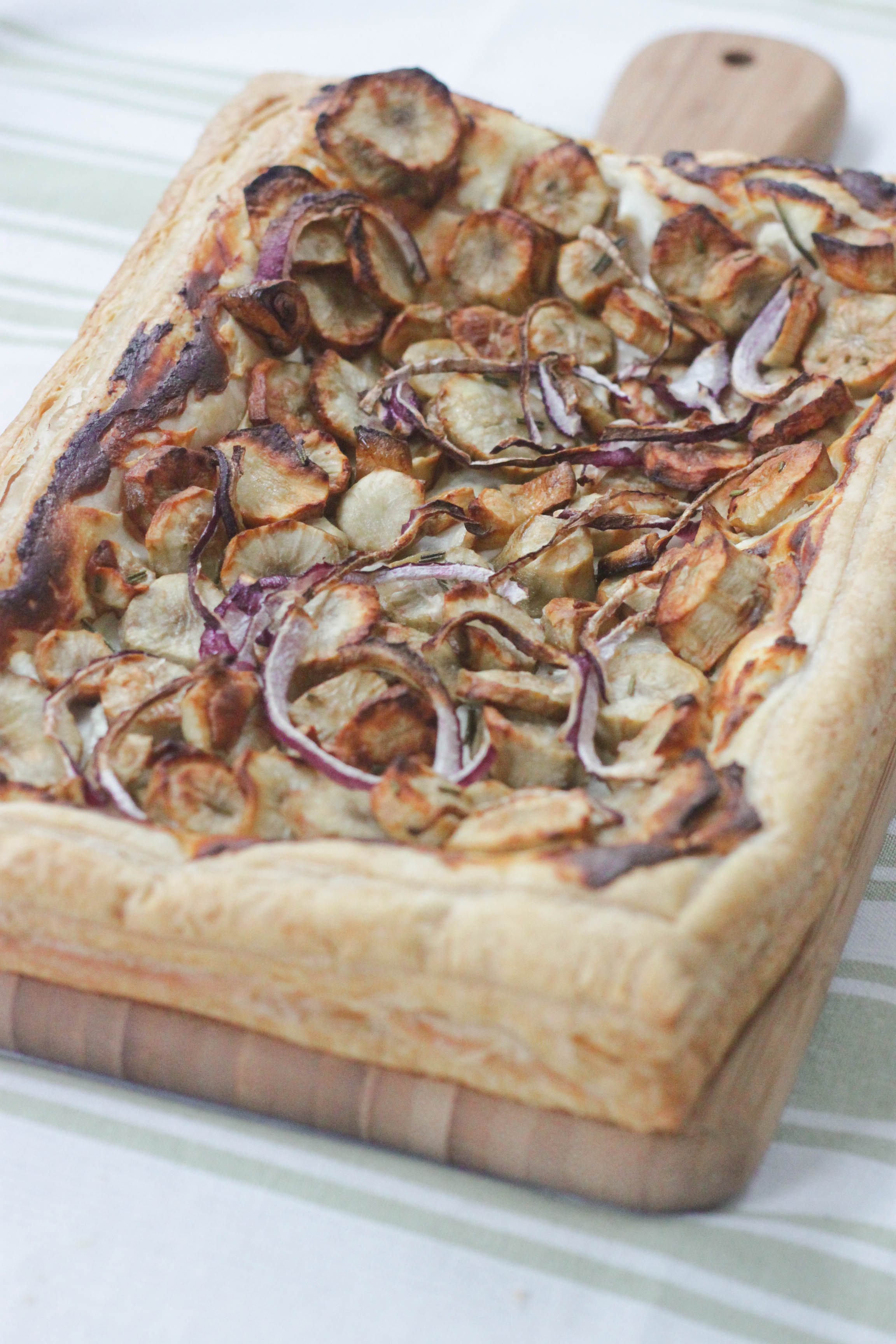 Serve for lunch, sprinkled with a handful of grated Parmesan cheese and a crisp green salad on the side. 
KITCHEN TUNE
I'm still getting a lot of listening mileage out of Twin Sister's 2011 LP In Heaven. Here's one of the tracks, Bad Street, which definitely made an appearance in the soundtrack of our Saturday afternoon.
Categories: Lunch