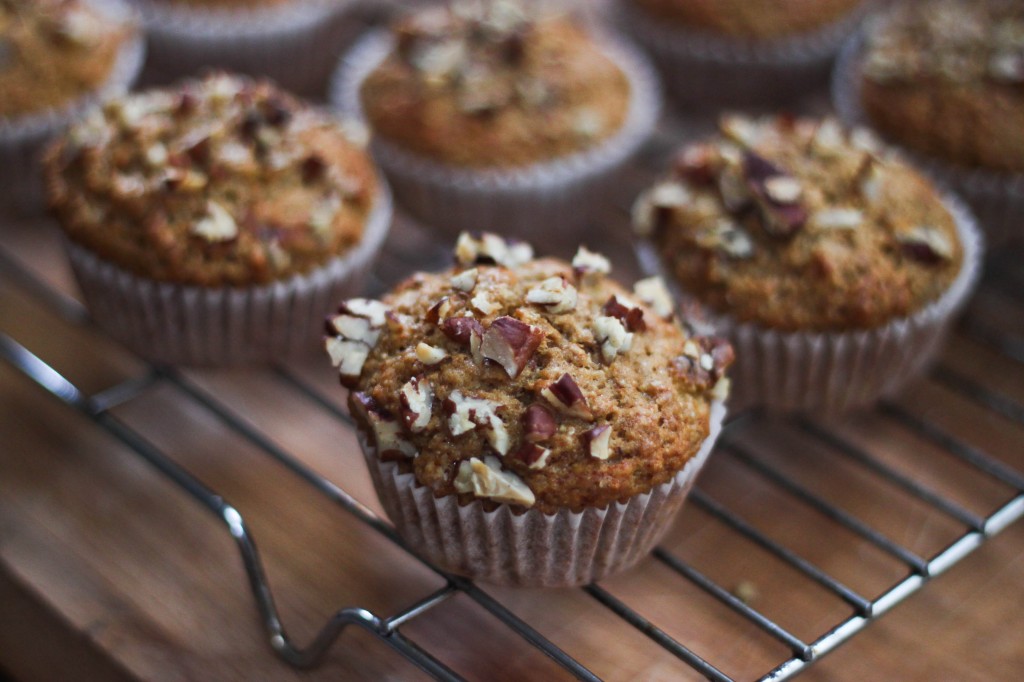 If you've been hanging around this blog for long enough, you'll have realised by now that I tend to be somewhat uneasy when it comes to baking. I've had lots of recent successes (especially since this breakthrough) but my cakes, pies and buns still leave a lot to be desired.
Take these banana muffins, for example. They looked right and they tasted right. Except for one important little factor – the texture. Herein lies the dominant dilemma of my baking life. My muffins are tough and dense, rather than light and airy. I wonder what I can do about that?
All muffin recipes highlight the importance of not over-mixing. I don't know how I can mix any less. Perhaps these muffins could have benefited from a bit more oil? I thought I'd share the recipe with you as the flavour combination of coffee, banana and pecans worked really well. Maybe you can help me with the muffin base recipe?
These are kind of healthy muffins, inspired by these Breakfast Muffins, being that they're made with wholemeal flour. Although I don't really think there is any such thing as a 'healthy' muffin, is there?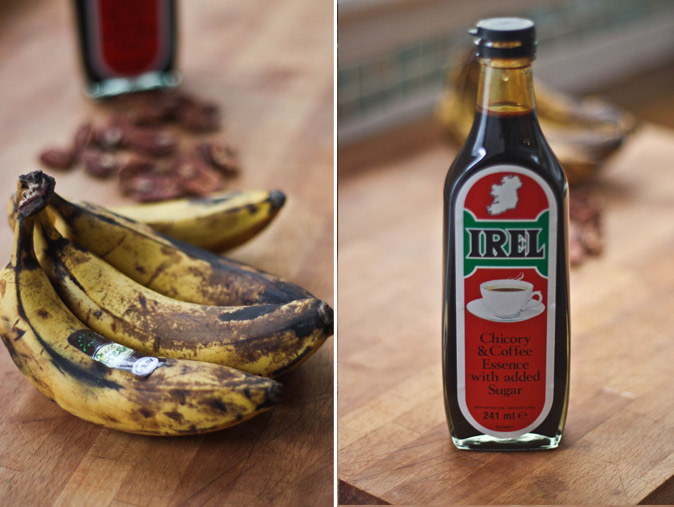 What you need for Breakfast and Coffee Muffins (makes about 18 cupcake-sized muffins)
Below is how I made the muffins. Notice anything that might cause a tough muffin?
125g wholemeal flour
125g plain flour
2 teaspoons of baking pwder
100g brown sugar
100ml sunflower oil 
4 very ripe bananas
2 eggs
2 tablespoons of milk
1 teaspoon of coffee essence (I used 2 tablespoons of the mild Irel coffee stuff – it reminds me of my Nanny B so much!)
A handful of pecan halves
Heat your oven to 180C/160C fan/Gas Mark 4. 
Line a 12 hole muffin tin with cupcake holders
Sift the two flours and baking powder into a large bowl. Add the sugar and lightly mix. 
In another bowl, mash the banana and then mix in the sunflower oil, the eggs, milk and coffee essence. 
Fold the wet mix into the flours with a large metal spoon. Don't over mix it! Or they will be tough like my muffins.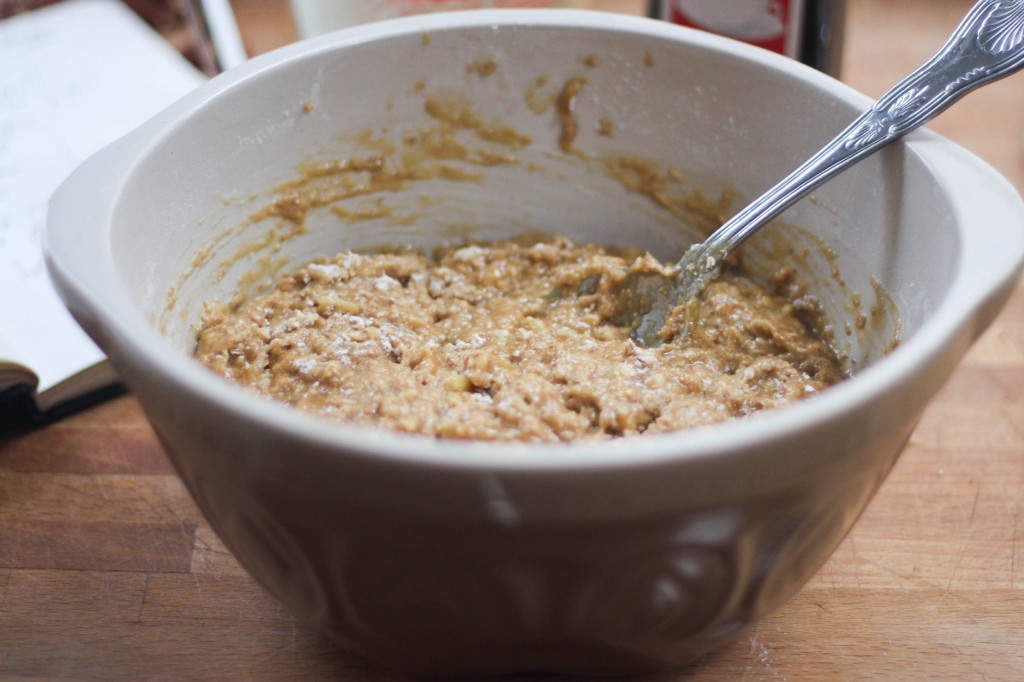 Is this over-mixed?! I don't even know anymore.
Divide the mixture between the muffin tins. You'll have enough mix to fill all 12 and then another 6, which you can complete as a second batch. 
Finely chop the pecan halves and sprinkle over each muffin. 
Cook the first batch of 12 muffins in the oven for 20 minutes or until they're cooked through.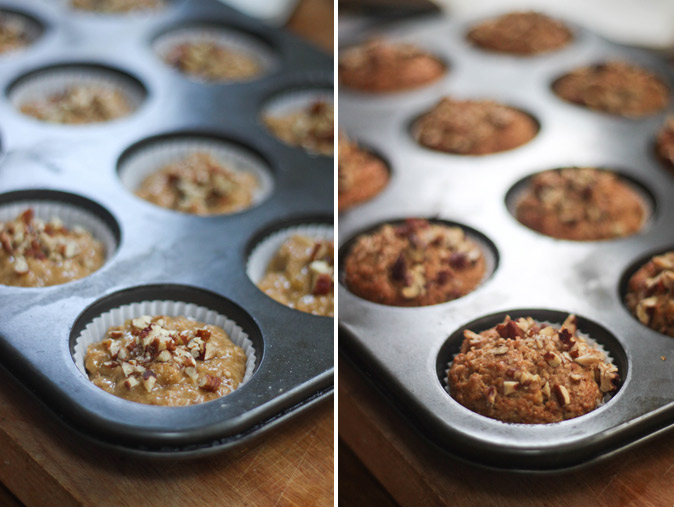 Cool briefly and then transfer them to a wire rack to cool completely. 
So if you have any advice on how to get my muffins right, that would be amazing!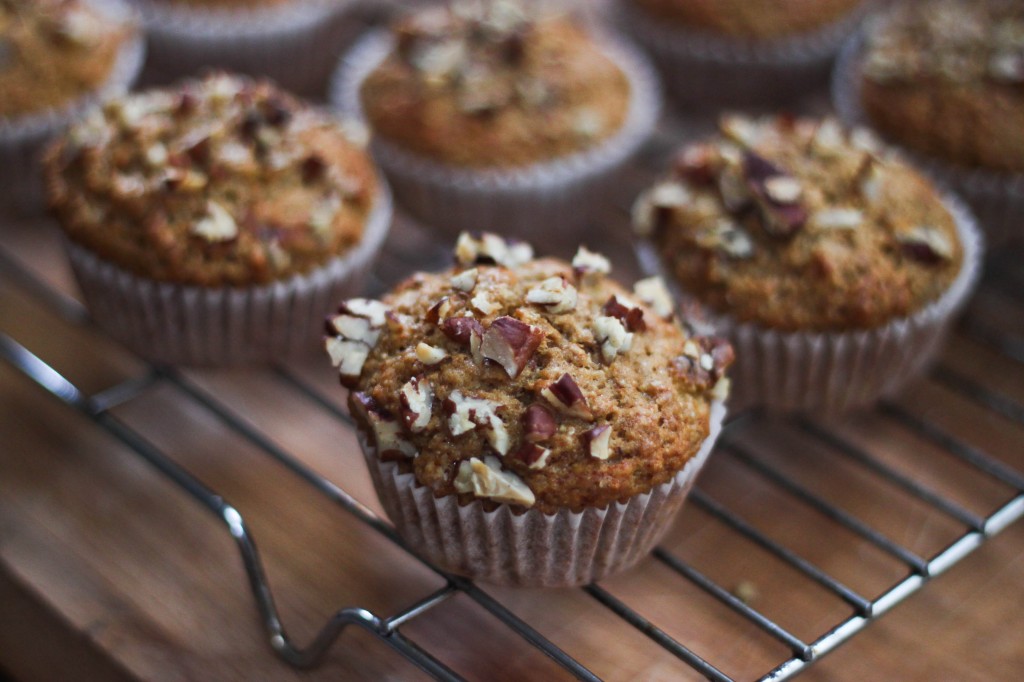 Categories: Baking