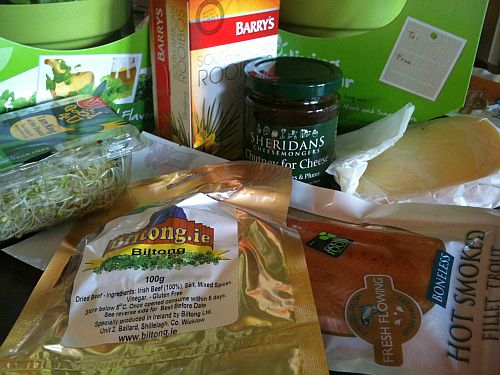 That blog title is terribly misleading, I apologise.  The Free Stuff I'm referring to was all that lovely gear you see in the pic above and unfortunately I am not doing a snazzy give-away for you, my lovely readers.  Sorry!
This was the swag from the Bord Bia Irish Foodie Event a few weeks back.  There was some lovely chutney from the almight Sheridan's, some lovely herbs from Living Flavour, beef snacks from Biltong and some really beautiful Hot Smoked Trout Fillet from Goatsbridge.
Inspired by this recipe, I made a Bulgar Wheat, Chicory and Smoked Trout Salad, using the gorgeous Goatsbridge Trout and some of my lovely Living Flavour mint.  I threw in the Good 4 U Brocco Shoots for good measure, and it worked!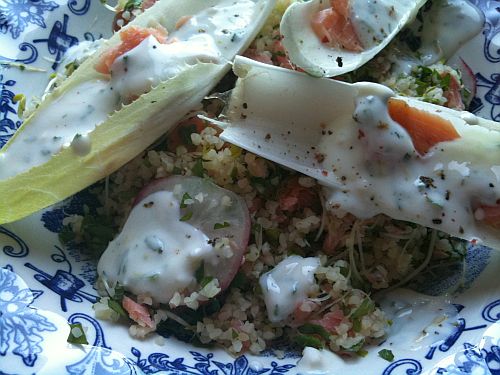 What you need for Bulgar Wheat and Smoked Trout Salad for 4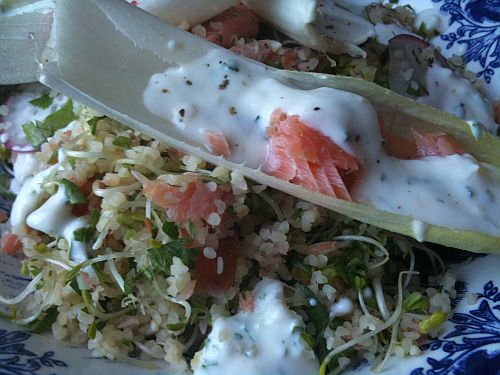 I used this recipe as an inspiration but threw in all of the goodness in my fridge and made a gremolata for drizzling.  Yumzers!
100g fine bulgar wheat
400g smoked trout fillet

Juice of 1 lemon
1 x 100g packet of parsley, finely chopped (no stalks plz)
A few fresh mint leaves, finely chopped
1 head of chicory, leaves picked and washed
Brocco shoots
3 radishes, sliced
For the gremolata
3 tbsp of natural yoghurt
1 garlic clove, very finely diced
1 tsp of chopped parsley
Bit of lemon zest and squeeze of juice
Put your fine bulgar wheat in a big bowl and cover with boiling water, the same way you cook couscous.  Let it absorb the water but do give it a mix with a fork from time to time to keep it from clumping.  Let it sit there while you prepare the rest of the salad, it needs at least 15 minutes.
Meanwhile, chop your parsley and mint.  Chop your radishes and break apart your trout fillet into little chunks.
Now make your gremolata by mixing together all the ingredients – yoghurt, garlic, parsley and lemon.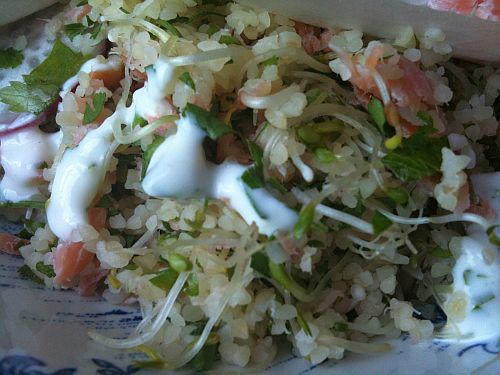 Once the bulgar wheat is ready, mix your parsley, mint, shoots, radishes and trout into bowl.  Add salt and pepper, a bit of olive oil and squeeze in your lemon juice.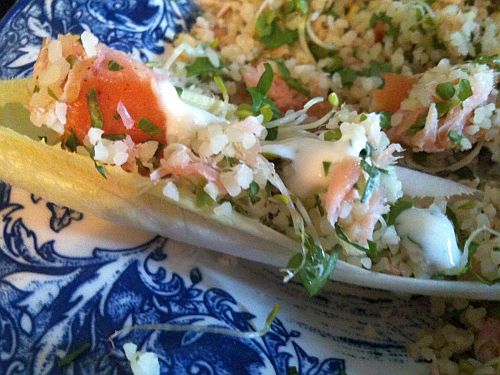 Serve up by stuffing your chicory with the bulgar wheat mix and placing them on top of your salad.  Finally, drizzle over the gremolata and serve it all up with a glisteningly cold glass of white wine.  Win!
TUNE
Have a listen to my RTE 2xm radio show Right Click Radio from last week if you fancy!