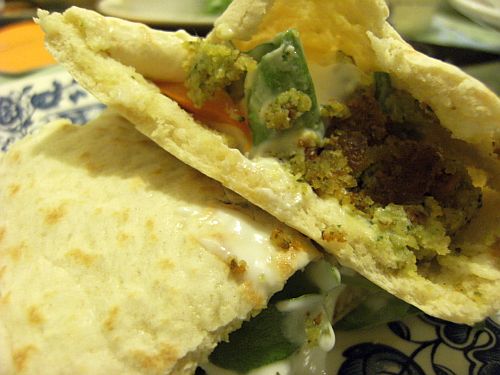 Honestly, if you look really closely, you'll see there is, in fact, a falafel in there…ahem.
Well,  a Falafel Half-Fail at any rate.  I love Falafels so much that I would love to be able to make them at home.  When I lived in Saudi Arabia, we bought Falafels and Shwarmas as treats on Wednesday nights (Wednesday being the start of the weekend).  The crispiness as well as the delicious herby flavour of the chickpea  pockets of goodness is a taste that I've never forgotten.
During the week, I tried my own Falafels and had a bit of a fail.  Have a look after the jump to see where I went wrong.  I'd really appreciate all your falafel knowledge and tips!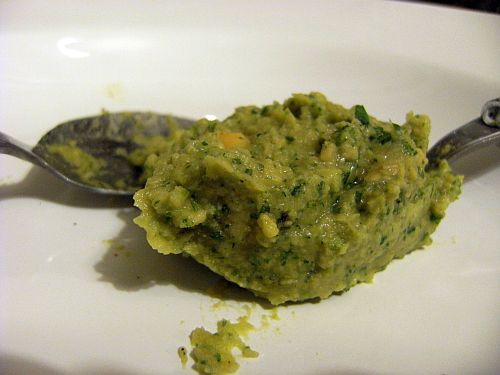 So I followed a recipe for Falafels in Antony Worrall Thompson's GI Diet book, which is reliable enough book filled with tasty low-GI recipes.  I didn't follow his recipe exactly, and I used two cans of chickpeas instead of using the dried chickpeas, soaked over night and all that.  Here is the recipe:
Antony Worrall Thompson's Falafels
(Makes 24 falafels)
250g of dried chickpeas, soaked overnight then well drained. *I used one and a half tins of chickpeas, which was perhaps the secret to my falafel downfall*
1 garlic clove
Handful of parsley
Handful of coriander
2 tablespoons chopped mint
1/2 onioon, roughly chopped
1/4 teaspoon cayenne pepper
1/2 teaspoon ground cumin
1/2 teaspoon ground black pepper
1/2 teaspoon baking powder
1/2 teaspoon ground coriander
Oil for frying
I popped my falafels into Pitta Bread with houmous, natural yoghurt, salad and a bit of Sweet Chilli Sauce.
"Blend all the ingredients in a food processor to form a manageable mixture.
Shape into 24 small patties and fry in a thin film of oil in a non-0stick frying pan until golden brown on both sides.  Serve as a snack with natural yoghurt, or for a more substational meal, in pitta bread pockets with shredded salad and picked chillies."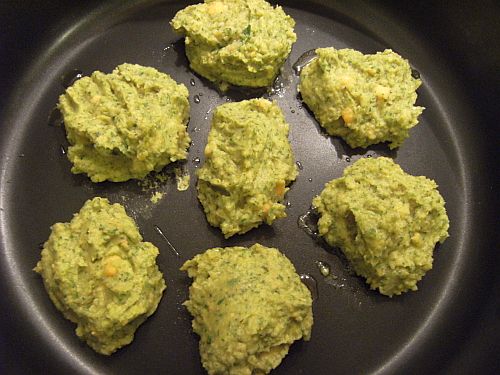 I'm not sure if that's the reason why I ended up with such a moist falafel mix, which when fried in a pan just fell apart.  They still tasted pretty good but the consistency was all wrong.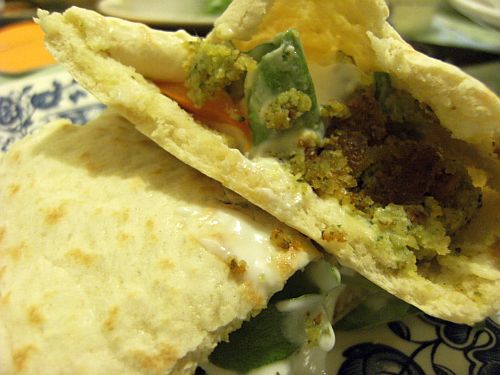 The next day, I had some of the mix left over and thought it might stay together better after a night in the fridge.  And I figured I may as well admit that the only way to cook falafels is to deep-fry them.  I  hate deep-frying because a) it seems outrageously unhealthy b) it seems like a waste of oil and c) the hot oil kind of frightens me.
I rolled up my falafel mix into little balls and dipped them in some flour, before plopping them carefully into the hot oil.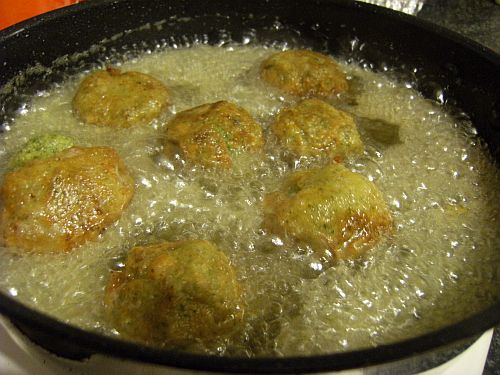 The end result was a slightly better falafel – there were a few that stayed together really well but one of my poor falafels just burst completely and when I scooped it out it was literally a shell of a falafel!  Crunchy skin with no chickpea inside it.  It was quite tragic.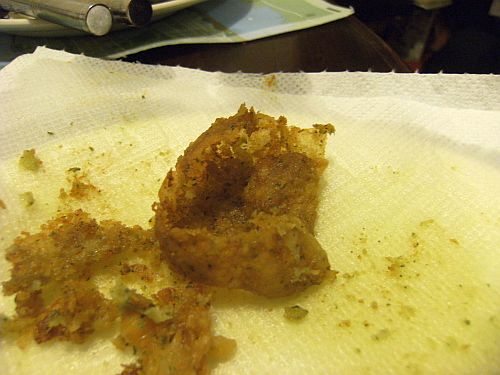 Alas, poor falafel, I knew him well…
So, while the taste of the falafel was pretty spot on, with the right mix of mint and parsley and coriander, but I'm not sure about the consistency.  Any tips?  Do you think using dried chickpeas instead of tinned chickpeas would make a difference?
Shukran habibi!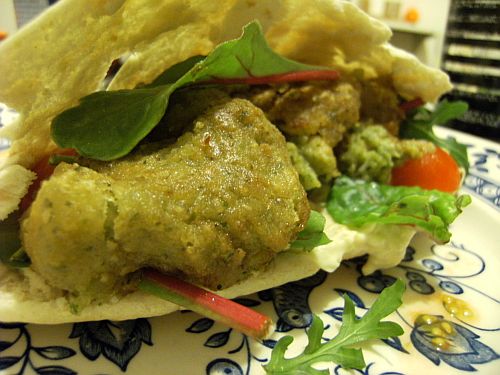 Here's Algerian singer Cheb Khaled with Didi.  It's a bit cheesy but for some reason this song is connected with falafels in my brain.  K thnx bai!