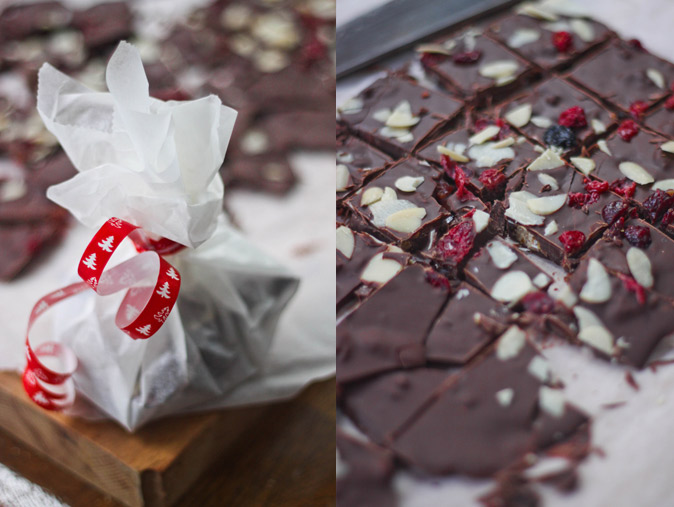 I love giving friends edible gifts around this time of year. In the past, I've given Christmas spiced cupcakes and chutney, or simple bundles of cheeses and crackers. Finding myself a little stretched for time this year, I was looking for something simple yet special to help pals and colleagues ring in the festive season.
I was reading Edible Ireland's post on matching craft beers and Christmas dinner and had a recollection of her Chocolate Bark with Almonds and Candied Bacon that had been on my list to try ever since drooling over it on her blog on February 2011. They sound a little cray-cray but the combination of the salty bacon and the velvety chocolate has won over many a disbelievers since I started delivering packages of these broken bits of loveliness last week. Best thing is, they're terrifically simple to make. I've adapted Kristin from Edible Ireland's original recipe a little bit but a huge thank you to her for sharing the recipe with us – can't believe it took me nearly two years to try it! The success of these bite-sized pressies really relies on the quality of chocolate you use so be sure to use your favourite stuff on this.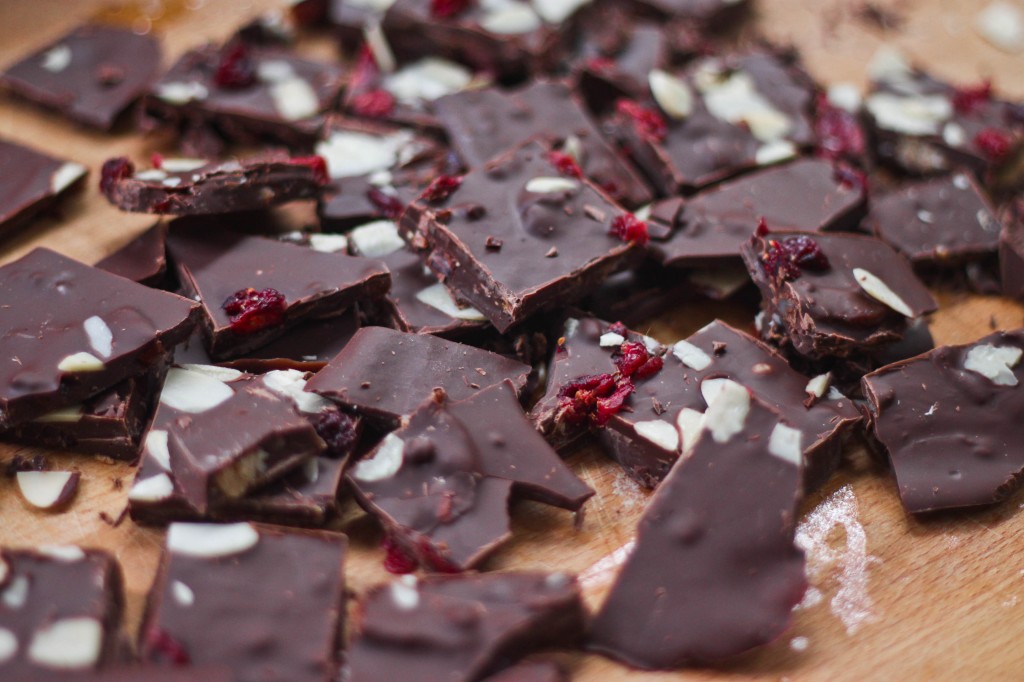 What you need for Chocolate, Bacon and Orange Bark (makes about 16 to 20 pieces)
About 100g of good quality bacon/pancetta lardons
3 x 100g of good quality milk chocolate
1 x 100g of good quality orange-flavoured dark chocolate
3 tablespoons of brown sugar
A handful of flaked almonds
A handful of roughly chopped dried cranberries
Start by dry-frying the bacon/pancetta lardons in a small frying pan over a medium heat until crispy and browned. This will take about five to eight minutes. Once browned, transfer to a plate to drain on kitchen towel.
Meanwhile, break the chocolate into chunks and put into a large, heat-proof bowl. Melt the chocolate over a saucepan of simmering water, stirring constantly until the chocolate is smooth and glossy.
Once the bacon and chocolate are done, cook the brown sugar in a small frying over a medium heat until it has caramelised. Let it melt for three minutes or so, stirring a lot, being careful not to let it go too far. This is easy to do! So keep an eye on it. Once it's nice and melty and golden, it's done. Mix this with the cooked bacon until the lardons are well coated and sticky. Yum.
Now mix this bacon into the melted chocolate, blending well.
Line a baking sheet with baking parchment/greaseproof paper. Use a spoon to spread the chocolate and bacon mix evenly over the baking sheet so that you have a large rectangle of glossy bacon chocolate.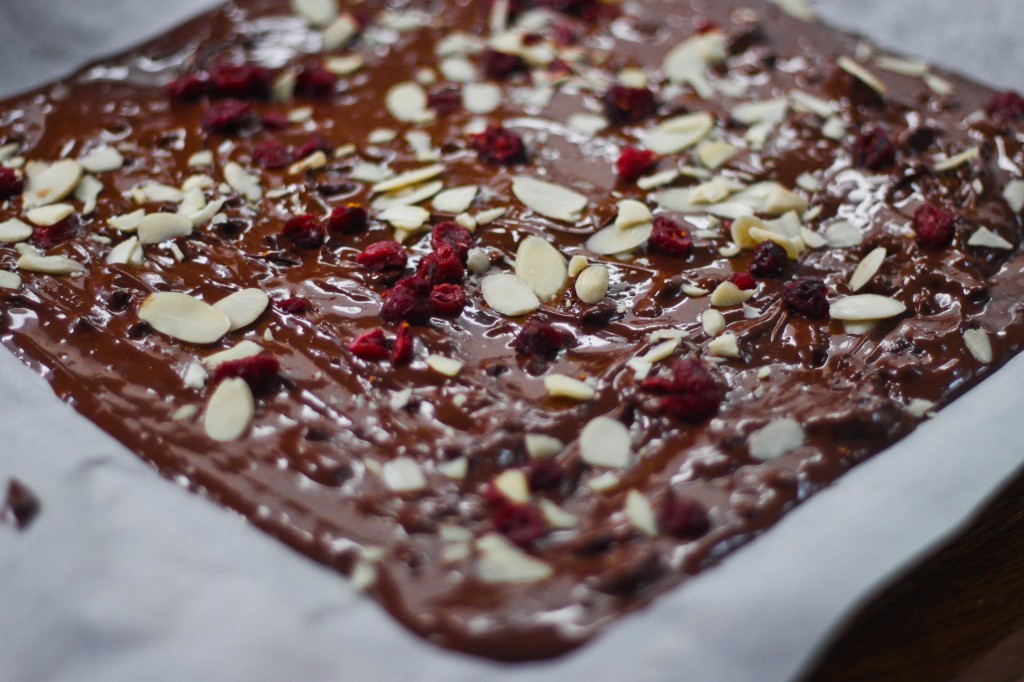 Sprinkle the handful of flaked almonds and handful of cranberries over the top. Leave to cool before putting in the fridge for an hour (or overnight). Chop roughly into squares and divide them as equally as you can between friends!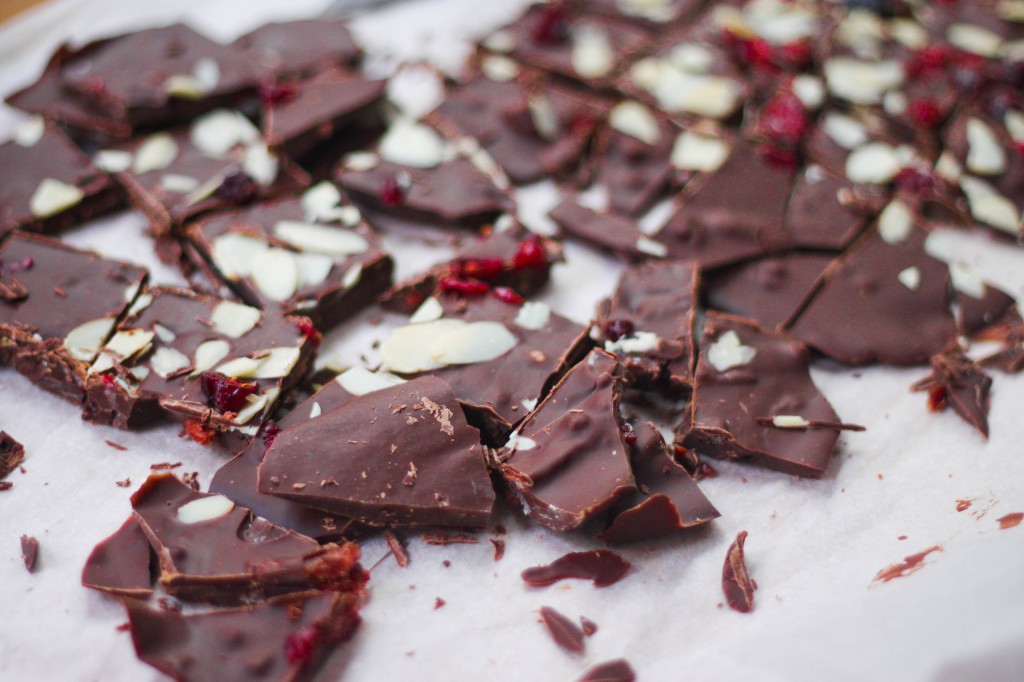 Just in case I don't get to check in before Christmas to say hello, wishing you and yours a very happy holiday and a delicious New Year!