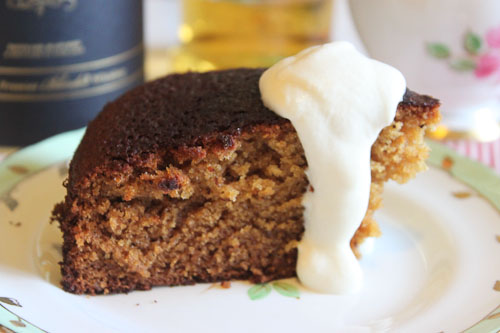 My (slightly charred) Double Ginger Cake with L Mulligan Grocer Kilbeggan Whiskey cream
Correct me if I'm wrong, but I think this is the very first cake recipe I've posted on this blog.
The main reason behind my cake-baking inaptitude is I don't have a major sweet tooth.  If I did, cakes and buns and shortbreads would have been on the top of my list when I started learning how to cook.  Instead, the last few years I've been stumbling around my kitchen acquiring the basic skills of (increasingly less basic) savoury dishes.
But as I continue on this food-based journey of learning, it would be only right to pursue an acute awareness of all pantry ingredients.  And so, I endeavour to learn how to cook more sweet things.  For the sake of knowledge, you understand.
Man, I can justify the eating and making of anything.
This Double Ginger Cake is a recipe I first learned at Lynda Booth's Dublin Cookery School last year when I attended her brilliant Baking Course, but had quite forgotten about until I added it to my Paddy's Day Eve feast menu last week.
My wonderful friends Ben and Anna were visiting me from the UK last week for my birthday and Paddy's Day, and we had a big feast planned for Paddy's Day Eve.  I remembered the ginger cake recipe and figured it would fit in well with the rest of our menu (Jack McCarthy's ah-mazing chocolate black pudding with Cashel blue on toast, salmon carpaccio with mustard and dill mayo and a Marmite-enhanced Irish stew) so I dug it out of my recipe files.
I was in the awesome L Mulligan Grocer the week before this feast for their Irish coffee tasting and the lovely Seaneen (one of the three main Grocers) was good enough to give me the basic recipe for the whiskey cream they serve with a few of their delicious cakes.
As it turned out on the night of the feast, Anna took charge of the cake while I looked after the starters and the whiskey cream.  And yes, there was a shot for the cream and a shot for me.  That's how I do.
Anna's version of this cake turned out perfectly and was thoroughly enjoyed by myself, Ben and Anna, and our other lovely guests Bez, Michelle, Tristan and Fran.
When I went to make it again today, my super hot oven managed to burn the top of it.  So.  I'm nowhere near to being A Baker yet, but it's all about practice.  This is a great cake to start on if you're afraid of baking.  Even though it was a little burnt, it still tasted really lovely.  Forgiving cakes For The Win!
Another great thing about this cake is that it actually tastes better after a day or two of resting, so it's perfect for a big feast, as all you have to worry about after the main meal is making the whiskey cream.  And that's a *hic* doddle.
What you need for Double Ginger Cake
250g self-raising flour
2 level tsp ground ginger
1/2 tsp ground cinnamon
1 level tsp bicarbonate of soda
Pinch of salt
200g golden syrup
2 tbsp syrup from the stem ginger jar (you can buy these lovelies in any good supermarket's baking section)
125g butter
2 lumps stem ginger in syrup
2 heaped tbsp sultanas (totally optional, I didn't have them so left them out)
125g muscovada sugar (I used the light brown kind but the dark would be just as wonderful)
2 free-range eggs
240ml milk
Start by lining a 20-22cm springform cake pan with baking parchment or greaseproof paper.  I just put a circle at the bottom of the pan and it works perfectly.
Pre-heat your oven to 180 degrees C or Gas Mark 4.
Sift your flour into a mixing bowl.  Then sift the ginger, cinnamon, bicarbonate of soda and add the pinch of salt.
Put the golden and ginger syrups and butter into a small saucepan and warm over a low, gentle heat.
Dice the stem ginger lumps as finely as you can get them.  Once the butter and syrups have melted into one lovely looking gloop in your saucepan, add the stem ginger, sultanas if using, and your sugar.
Keep stirring the mixture and let it come to a little bubble, but don't let it get too hot.
Meanwhile, you can break your eggs into a bowl, pour in the milk and beat gently to break up the egg and mix into the milk.
Remove the butter and sugar mixture from the heat and pour into the flour, stirring smoothly and firmly with a large spoon
Mix in the milk and eggs.  The mixture should be sloppy, with no trace of flour.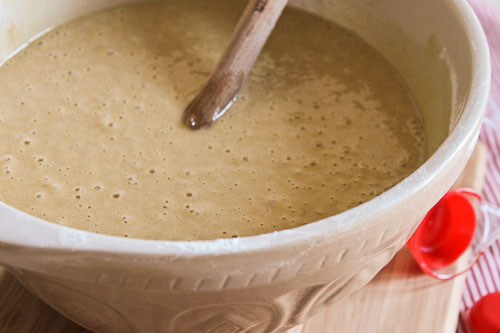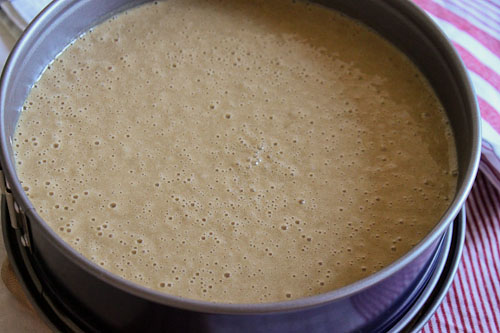 Scoop the mixture into the lined cake tin and bake for 35 to 40 minutes.  If you have a hot oven like mine (see slightly charred cake) give it 30 to 35 minutes.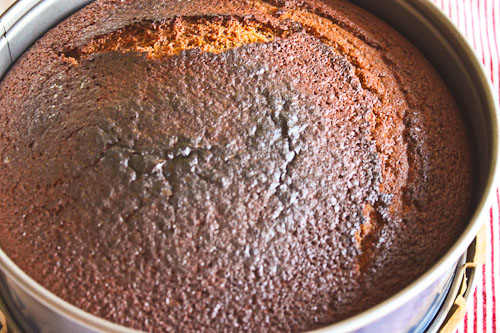 To check that it's done, put a skewer in the centre of the cake.  If it comes out clean, it's done.
You can serve it warm, but otherwise, leave it in its cake tin to cool.  Once cool, use a blunt knife to separate the cake from the edge of tin.  Now open your springform tin and put it onto greaseproof paper.  Now you can wrap it in foil and let it mature for a day or two.
What you need for L Mulligan Grocer's Whiskey Cream a la Aoife Mc
* This is not the exact recipe that Seaneen shared with me, but I played it by ear on the night and this is more or less what I did.  It's kind of a play-it-by-ear cream.  Go easy on the whiskey at first and taste.  If you add too much whiskey, you can bring it back by adding more sugar.
250ml double cream
About 3 capfuls of good whiskey (I used the Mulligan's brand of choice Kilbeggan's whiskey, a beautiful bottle of which I got in Dunnes for €20)
About 2 tablespoons of brown sugar (light muscovada is perfect for this)
In a bowl, whisk your cream a little so it starts to fluff.  Now add 2 capfuls of whiskey and a tablespoon of sugar.  Give it a taste.  If you like it, keep whisking until you get the consistency you like.  If you want more of a kick, add another capful and/or more brown sugar and whisk until you're happy.
I like my cream quite thick, but in Mulligan's they serve it as a pouring cream which is also awesome.  So take your pick.  I've tried both consistencies and they're both amaze.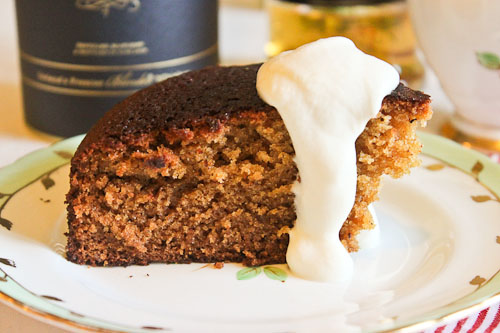 So.  As I said, I'm nowhere near being a good baker but I'm getting there.  And this cake has certainly helped.  Nom!
TUNE
Ben and Anna are also a band called Herons! and you can have a listen to their beautiful music on their bandcamp site.  My favourite is Neighbourhoods, but they're all good.  Go forth, listen and buy!
Neighbourhoods – Herons! (via Herons! Bandcamp page)
Categories: Baking