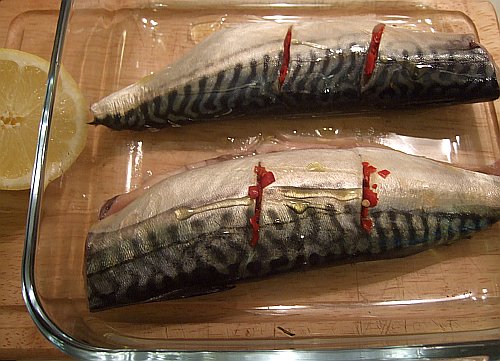 Ouch!  That looks painful. Poor fish.  You'll feel better when you're in me belly…
If I was ever to go on a proper diet again (the last attempt being an ill-advised broccoli broth diet myself and my sister tried a few years back which lasted three days before we cracked and had a super major binge on eight slices of nutella smothered toast each) I would follow the GI Diet.
I have a copy of the GI Diet book by Antony Worrall Thompson, who strikes me as quite a smug little man, but by gum, his recipes are rather lovely.  The book is full of delicious recipes which are interesting enough to enable you to maintain a healthy diet.  Buy it here.
I'd spotted a recipe for grilled mackerel with chilli and horseradish so I went down to Moore Street in Dublin today to find me some fresh mackerel.  There's a little outdoor stall towards the Parnell Street side of Moore Street with two proper Moore Street ladies manning the station, filleting fish and serving folk with a bit of old school Dublin spirit, all howyahs and jaaaysuses.  I got two pieces of fresh mackerel, filleted and wrapped in The Herald for €2.50.  Bit of a steal in fairness.
When I got home I found there was still quite a lot of teeny little bones in the fish, which I tried my best to pull out before cooking the fish, but we did end up eating our dinner a bit gingerly to make sure we didn't, well, choke.  Other than that though, the fish was perfectly fine.  I'm going to head back to the Moore Street stall and see what else I can try out.  And maybe I'll politely ask if there's a good way of getting all the bones out of the fish!
What you need for Antony Worrall Thompson's Grilled Mackerel with Chilli and Horseradish for two

2 fresh whole mackerel, heads removed, gutted and cleaned
1 de-seeded and finely chopped red chilli
2 spring onions, finely sliced
2 teaspoons of grated horseradish (I only had creamed horseradish of which I used 1 teaspoon and it worked out just fine)
1/2 teaspoon of dried chilli flakes
1 teaspoon of chopped rosemary leaves
juice of 1 lemon
1 tablespoon of olive oil
Sea salt and black pepper
(The original recipe was for four so I just halved everything.  I can has division tables?)

I served the mackerel with roasted baby potatoes with Rosemary and sliced garlic.  Yum yum.  I scrubbed up the potatoes and popped them in a baking tray with two cloves of sliced garlic and a generous sprinkling of rosemary leaves.  I put these in the oven at around 180 degrees C for about 40 minutes, until they looked kind of like this: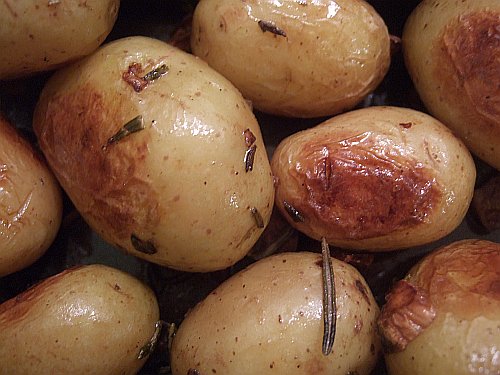 I actually prefer my potatoes a loooot browner than that.  I like them brown all over the outside and soft and floury on the inside.  I kind of achieved that combination this time round by accident.  After the potatoes had been roasting for about 40 minutes, I covered them in tin foil and put them in the bottom of the oven while I grilled the fish.  So they were still cooking away slowly for another 20 minutes probably!  They turned out very well indeed, I must say.
Back to the beginning – once the potatoes are in the oven and starting to cook, you can get the mackerel 'sauce' ready.  I got it ready in advance so that the flavours could all mix in together.  The recipe says to put the spring onions, horseradish, dried chilli and rosemary in a bowl and add the lemon juice and a dash of water for a pouring consistency.
I got a bit distracted and didn't follow the recipe exactly but I imagine the final result was fairly close.  Instead of using dried chilli I put in a full chopped and de-seeded fresh red chilli.  Then I added it to the tablespoon of olive oil, and then the lemon juice.  Then I mixed in the spring onions, horseradish cream and rosemary leaves.  It tasted pretty good too, and if I ever manage to find fresh horseradish, I'll try this fish 'sauce' again!
Once you've finished that, you can head back to the mackerel.  Slash the fish twice on each side and place the other chopped chilli into each slice.  Put them in a baking tray and pour a splash of olive oil over them.
When the potatoes are cooked, you can grill the mackerel for 5 to 7 minutes on each side.
I had some asparagus so I boiled them up for extra greenery and served the whole lot with a spinach and tomato salad.  It were lush.
MP3
Okay…no mp3 with this one actually.  While I was cooking I also had one eye on The Gay Fish Southpark episode.  It's totally lolsome.  And it isn't as homophobic as this song might imply.  It's a piss-take of Kanye West more than anything.  Here's the song from the episode featuring Kanye.  This will seem a bit random out of context, but get ye to the nearest youtube distillery and find the episode.  It'll all become clear.
Categories: Dinner Tags: Healthy like