I'll be your friend, aubergine!
Hurrah!  New cookbook in the house!  I'd been eyeing this one for awhile and took the plunge the other day and got myself a copy of The Cornucopia At Home Cookbook.
I really love the vegetarian restaurant on Wicklow Street in Dublin, and anytime I need a meal that makes me feel healthy throughout I head there for a big plate of whatever's going.  My only quibble with it is that, because it's such a popular place, it can be a bit crowded and stressful.  Thus I am very much looking forward to the completion of their renovations, which aim to expand the space of the restaurant and double the seats.
Along the same line of thought, how deadly would it be to cook the yummy Cornucopia food in the comfort of your own home?  The cookbook, written by Eleanor Heffernan, is packed full of useful tips on everything vegetarian/vegan/generally healthy, as well as loads of really well-written easy to follow recipes and baking tips and quiche tips and gorgeous pics and a genuinely touching introduction from the owner and founder Deirdre McCafferty.
I was really looking forward to getting stuck in and I was leafing through the book before bedtime last night – I find it strangely relaxing to read cookbooks in bed in my jammies – I spotted this stuffed aubergine with tomato sauce recipe.
I'm going to post this recipe on the condition that at least ONE of you reading this buys The Cornucopia Cookbook.  Buy it here on-line or head down to your local book shop and see if they have it.  Honestly, it is wonderful.  And I've only just started with it!  Once I get a new oven in the flat, I'll be attempting my first quiche following the recipe in the book.
Don't get freaked out by the long list of ingredients. It's mainly just spices and although the recipe takes about an hour and 40 minutes altogether, with the chopping and baking and roasting and all that, it was fun to make and not a bit stressful or fiddly.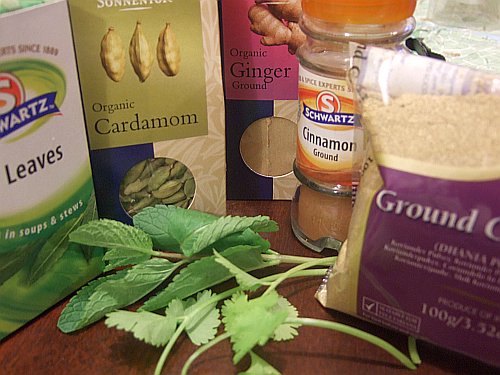 Cornucopia At Home's Couscous-filled Aubergine halves with Roasted Cherry Tomato Sauce for six (or thereabouts)
The sauce
800g cherry tomatoes
1 onion finely diced

2 cloves of garlic finely chopped

1/2 teaspoon unrefined brown sugar
1 heaped teaspoon ground cinnamon
Pinch of ground cardamom
1/2 teaspoon of ground ginger
1/2 teaspoon ground coriander
1 tin of 400g tin plum tomatoes, blended til smooth

Zest of half an orange
Small bunch of fresh mint, finely chopped

Olive Oil
Salt and Pepper
The Aubergines:
3 large aubergines (to make 6 portions)
250g couscous
100g flaked almonds
1 onion, finely diced

3 cloves of garlic, finely chopped

2 bay leaves
400g baby spinach leaves (washed and drained)
small bunch of fresh coriander, finely chopped

200g frozen peas
Olive Oil
Salt and Pepper
I followed the recipe measurements for the sauce, but divided the aubergine stuff by a third, as I was cooking for two, and it all went to plan rather nicely.  Now I have lots of tasty tomato sauce leftover for some kind of lunch tomorrow.
Oooh lovely spicy beautifully roasted cherry tomato Sauce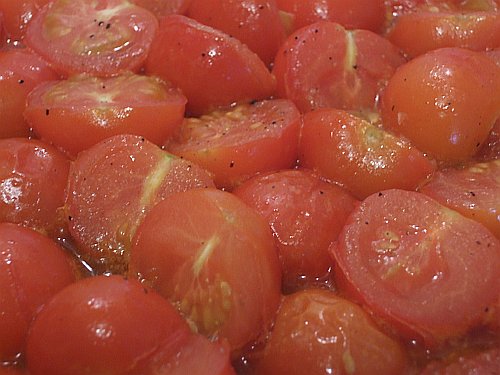 Soooo….first things first.  I got some beautiful cherry tomatoes in Fallon & Byrne this afternoon, which I halved and put into a roasting dish.  I covered them in olive oil and salt and pepper and roasted them at 200 degrees C for about 25 minutes.  The recipe said to roast them until 'really soft and jammy' which I quite liked.
When the cherry tomatoes are roasting, you fry up the garlic and onion and the teaspoon of brown sugar in a large pot with olive oil.  Cover with a lid, bring down to a low heat and let the onions sweat for 10 minutes (eewww sweating onions).  After ten minutes, pop in the cinnamon, caradmom, ginger and coriander, and fry for another 3 minutes, stirring all the time, so it doesn't go lumpy and gross.
After the three minutes, pour in the blended tin of tomatoes, grate in the zest of orange, season with a little salt and pepper and simmer for 10 minutes.  By this point, your roasting cherry tomatoes should be 'jammy' so you can stir them into the sauce.  Check if you're happy with your seasoning, and then set aside for later.
Aubergine – (remember I very easily adapted the recipe for 2 people using only 1 aubergine halved and dividing the other ingredients by 3.  What I've written below are with the measurements for 6 helpings more or less.  You know what I mean!)

Halve the aubergines lengthways and scoop out the flesh with a spoon.  I used a little knife too and carefully cut a line of what I wanted to scoop out.  You'd think that the aubergine flesh wouldn't come out easily raw, but it does.  Who knew?  Anyway, brush the inside and out of the aubergine halves with olive oil and roast in the oven for 15 minutes at around 200 degrees C.
While the aubergines are roasting, you can start with the couscous stuffing.  Start off with your couscous in a bowl and pour 300 ml of boiling water over it and leave for ten minutes (I poured 100ml water over 85g couscous).  Be sure to fluff it up with a fork about halfway through the ten minutes so it doesn't being clumpy couscous.
Put your almond flakes into a baking tray and toast for about 5 minutes until they smell amaaazing.  Give them a bit of a shake during the 5 minutes so they toast evenly.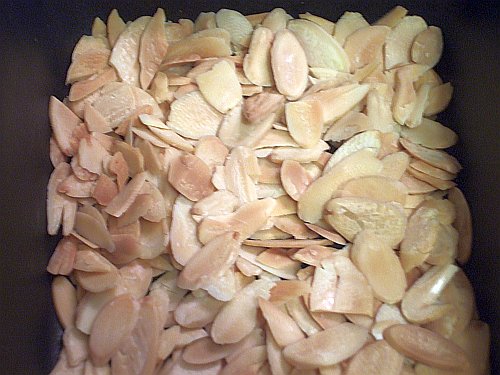 In another small pot, fry your garlic and onion along with the bay leaves.  Cover with a lid and fry until soft, then remove bay leaves and set aside.
Now you have to wilt your baby spinach.  Put a bit of olive oil in a frying pan on a high heat and add the spinach (half at a time if you're making this in bulk) and cook until soft, stirring all the time.
In your bowl with the couscous, add everything in altogether and give it a good stir.  So that's the couscous, toasted almonds, frozen peas (oh shit! I forgot the bloody peas! Still tasted yum without them!), wilted spinach, onion and garlic.  Add the fresh coriander and add a bit of salt and pepper.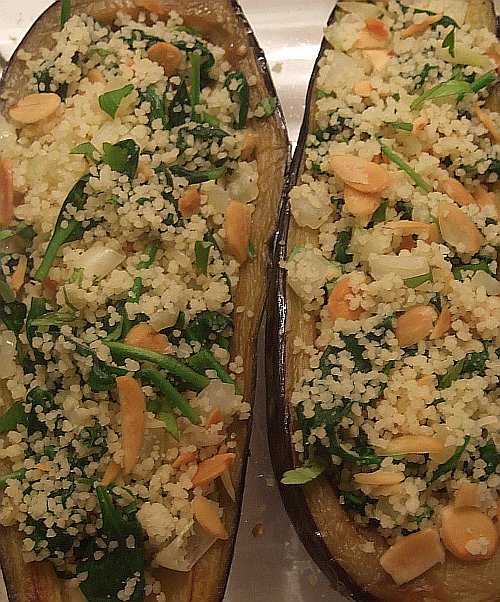 Finally, you can take out your aubergine halves from the oven and fill them with stuffing.  Put them back in the baking tray, cover with foil and bake in the oven for about 25 – 30 minutes or until you can stick a knife into the aubergine in one of the thickest parts of the skin and it's definitely all soft and squishy.
When your aubergines are nearly done, re-heat your lovely spicy sauce which has had loads of time for the flavours and spices to say hello and get to know each other.  Get your fresh mint and stir into the sauce.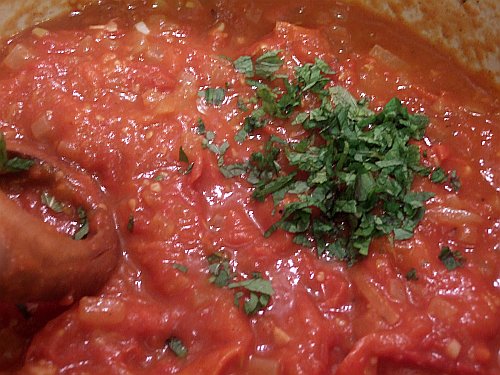 Put a nice big spoonful of the sauce on your plate and plop the aubergine on top in the middle of the sauce.  Yum!!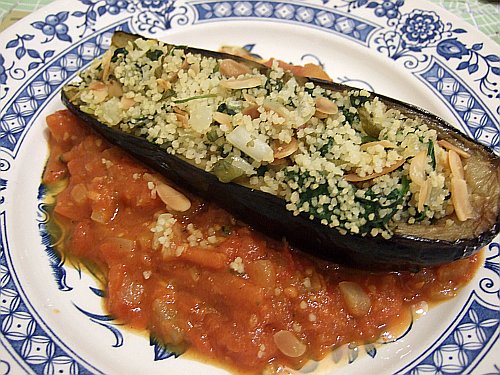 Niall and I are having camera wars.  Which is slightly unfair as both cameras technically belong to him but I have now dubbed the not-as-good-older-one the Food Blog camera.  I think it's great.  Here's a pic Niall took with his fancy pants camera: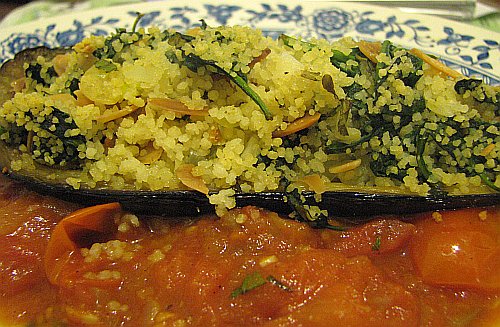 Very nice indeed.  Hope everyone's having a lovely long weekend!
MP3
While I was cooking, we were listening to Stephen Colbert's audio book I Am America (and So Can You!).  If you haven't seen The Colbert Report (both with silent Ts) get downloading.  It's a spin-off from Stephen Colbert's appearances on The Daily Show with Jon Stewart, and it's bleedin' brilliant.  Colbert's audio-book takes you through his vision of the world – of how he sees it now and what it could be like in his liberal-fearing future.
The audio book has a series of chapters taking you through the inner workings of family, the church, religions and old people.  It's hilarious and the best audio-book I've ever read, for sure.  To whet your appetite, here's the introduction.  You can buy the book here.
Stephen Colbert – Introduction – I Am America (and So Can You!)
Categories: Dinner Tags: Especially for Ciara and Holly!