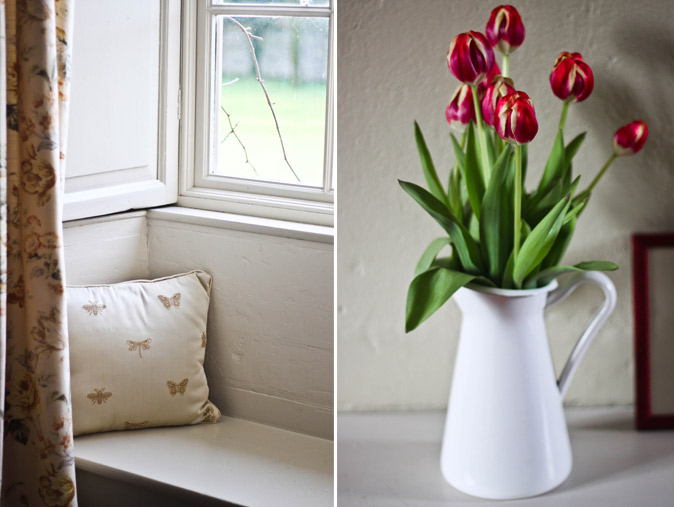 One of my dreams is to own a B&B in Dublin's city centre. I'd cater for all manner of lovely people but I would especially want to  open my doors to travelling bands and musicians who usually have to put up with generic hotels and terrible food when on the road. I'd have great food and comfy beds, books everywhere and lots of comfy sofas for bands to kick off their Toms in front of. It'd be a home away from home, a place for bands to recuperate on the road. And a place they'd be guaranteed a really lovely home-cooked meal or two.
There are three things, in my opinion, that make a Bed & Breakfast worth leaving your own home for. There's the bed aspect – are the pillows fluffy, is the bed marshmallowey, does the house have character? Then there's the breakfast part – it's almost laughable how many Bed & Breakfasts get this so horribly wrong if it weren't for the fact that there's nothing funny about a bad breakfast. Finally, there's the unspoken hospitality part – do you feel at home? Do you feel relaxed, rejuvinated and welcome?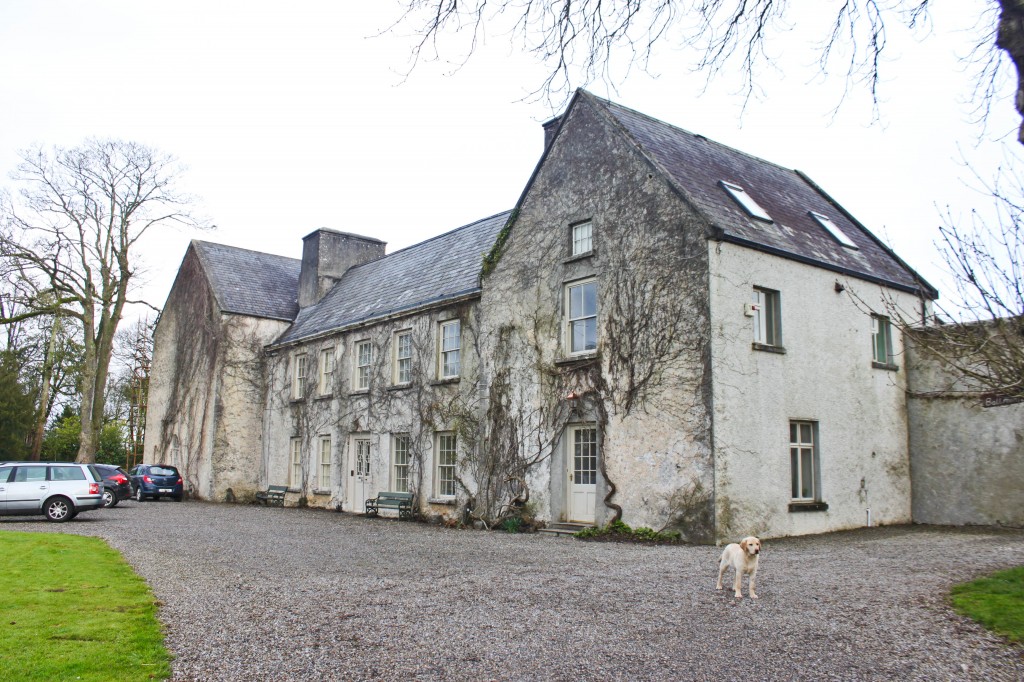 I was lucky enough to be a guest of Cloughjordan House in Tipperary last weekend. For me, their B&B has got it all. The comfort, the food and the hospitality. They've even got more than that – they've got a cookery school, a reclaimed ballroom that makes a stunning settting for weddings, three dogs (Richard, Rupert and Louis) that roam around being friendly, and then there's the pair of pigs called Barbie & Ken. Best of all, the entire family behind this B&B get stuck in and are a huge part of what makes this place so special.
I travelled by rail to Cloughjordan train station where Sarah Baker, the Mum of the house and head of the cookery school, picked me up from. A short drive in the car followed before we pulled up the gravel drive to the country house that houses her family business. Sarah and her husband Peter Baker inherited the house from Peter's family about 20 years ago. They had 15 years of running a dairy farm on the land before they opened the B&B and cookery school in and around 2006.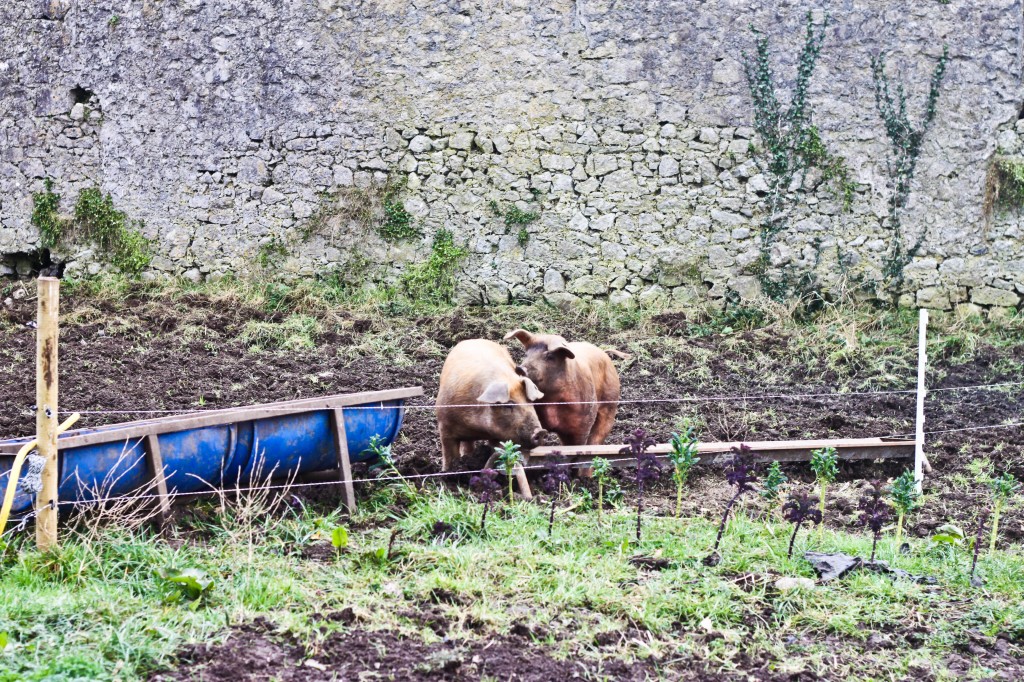 Barbie & Ken, the Cloughjordan pigs.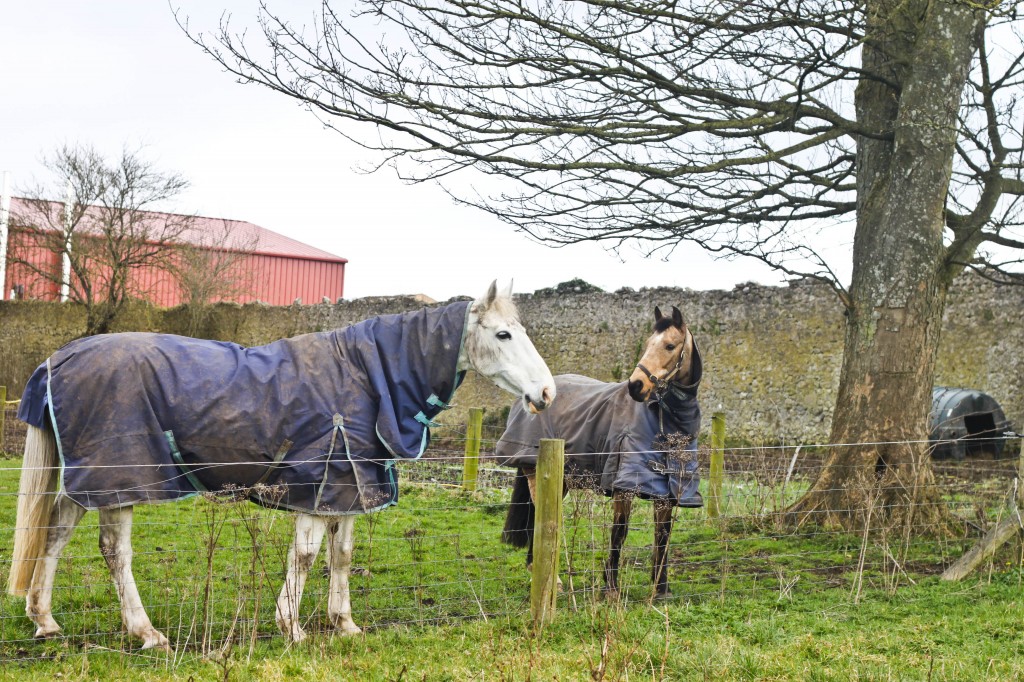 Dusty & Mocha, the Cloughjordan horses
After laying my luggage down in my beautiful room – tall, sashed windows letting the evening light into my carefully furnished and flowered room – I was ushered in to the family kitchen to join Sarah and Peter's family for dinner. Their three teenage children Sam, Holly and Julie told me what is like to live in a B&B while Sarah cooked us up a pork stir-fry using pork shoulder from their last pigs, Peppa & George. I was struck by the work ethic that Sarah and Peter have obviously instilled in the kids, as well as a respect for food and the environment. I really felt at home.
Granted, being welcomed into the family kitchen is probably not the usual treatment guests get but the children are a big part of the B&B. Holly was there to serve breakfast in the morning, while Sam introduced me to their pigs Barbie & Ken and their horses Dusty & Mocha. Julie, meanwhile, is part of the cookery school team and made sure our class ran smoothly and that none of us were without a clean chopping board at any point.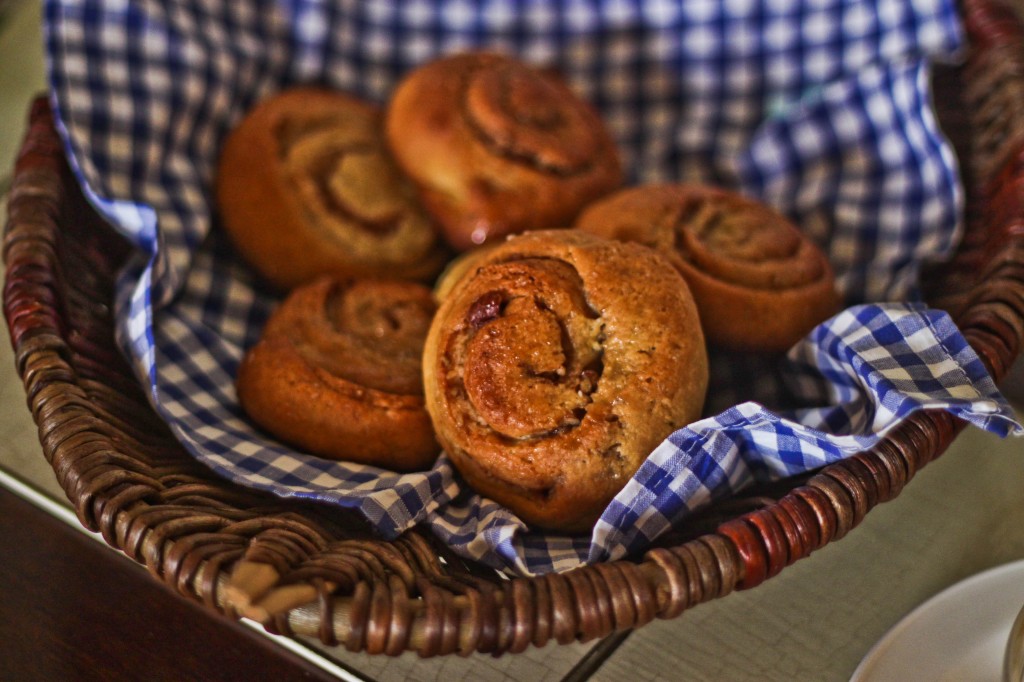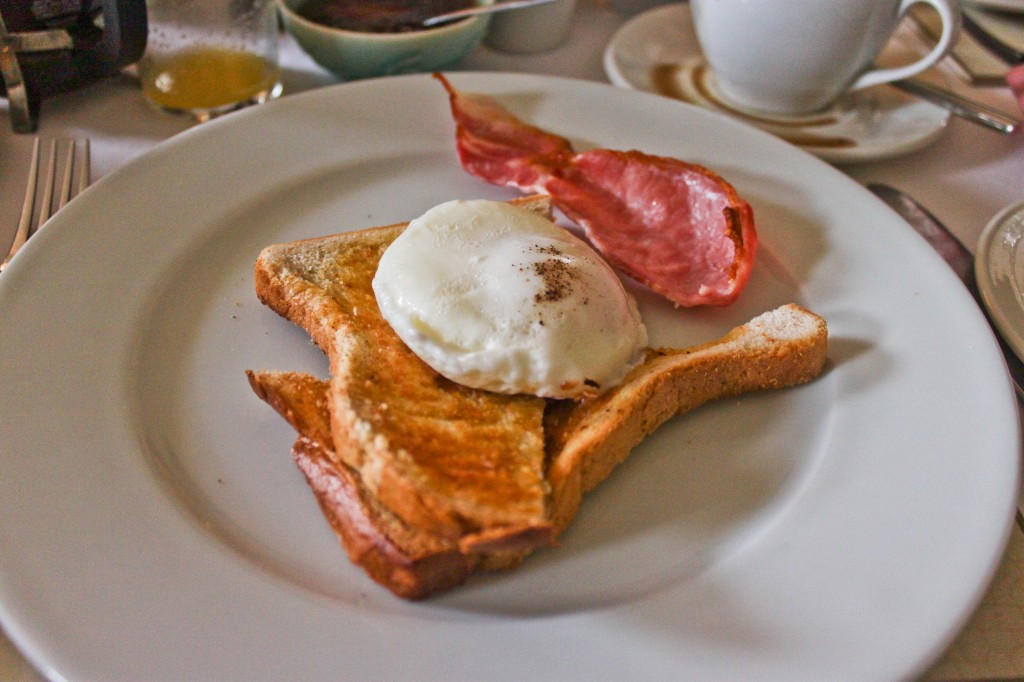 Breakfast itself made up for all of those disappointing breakfasts gone by. Fresh eggs from the family's hens were poached for me with a rasher of bacon served up on the side. Usually, the rasher would be from the family's pigs too but Barbie & Ken aren't quite there yet. Still and all, the bacon was beautiful and obviously well sourced. The homemade cinnamon scrolls went down a treat with the expertly brewed coffee and I was well set up for the day of cooking that lay ahead.
Cloughjordan House have teamed up with Glenisk to offer a monthly competition to win a Cloughjordan Mini-Break. You'll notice Sarah on the sides of most of Glenisk's cartons in the next year. It's a great match, with both companies sharing values of sustainability and good taste. If you're a lucky winner, you'll get the Bed & Breakfast as well as the cookery masterclass with Sarah and her team.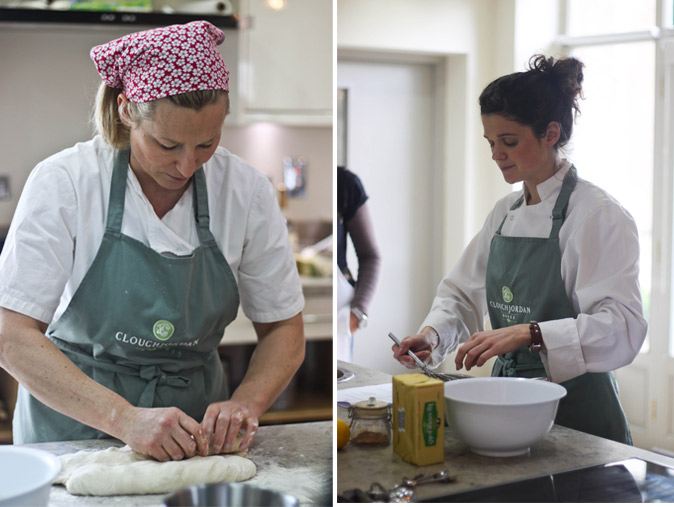 The class runs from about 10am to 2pm and takes a straight-forward approach to good cooking. Simple recipes made delicious and tricky recipes made simple seems to be the key.
We started with a brilliantly simple yeast bread, moving on to a quinoa salad, pan-fried salmon and asparagus, an apple strudel dessert and a cinnamon ice-cream. After the morning's work, the class of twelve sat down in the cookery school to enjoy the fruits of our labour.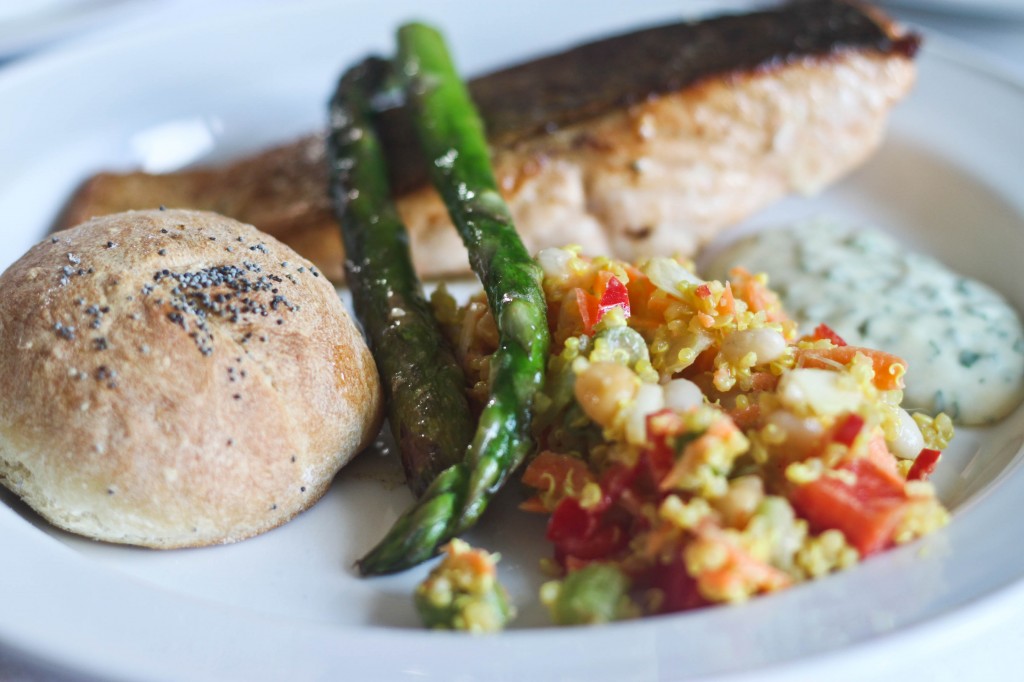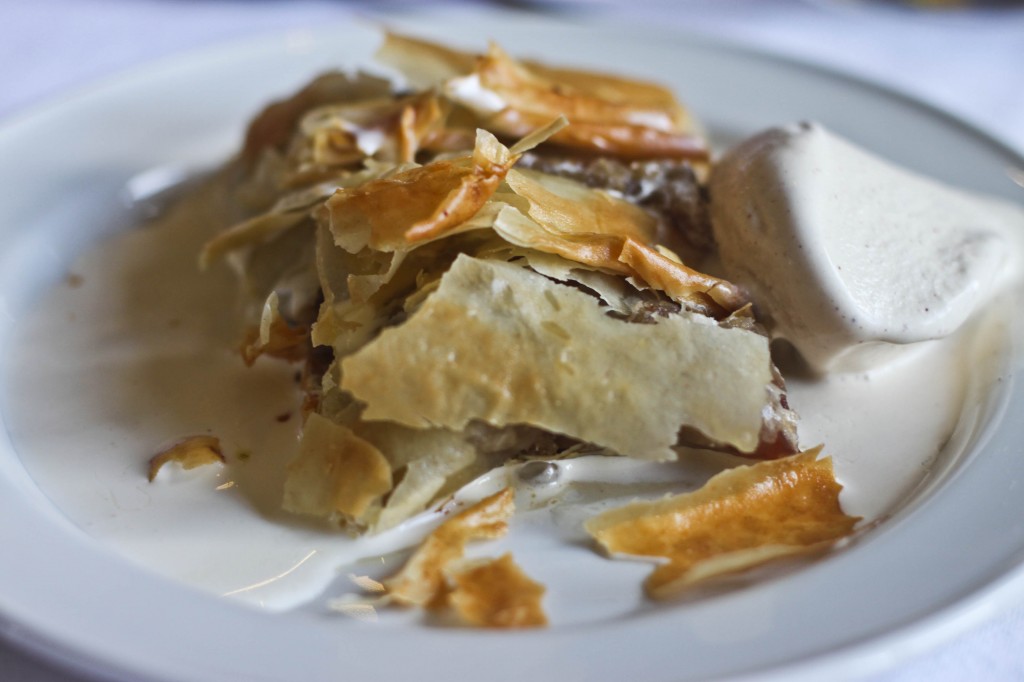 Before I left for my trip back to Dublin, I walked through the door in the old house's wall that leads to the Eco-Village at Cloughjordan. The land this community is built on used to belong to Cloughjordan House and was where the family had their dairy farm. Now the eco-village are in the progress of building a new type of sustainable, green environment that could be a future model of how we can all live with a better relationship with our environment. It's a work in progress and certainly a place I would like to explore further. But next time with a guide to tell me more about what's going on there and what are the community's plans for the future.
I bid a somewhat sad farewell to Sarah, Peter, the kids, pigs, dogs and horses as I made my way back to the big smoke. I'll definitely be back, this time with Nialler (and maybe even Daffodil if she'd be welcome) in tow, as the hospitality at Cloughjordan House is one that makes you look forward to your next visit.
I was a guest of Cloughjordan House & B&B and Glenisk and all aspects of my stay were complimentary. 
Cloughjordan House
Cloughjordan
Co Tipperary
For more details on Cloughjordan House, visit their website.
For more details on the Cloughjordan Mini-Break competition with Glenisk, visit their website.
Categories: Baking, Blog Trips, Breakfast Tags: Cloughjordan, Glenisk