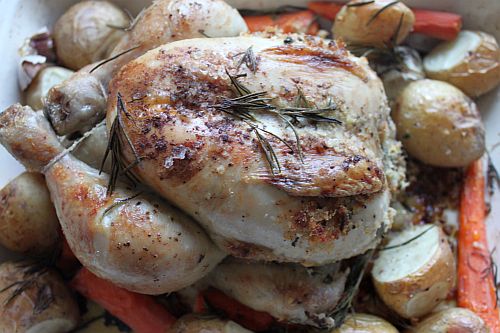 The weekend before last, one of my most  newly acquired internet friends @colinjm was tweeting about getting the preparations together for a family roast dinner.  I realised it has been too long, yes too long, since we in the Byrne-McElwain household partook in a bit of poultry roasting.  It was time to get a nice organic chucky and get two good meals plus some stock out of it.
I don't often shop in Tesco as I find the quality of fresh produce can be rather deplorable – and I live near one of the better ones.  However, I've been trying to be more conscious about where the meat that I eat comes from, and not just that it's organic or from a good home.  I stopped by M&S first but all their organic chickens are from farms in the UK.
So, I popped into Tesco and found a free-range organic chicken from their Finest range that came from a farm in Ireland priced at just over €6.00.  Good value and I think I made the right choice.  No offense to all the lovely organic chicken farms in the UK of course.
Awesome Roast Chicken for 4 peeps
1 lovely whole free-range organic chicken from a happy home
Enough spuds for 4 peeps cut into manageable halves or left whole if you use newish potatoes like me
Enough lovely carrots for 4 too, peeled
About 20g of butter

Sprigs of fresh rosemary
Whole head of garlic, unpeeled, chopped in half
Olive Oil
Sallt and Pepper
For the Sage and Onion Stuffing Balls
100g breadcrumbs
1 onion
A good bunch of fresh sage leaves
Salt and Pepper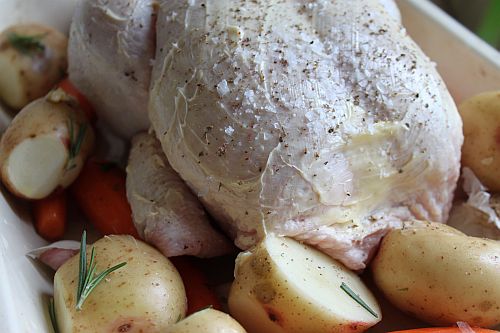 Heat your oven to 190C/170 fan/Gas 5.  Get your chicken ready by smearing it all over with butter, which will result in a lovely crispy skin.  Season it with salt and pepper and pop it into a big roasting tin.
Pop your potatoes, carrots and garlic head halves in and around the chicken,  season and drizzle with olive oil.
Into  the oven it goes and leave it untouched for 1 hour and 20 minutes.
Take it out, let it rest for 15 minutes – keeping your veggies warm somewhere – and then carve and serve.  Everything will taste DELISH.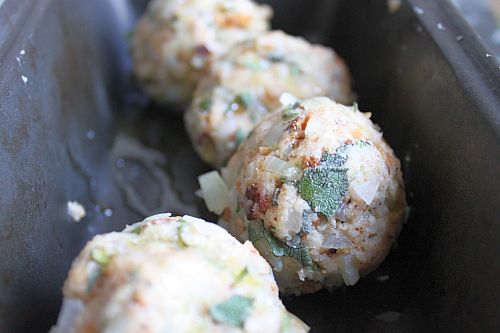 Because I'm a div and can't really cook properly at all, I forgot to put the stuffing in the chicken.  Sooo…I had fried up the onions then mixed with breadcrumbs and sage.  But I had  already put the chicken in the oven before putting the mixture under the skin of the chick!
I tried to rectify the situation a little bit by taking chicken out (after 20 minutes of cooking – BAD cook BAD cook!) and shoving a bit of the stuffing in to the cavity.  I even tried to slice the skin and squeeze a bit under but that was a redundant idea.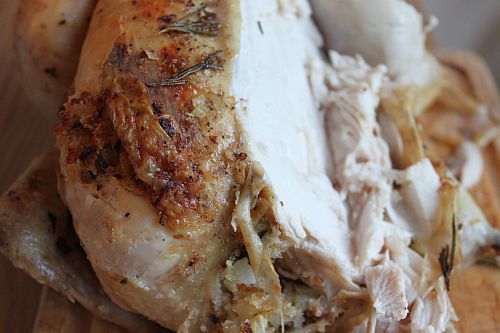 In the end, I rolled up the mixture into little balls and baked them with the chicken in the oven for the last 30 minutes.  They were tasty but a little dry – perhaps adding a little bit of sausage meat to this mixture would really work.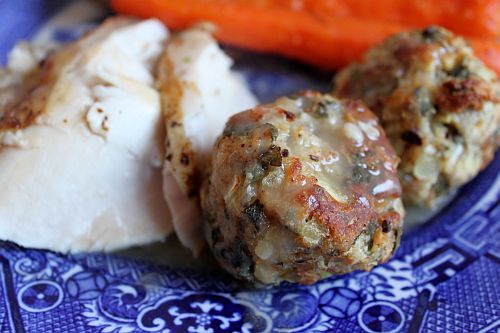 I made a very basic (and slightly shite) gravy from a bit of chicken stock reduced with a teaspoon of flour mixed in to thicken it up.  If you were organised, you could use the juices from the roasting tin while the chicken is resting.
As you can see, my expertise in carving lended itself to the overall presentation of this fabulous meal.  Lol.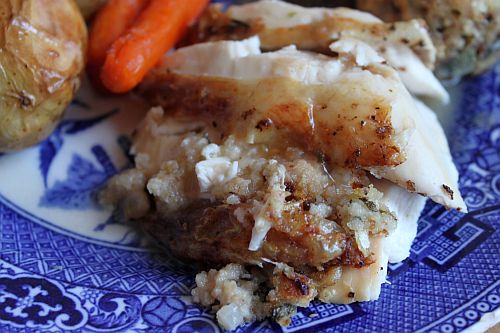 Poor thing has been well and truly butchered.  It didn't affect the taste anyway.  Nomness.  And so easy.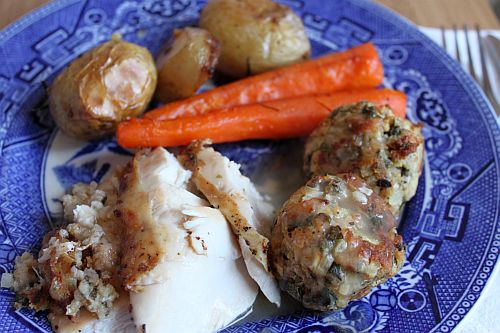 TUNE
Gotta be the Gorillaz with Superfast Jellyfish from Plastic Beach.  Just coz featured MCs 9the awesome) De La Soul name-check chicken at the beginning.  Whoop!
Gorillaz – Superfast Jellyfish on The Hype Machine
Categories: Dinner