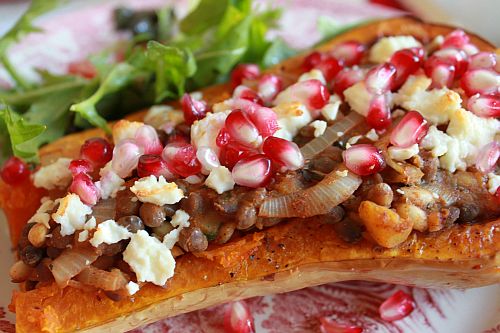 Here's a great recipe for a meat-free dinner, lovely for non-veggies and veggies alike, and easily made appropriate for vegans by taking away the Feta Cheese.
In fact, this would be even better to eat when squash is in season in Autumn – late September, perhaps?  It's so delicious  that I wanted to share it with you here, just in case you're not on Twitter
With preparation and cooking time, altogether this dish takes about 1 hour and 30 minutes to make.  We had it with a nice plain green salad, as even if the squashes are a small size, it's a hearty meal.
Head over to the BBC Good Food guide for all the recipe – and don't leave out the pomegranates!  It makes it.  Nom!