My two favourite eateries in Dublin are The Mermaid Cafe and Gruel, which are next door to each other on Dame Street in Dublin and are owned by the same people.  Obviously, I hit Gruel a lot more frequently as dinner at The Mermaid Cafe can put a sizeable dent in your pocket.  Although the service at Gruel is dismissive at best and downright belligerent at worst, not unlike the boy at school you fancy more because he ignores you, I love it so very much.  You get very good, consistent food for a fairly decent price.
Myself and Niall were delighted to discover quite recently that The Mermaid Cafe does Brunch as well, between 12pm and 3:30pm on Sundays.  We trotted off there this afternoon for our second visit and I really wanted to share it with you all, just in case any of you were unaware of this really very good Brunch option of a Sunday.
I won't go into too much detail, as no doubt many people have spoken at length about the virtues of this Dublin restaurant in much more eloquent ways that I would be able to here.  All you need to know is that the food is very, very good and although the experience of eating there is definitely a special treat type of affair it is thoroughly enjoyable and, for brunch anyway, it will not break the bank.
The brunch menu offers around twenty dishes all under €15, the majority being around the €10 mark.  Half of the menu is made up of breakfast dishes like Eggs Benedict, the Mermaid Full Breakfast or pancakes, and the other half of the menu is lunchy stuff like Roast Beetroot Goat's Cheese Salad, Steak or Mussels and Fries, that kind of stuff as well as lots of other imaginative options.
On our first visit I had the Eggs Benedict which were excellent and Niall had the mussels with the really good fries on the side.  I also had the best Bloody Mary I've ever had, in Dublin or abroad – much to the chagrin of Niall who detests Bloody Marys to the point where he feels a bit ill when I have them.  I somewhat cruelly disregard his comfort and insist on ordering them whenever I have the opportunity to do so.  Brat!  We had a lovely pecan pie to share for dessert with very good Illy coffee, and with a bottle of sparkling water it all come to under €60.
If I'm to be perfectly honest, it was The Bloody Mary as well as the food the brought me back there this afternoon.  This time a different waiter prepared it for me and it wasn't quite as good but it was still excellent.  It had a fierce fiery kick to it so I was glad of the cooling celery which I munched heartily on when the peppery horseradishy juice got a bit too much for me.  I've never been quite sure if one is supposed to eat the celery or not.  Hope I haven't upset anyone by the evidence of the eaten celery in this pic.  To eat I had the poached haddock and poached egg on toast with mustard cream for €10.  It was deeeelicious.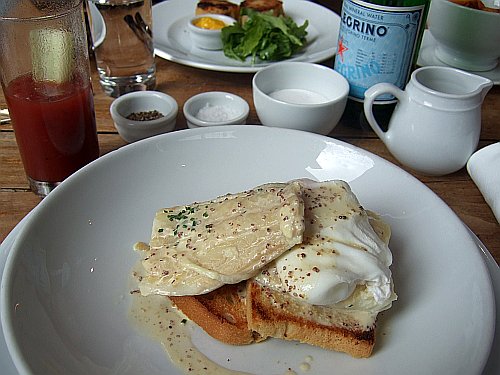 Niall had the crab cakes with rocket salad and honey mustard for €10.  He was a bit perturbed when he saw the size of the portion but after one bite he knew everything was going to be ok, so filling were these cakes. We had some home fries on the side, which were yum, but not quite as tasty as the regular fries which we'd enjoyed on our previous visit.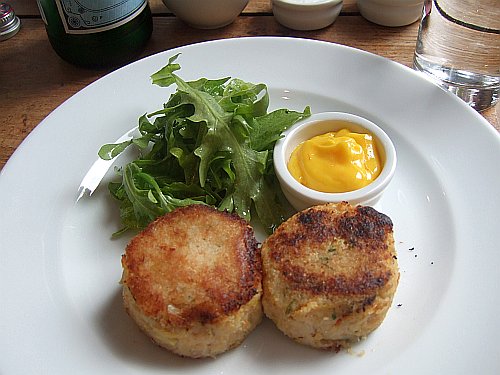 We finished our meal with two macchiatos and the stunning mixed berry sorbet with the little biscuity yoke on the top to share.  Ahhh, twas great.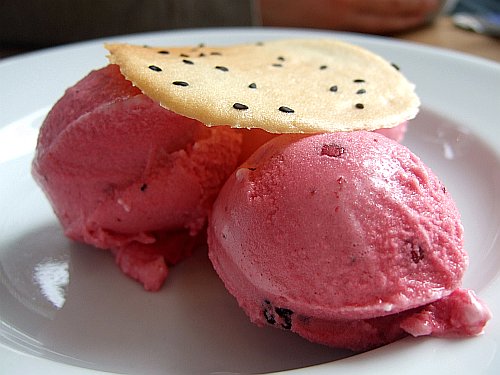 The whole lot (two mains, one dessert, one Bloody Mary, one bottle of sparkling water and two macciatos) came to just under €55.  Like I say, a bit of a treat that won't break the bank.
This was the first time I took pictures of my food in a restaurant.  I took to it like a duck to water, I tells ya.  It may have been my imagination but I could have sworn the waiters were just a teeny bit nicer to us when one of them spotted the camera!  But maybe I'm just being daft.  The service was good throughout – as were the tunes in the background…
MP3
As we were getting our bill, MIA's track Bamboo Banger was playing and myself and the waitress had a bit of a head bop to it together, which was nice and meant I left a bigger tip.  Clever clogs.  This is from Mathangi "Maya" Arulpragasam's second album Kala which no doubt is hopefully getting a few more spins on the back of one or two of the tracks appearing on the soundtrack of Slumdog Millionaire.  Hope so.
M.I.A. – Bamboo Banger (Kala)
Categories: Blog Trips Tags: The Mermaid Cafe Dublin