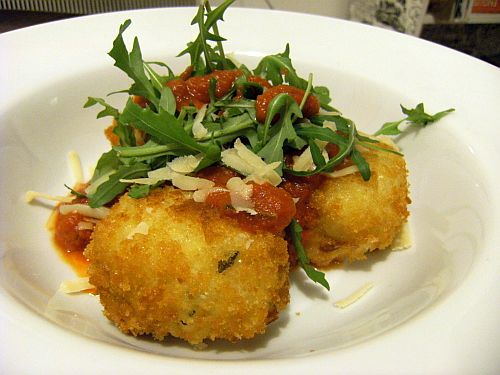 Okay, that's it.  This is the last year I'm making New Year's Resolutions.  It's been nearly 20 days since I made a pledge to myself to lose some food-blog-pounds by eating deliciously healthy winter salads and going to the gym at least 4 times a week.
Suffice to say, the closest I've been to the gym is when I walked past it on my way to a PUB, for flip's sake.  Bah!  I wouldn't mind, only the slim person inside my food-blog-padded belly is starting to feel a bit depressed.  Seriously, I have three baggy outfits on rotation at the moment, because none of my clothes fit me any more.
This kind of got to me over the weekend, so I knew there was only one thing to do to cheer myself up.  I needed to make the extremely slimming Deep-Fried Risotto Balls!  Hurraayyyyyy!  Oh…wait…
Yeah, obviously, you can't get much more fattening than this.  But my (lovely and lean) brother Lorcan was coming over on Sunday night for a 30 Rock Viewing Marathon, and I had saved the following Hugh Fethering-Wootingstall recipe from a Guardian Weekend Magazine from way back in April last year.  It felt like a dish that Liz Lemon herself would flip out over so it felt like the right thing to do.
This took me about 2 hours in total, but you could split up the work by making the risotto in advance, as it has to cool down before you shape it into balls.  I would definitely make this for friends, as if you prepare the risotto in advance, then shape them into balls, you could just do the frying bit last minute, so that you're able to entertain your friends and not be over the stove cooking the risotto.
I followed this recipe exactly, and there was enough for four, but we managed to scoff the lot between three of us, heheh.
What you need for Hugh Fearnly-Wetheringstock's Arancini with Arrabiata Sauce for 4
For the Arancini
20g butter
1 tbsp olive oil
1 onion, finely chopped
1 garlic clove, finely chopped
250g arborio rice
800ml – 1 litre vegetable or chicken stock, hot
25g parmesan, grated
salt and freshly ground black pepper
1-2t bsp shredded basil
2 eggs, 1 of them separated
100g mozzarella
A few slices good ham (I didn't use this so ours were veggie)
140g fine dry breadcrumbs, seasoned
1 litre sunflower or groundnut oil
For the sauce
2 tbsp olive oil
1 garlic clove, finely chopped
1-2 medium red chillies, seeds removed, finely sliced
400 g tin chopped tomatoes (I actually used two tins here, as I felt there wasn't enough sauce with just one.  I didn't double the rest of the recipe however and it was perfect)
1 good pinch sugar (I used golden caster sugar)
1 tbsp finely shredded basil leaves
Salt and freshly ground black pepper
First, make your risotto (obviously skip this step if you have a good bowl of leftover risotto).
Over a medium-low heat, warm the butter and oil in a good big heavy-bottomed frying pan.  Add the onion and fry until soft and see-through, which will take about 10 minutes.  Add the garlic and fry gently for a few more minutes.  Tip the rice into the pan, and stir it all around so that the rice is coated with the buttery onions.  It will already smell amazoballs.
I usually put my stock in a little saucepan on the hob, so that it stays hot the whole way through.  You add your stock one ladelful at a time, stirring it constantly, until the stock has been absorbed by the rice.  Hugh says the end result "should be smooth and slightly drier than a normal risotto, witth the rice still a little al dente."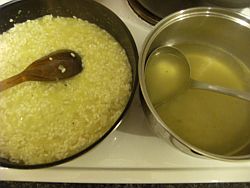 Once you've got it to that stage, stir in your parmesan and basil, and then it put it aside to cool.  Once it's cool, add one egg yolk.
You can make your sauce while your risotto cools down.  In a small frying pan, heat oil over a medium-low heat.  Add the garlic and chilli, and fry for a few minutes, until they're starting to soften and their lovely smell fills the kitchen.  Tip in your tomotoes, and cook for about ten minutes until thickened, being sure to stir it every once in a while, so it doesn't stick to your pan.  Season with your sugar, basil, salt and pepper.
Once your risotto has cooled, you can start shaping them into little balls of calorific joy.  First, chop your mozzarella into small chunks, about 2cm wide.  Shaping the risotto balls definitely works better when your hands are wet.  So, put your hand under cold tap, then take about a heaped tablespoon worth of risotto in your hand.  Start shaping it into a semi-circle, then make a little dent with your thumb, into what will be the middle of the ball.  In this little pocket, place the mozzarella, and then cover it with the rice, until you have a perfectly compact risotto ball.  Hugh says to aim for the size of a small tangerine.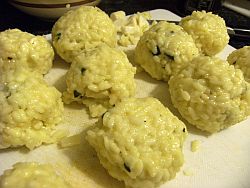 Whisk together your egg white and the whole egg.  Dip each rice ball into the egg yolk and then roll around in the breadcrumbs until fully coated.
You can heat your oil in a deep, heavy-bottomed sauce pan, until it reads 160c on the thermometer (or until a cube of stale white bread turns golden in about 80 seconds).  With a slotted spoon, carefully place your risotto balls into the hot oil.  Don't over crowd your pot.  Fry until golden, about 5 minutes or so.  Remove them from the oil and put them on a plate with kitchen towel to get rid of some of that grease.
Hugh suggested serving them as a snack with the sauce as a dip on the side.  This could work really well as canapes for a posh party (although there's a good bit of effort in it for just canapes!).  I served mine as a full on dinner, with three Arancini each, with the sauce over the top, and a bit of rocket and grated Parmesan to finish it off.
It was completely amazing, and most definitely the most fattening thing I've ever cooked.  Will definitely be doing it again.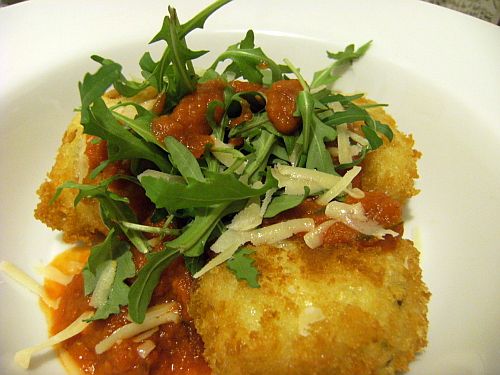 TUNE
While cooking, I was looking through tracks for my show on RTE's 2Xm, which is called Right Click Radio.  It goes out on Wednesday at 1700, and Fridays at noon.  You can listen on-line, on digital radio, or on Chorus UPC Channel 944.
Head over to the Hype Machine where you can have a listen to one of the tracks from tomorrow's show.
Change of Heart – El Perro Del Mar and Lykke Li
Categories: Dinner Tags: Arancini Amazoballs