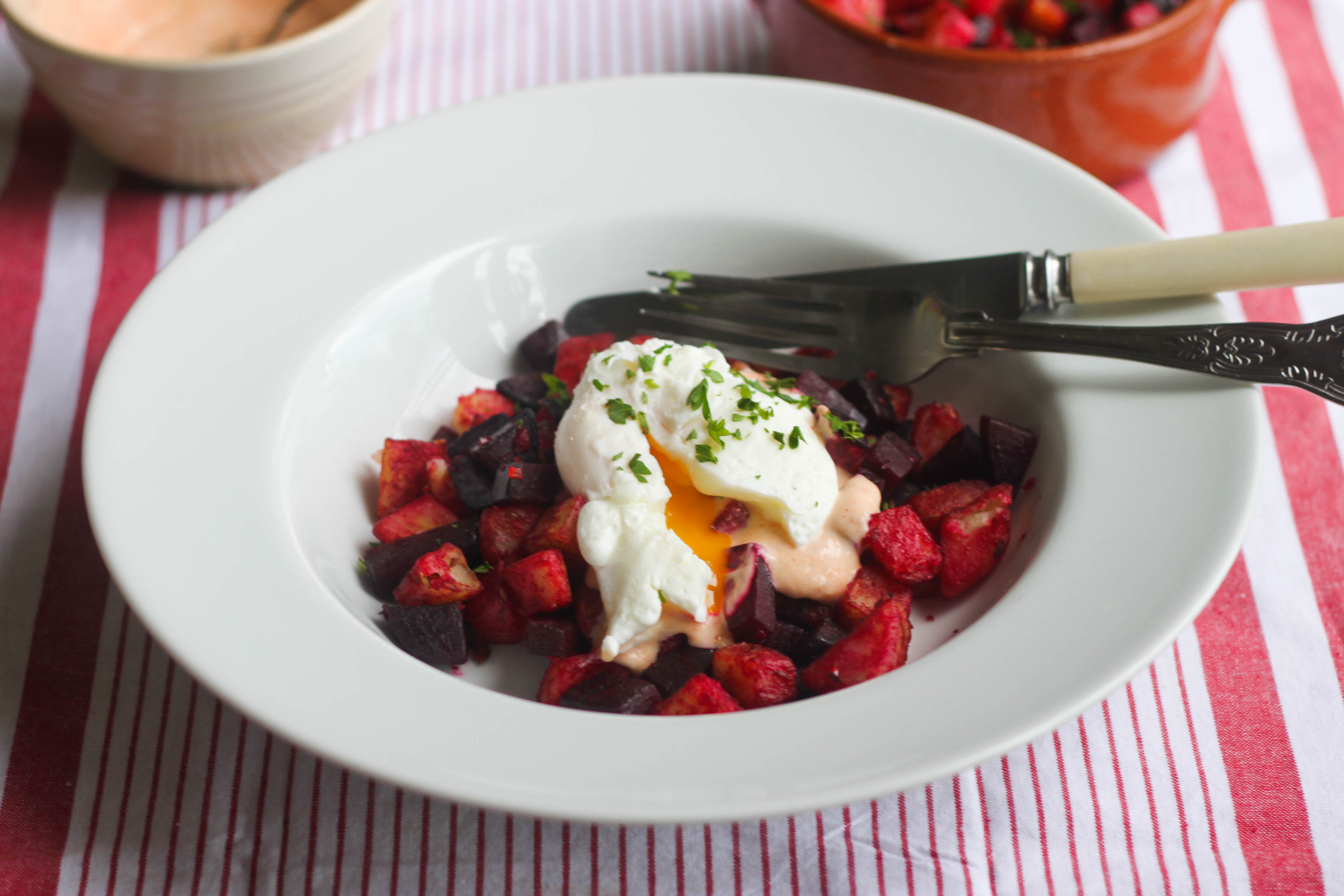 I've proclaimed my love for meals that work as breakfast, lunch and dinner on this blog before. When I was a kid, we always had cornflakes at night for supper. I think this might be an Irish thing. None of the other kids on the compound I grew up on in Saudi Arabia had cereal for supper. So maybe that's where I got my appreciation for all day breakfasts.
I recently had a lip-smackingly yum Red Flannel Hash at Momma's Place and I really wanted to recreate it at home. I thought I'd add a bit of spice to the mix and mess about with the idea a little. The end product was a glorious brunch/brinner which you could easily make for a weekend brunch or a mid-week meal.
I'll definitely be making it again, but next time I think I'll substitute the harissa yoghurt for some flaked smoked mackerel. Now that would be a killer brinner.
What you need for Red Flannel Hash for 2 lucky peeps
4 beetroots (you can use fresh or vacuum-packed beetroot. The fresh ones need an hour to cook and the flavour you get at the end is worth it. But vacuum-packed ones are fine.)
4 medium sized waxy spuds
Salt 
Pepper
Olive Oil
1/2 teaspoon of cumin seeds
2 cloves of garlic
1 red chili
2 fresh free-range eggs
3 tablespoons of natural yoghurt (try Glenisk. It is the best after all.)
1 teaspoon of harissa paste
1 small bunch of fresh parsley
If using fresh beetroots, heat the oven to 180C/Gas Mark 4 and wrap each beetroot in tin foil. Now roast them for at least 1 hour. When you can stick a knife through the beet easily they're done. Remove them from the oven and allow to cool.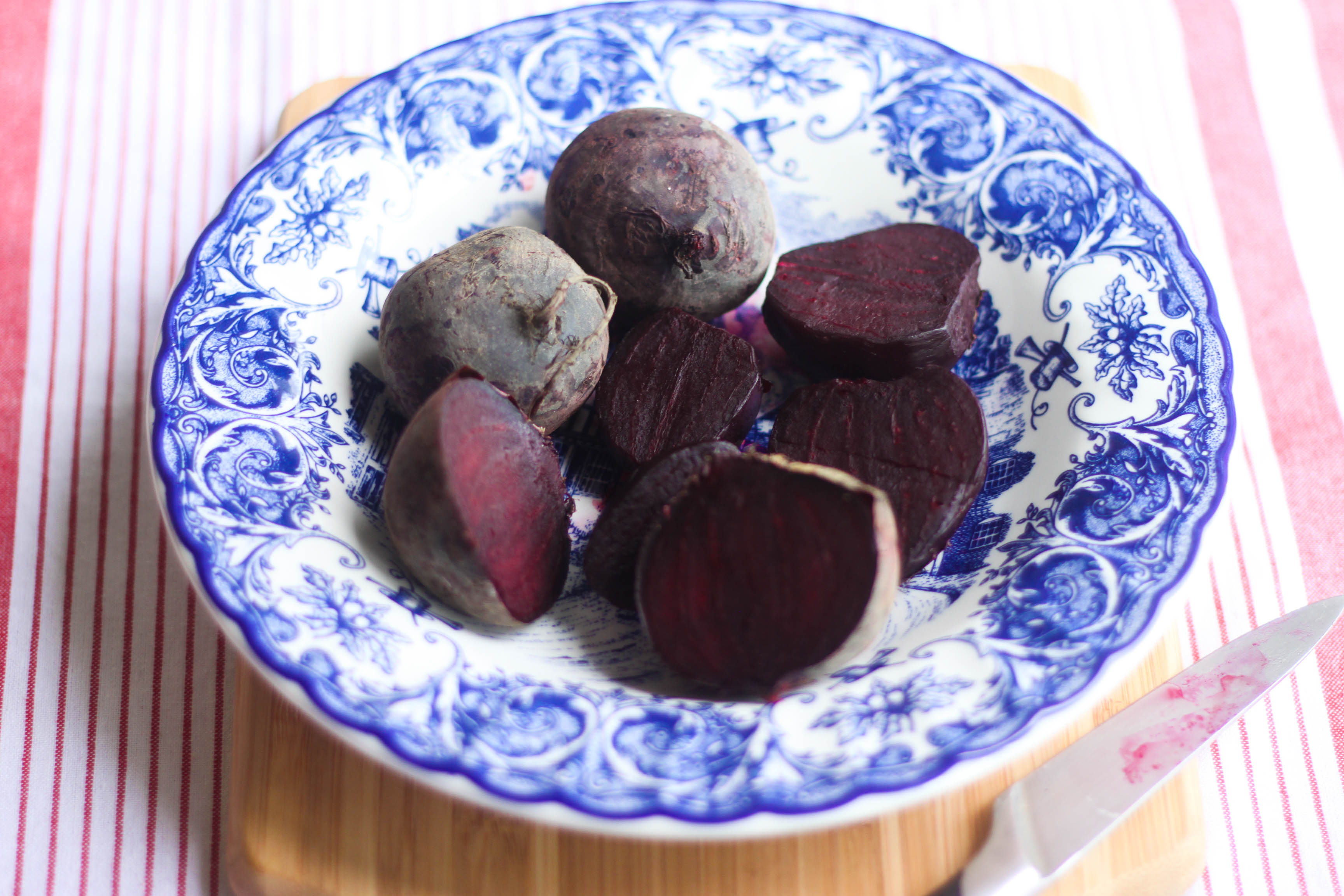 Once cool, peel the skins. This will be easily done but it's a bit of a messy job! You might want to wash your hands throughout so that they don't get badly stained from the lovely beets.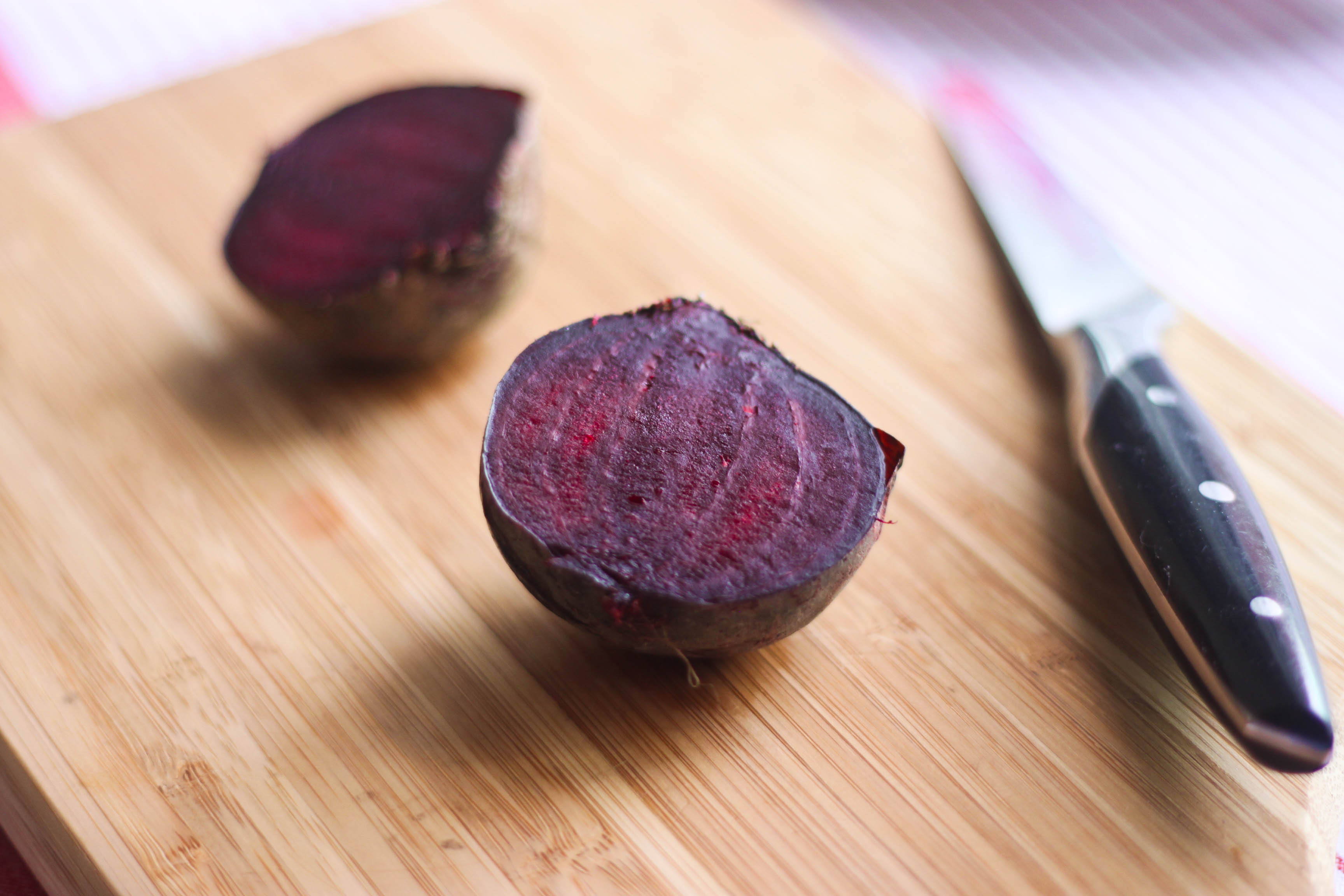 If you're using vacuum-packed beetroots, just start with your spuds instead.
Peel the spuds and cut them into little cubes. Boil them in salted boiling water for 5 minutes. Meanwhile, heat 2 tablespoons of olive oil in a large frying pan over a medium to high heat.
Drain the potatoes well and put them into the frying pan with the hot oil. Fry for 10 to 15 minutes without moving the spuds. They won't burn! By not moving them, you'll help them go nice and crispy and golden. Give them a shake after 10 minutes. If you're feeling nervous, just turn over one of the potatoes to check throughout the cooking process.
Now lightly crush the cumin seeds in a pestle and mortar. Add them to the frying potatoes and cook for another 10 minutes, shaking every once in a while to make sure they're getting a nice even golden colour. Add a bit more oil if you think the potatoes are getting too dry, but don't go too mad with it. You don't want the spuds to be greasy, either.
Meanwhile, finely chop the garlic. De-seed and finely chop the red chili.
After the potatoes have had 15 minutes in total, go back to your beetroots (fresh or vacuum-packed). Chop them into small cubes about the same size as the potatoes. Add them to the pan with the potatoes. Fry everything, mixing well, for 5 minutes. The spuds will get dyed with the beetroot which I think looks positively lovely. You, however, might prefer to keep the potatoes looking lovely and golden. If so, you can heat up the beetroot in another pan, and just add the garlic and chili to the potatoes for the last 5 minutes.
When the spuds are getting their last 5 minutes, poach 2 eggs in boiling hot water. Here are some poaching tips for you.
Meanwhile, mix the yoghurt and harissa paste in a bowl so you have a nice marbled yoghurt sauce.
Finely chop the fresh parsley it so you have about a tablespoon of it.
Once your eggs are done, pile your plate high with the Red Flannel Hash mix, top with a dollop of the harissa yoghurt, the poached egg, finishing with a sprinkling of parsley.
Done!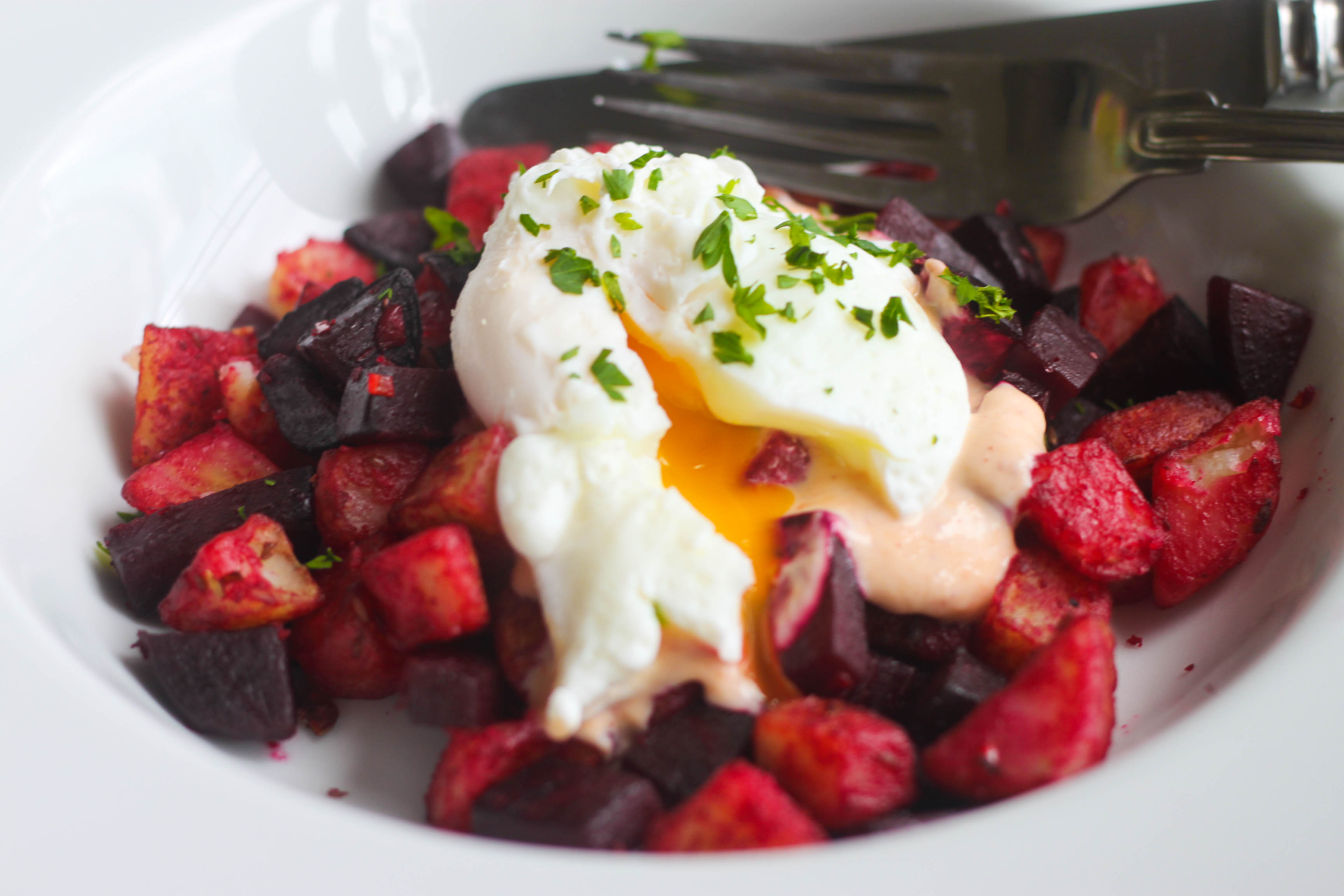 TUNE
Jape's track The Oldest Mind was a perfectly calming accompaniment while I was testing my new recipe. You can have a listen to it below and keep an ear out for Jape's latest album Ocean of Frequency, upon which this track appears.
Categories: Breakfast, Dinner Tags: All Day Breakfast