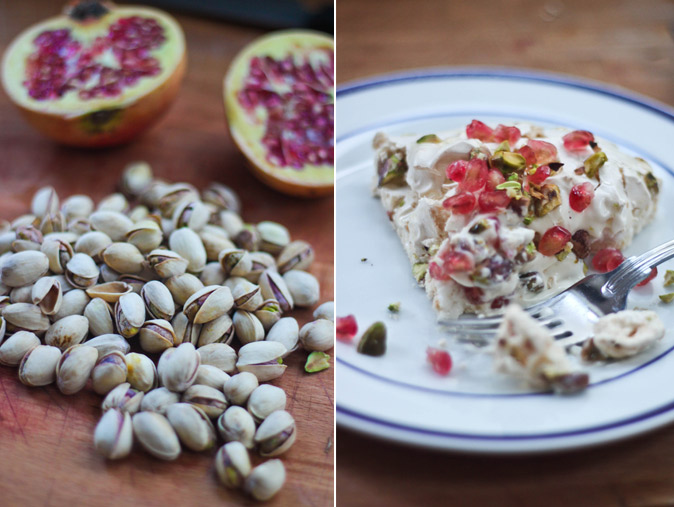 I'm still on a total pomegranate buzz and even squeezed two pomegranate-based recipes in to Weekend magazine in The Irish Independent last weekend.
I shared a pistachio and pomegranate pavlova for the Naughty foodies. The first time I made this I did it with regular salted pistachios – it was sort of weird but sort of amazing to have that sweet and salty affect. But it probably worked better with the unsalted variety, which you can usually pick up in health food stores.
My Nice recipe came to me in a moment of Ottolenghi-tinged inspiration. It was an early weekday evening in late October and I felt the need to vamp up an aubergine. I figured that feta cheese, mint, pomegranate and spiced yoghurt might just make an aubergine irresistible – and by gum, I was right. You'll find both recipes after the jump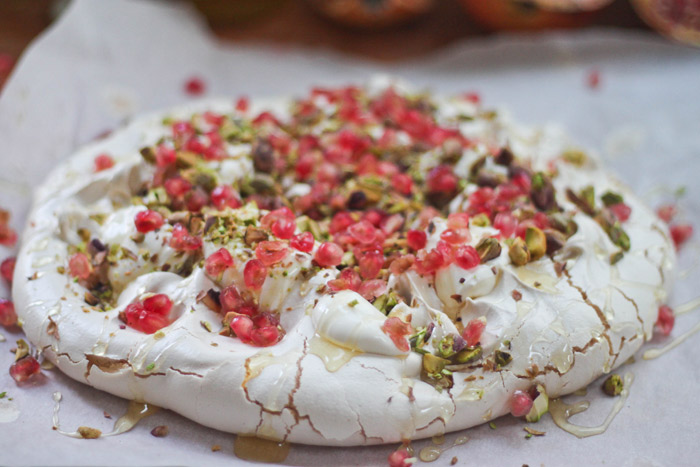 The following recipes appeared in The Irish Independent's Weekend magazine on November 10th.

RECIPES: Pomegranates
Add a little crunch and sparkle to your November meals with the wonderfully jewel-like seeds of the pomegranate fruit, bringing a bit of continental winter to your plate.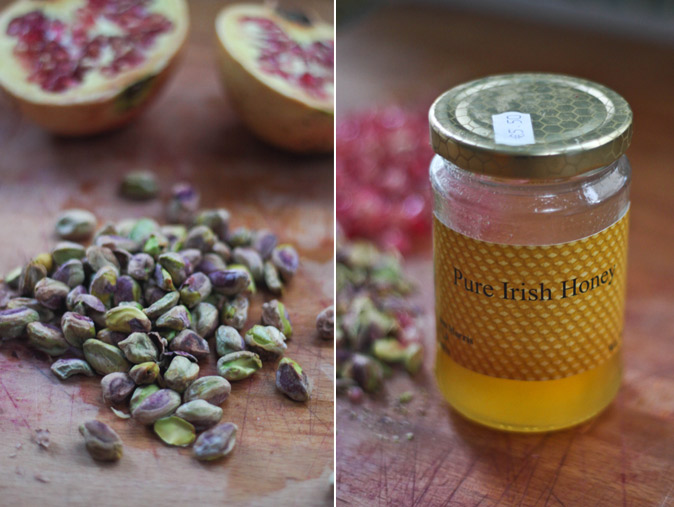 Naughty: Pomegranate Pavlova
To make your meringue, pre-heat your oven to 150C/130C fan/Gas Mark 2. Line a 40 x 25cm baking tray with a sheet of greaseproof paper. Put 4 large free-range egg whites into a clean bowl. Whisk on medium until the whites form stiff peaks. With your mixer still running, gradually add 200g of caster sugar and a pinch of salt to the egg whites. Now turn your mixer up to the highest setting and whisk for about 8 minutes, until it is white and glossy. Place it on the baking tray and use your spoon to shape it into a circle. Now bake this is in the oven for 1 hour. Take it out of the oven and allow it to cool. Generously drizzle some honey on top before adding a few heaped tablespoons of pomegranate seeds, some roughly chopped unsalted (don't forget the unsalted part!) pistachios and a few dollops of freshly whipped double cream.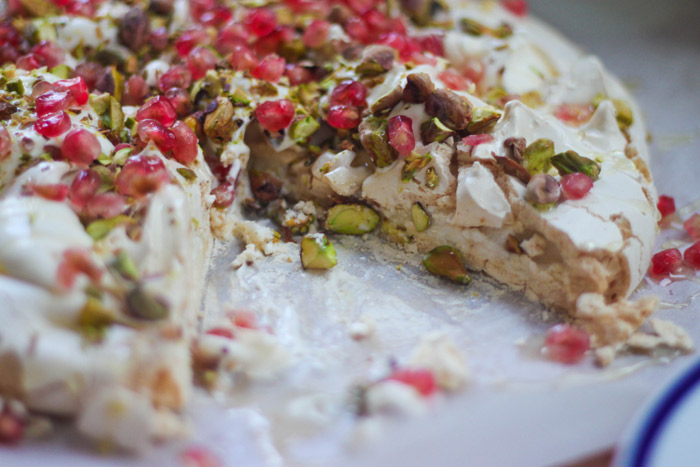 Nice: Pomegranate and Grilled Aubergine Warm Salad
To make a plate of delicious North African-inspired winter salad for two, start by heating a drizzle of oil in your griddle pan or frying pan over a medium to high heat. Finely slice an aubergine and fry the slices in batches, until cooked through, about 10 to 12 minutes on each side should do it. Make a spiced yoghurt dip by adding four heaped tablespoons of low-fat natural yoghurt into a bowl. Grate in one clove of garlic and add 1 teaspoon of ground cumin, mixing well. Assemble the cooked aubergine on a large serving plate and top with dollops of the spiced yoghurt. Remove the seeds from half a pomegranate and sprinkle over the top. Finish with some freshly chopped parsley and serve with toasted pitta breads.