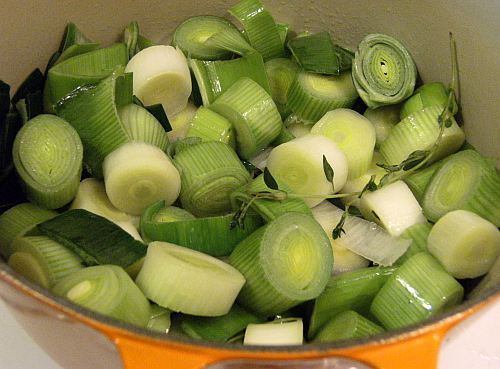 My reading material for our journey to and from Australia was Frank O'Connor's My Oedipus Complex and the Jamie Oliver Magazine.  Think of that what you will.
The copy of Jamie's Magazine was the second issue of the new bi-monthly and it's packed full of recipes.  It also has some travel-eating type pieces and a few celebrity food cameos.  The recipes are worth the £3.95 cover charge, and I will most certainly be using a few more of them in the coming months.  It doesn't appear to be widely available in Ireland, but you may find it in Eason's and sure, there's always the web.
The first meal (and bar a few salads and sambos, the last) meal I've cooked since we got back to Dublin was a Cannellini Bean Bake from the magazine.  In the mag, this is just a side dish for a Pork Neck Fillet recipe, but it stood up on its own as a nice Sunday night din dins.
What you need for Jamie Oliver's Cannellini Bean Bake for 4
3 medium leeks
1 tbsp butter
1 sprig thyme, leaves picked (I actually just used three sprigs of thyme and just put them all in whole and removed them later)
1 tin of chopped tomatoes
2 tins of cannellini beans (you can find these in any good Asian Food shop)
150g creme fraiche
100g of grated gruyere or strong cheddar cheese (I went for cheddar because it was cheaper and more readily available!)
2 or 3 slices of bread for breadcrumbs (an Aoife McMaverick extra – optional!)
First of all, wash and chop your leeks.  Put a saucepan on medium heat, add the butter, thyme and finally the leeks.  Cook very gently with the lid on until the leeks are soft but not brown.  This took me about 20 minutes I'd say – which felt rather long but they tasted fine in the end.
Pre-heat your oven to 180 degrees C.
When the leeks are soft, add the tomatoees and cook for a few minutes.  Add the beans when the tomatoes have warmed up a bit.  Take it off the heat and mix in the creme fraiche.  Season it all and transfer the whole lot into a baking dish.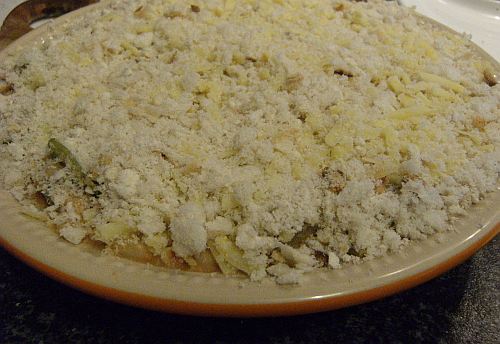 I mixed breadcrumbs in with the cheese and sprinkled the mixture over the top.  I just thought it would give the bake a more crispy topping rather than a gooey cheesy one.
I put the whole lot in an oven (pre-heated at 180 degrees C) for about 35 minutes or so.  Keep an eye on it though because you don't want to burn the topping.
I served it up with a wee salad and although it may not look its best in the pic, it was really comforting and tasty and delicious and easy to make and brilliant.  Okay, that's it, no more adjectives.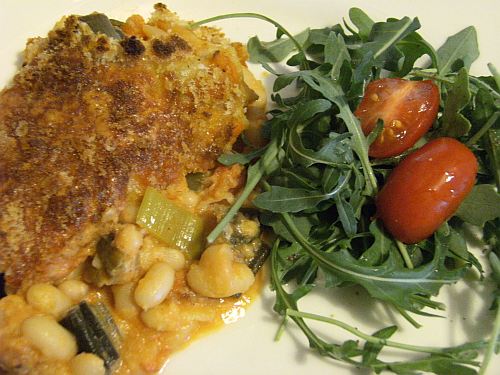 Not looking your best there Mr Bake but you and I know you were truly scrumptious.
MP3
I'll put up Skream's Let's Get Ravey remix of La Roux's In For The Kill.  Proof once again that remixes can far surpass the original track's quality.  This is deadly.
Skream Let's Get Ravey Remix – In For The Kill – (La Roux)
Categories: Dinner