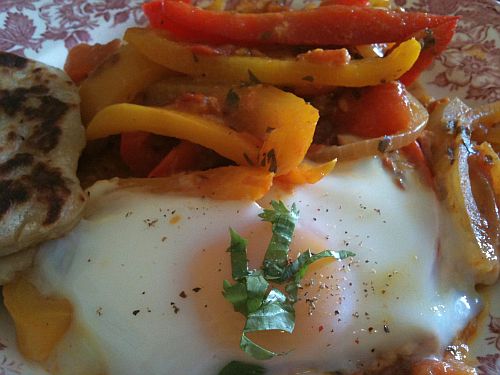 I think Brunch is my favourite meal.  I love it so.  And not just because it gives me the excuse to indulge in Bloody Marys.  It sets the tone of your day, leaving you feeling relaxed and pampered.  It's such a luxury to spend time over it as opposed to the rushed slice of toast grabbed on the way out to work during the week.
Instead of going out for Brunch this weekend, I invited a few girlfriends over on Sunday early afternoon before Africa Day so we could start the day with Sunday papers, chats and Bloody Marys.
A few months back, there was a little booklet in The Guardian  of sample recipes from Yotam Ottolenghi's latst book entitled Plenty. This  Shakshuka recipe caught my eye way back then, but it took until this Sunday to get around to actually giving it a shot.
It was very good but ever so slightly bland.  I probably under-seasoned it, as I am wont to do.  I consulted with my brunch guests and we concured that a kick of chilli would really help the dish out.  If you end up giving it a go, add a chopped chilli and let me know how you get on!
What you need for Yotam Ottolenghi's Shakshuka for four peeps
1/2 tsp cumin seeds
olive oil
2 large onions, sliced
2 red and 2 yellow peppers, stems and seeds removed, cut into 2cm strips
4 tsp muscovado sugar
2 bay leaves
6 thyme sprigs, leaves picked
2 tbsp chopped parsley
2 tbsp chopped coriander, plus extra to garnish
6 ripe tomatoes, roughly chopped
1/2 tsp saffron threads
Pinch of cayenne pepper
Salt and Pepper
4 – 8 free range eggs (I only used four eggs so we all had one each – this decision was made mainly due to a lack of frying pans!)
*red chilli pepper, finely chopped

In a very large pan, dry toast the cumin seeds over a high heat for 2 minutes.  Then add your oil and onions, cook for about 5 minutes on a high heat, stirring constantly.
Add your peppers, sugar and herbs, and cook on a high heat for 10 minutes.
Add the tomatoes, saffron, cayenne and salt and pepper.  Cook on a low heat for 15 minutes.  You can add water now (up to 250ml) now if your sauce needs it – you want it to have a pasta sauce consistency.  Taste now and check your seasoning.
Remove the bay leaves and divide the mixture into four individual frying pans.  I didn't have four small pans so I used two big pans, cooking two eggs in each.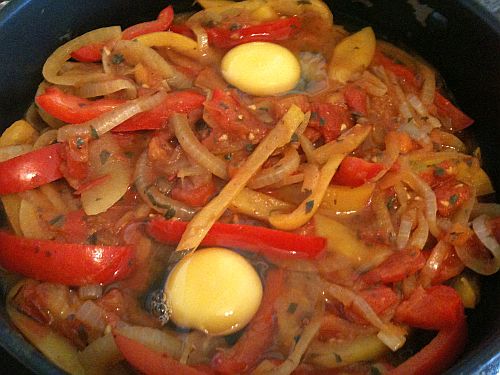 Make two little pools in the mixture on a medium heat.  Crack the eggs carefully into each gap.  Sprinkle with salt and then cover, cooking for about 10-12 minutes on a very gentle heat.  You might need to put the eggs in the frying pan under the grill for a minute or two at the end of these 10 minutes, to make sure they are fully cooked.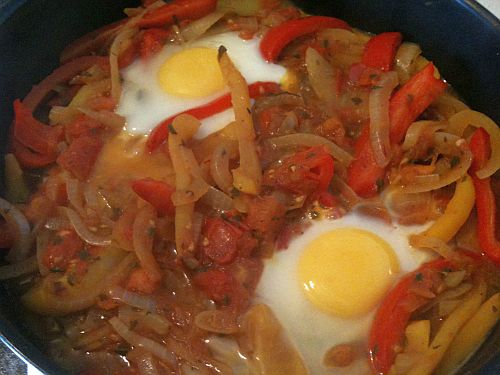 Traditionally, Shakshuka is served in the individual pans and people eat straight from the pot, an idea I find lovely.  Unfortunately, not having the individual pans, we went ahead and ate from plates instead.  It still tasted pretty good.
I served these up with The Daily Spud's amazing Indian spiced Potato Farls, which went really well with the Shakshuka because of the cross-over cumin seeds.
But yeah, a kick of chilli could be just what the dish needs to bring it up a notch.  Any other suggestions as to what might work with this?  I was also thinking a squeeze of lime juice, although am less sure of that.  Let me know what you think!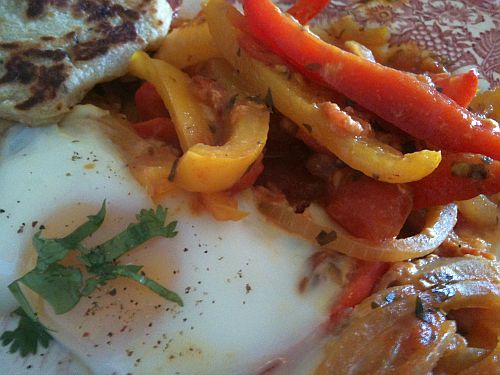 Also, I found a video of Yotam himself making this recipe, which was very useful to watch before attempting it myself.
TUNE
I had a lovely time at Africa Day yesterday – after the initial one hour wait in the queue to get in!  It was totally worth it, a great day.  We caught Jape's set and of course he played his version on Toto's Africa.  Follow the link over to Niall's blog to check it out!
Africa – Jape vs Toto – on Nialler9
Categories: Breakfast