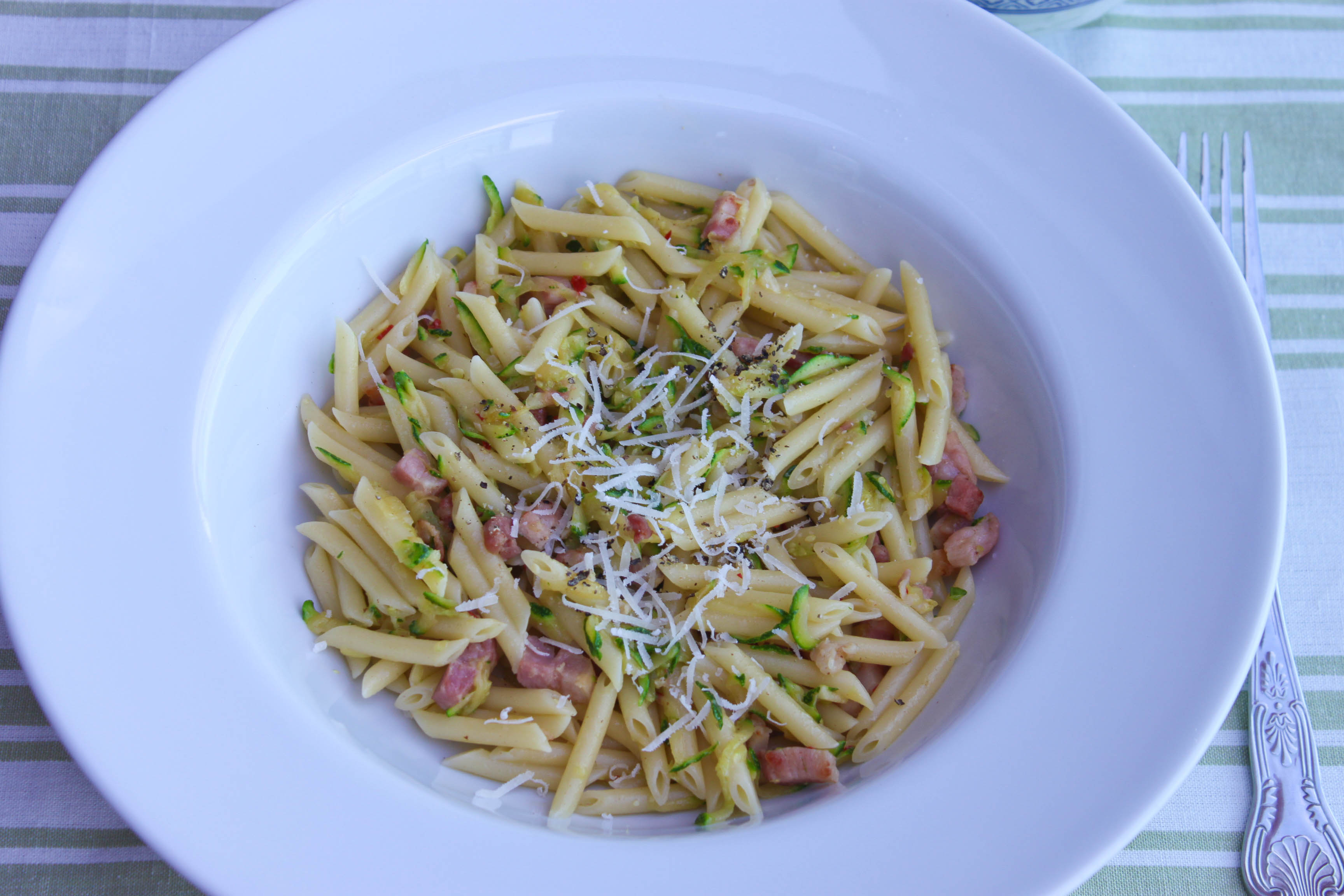 Here is another laughably simple pasta dish to put together, for those times when you're too wrecked to spend more than 15 minutes in the kitchen.
This is a little pasta dish I whip up on many a mid-week evening, originally inspired by this lovely Jamie Oliver recipe. My version takes about 8 minutes to make, depending on the type of pasta you choose.
It uses courgettes as a kind of sauce, as they release a lot of moisture when they're cooked. Now, it's not a wet pasta dish by any means, so if you feel it's a little dry for your taste, add a dollop of crème fraiche at the end of the cooking process to make it a bit more saucy.
Courgettes are of course available year round but they are at their best in the summer months. Give this dish a go in the next week or two to squeeze the last of the loveliness out of those sleek and slender squashes.
What you need for grated courgette pasta for 2*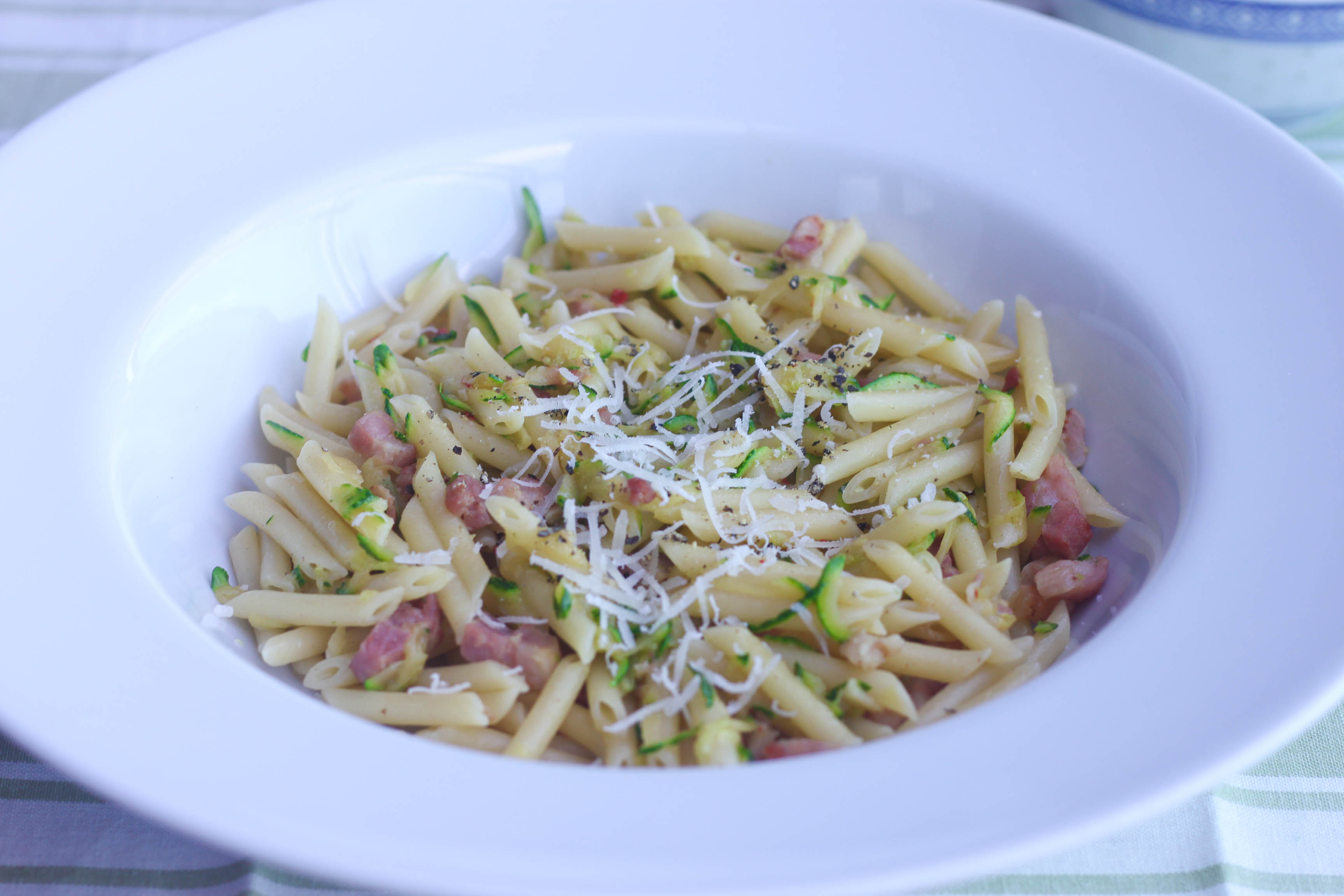 *This recipe is very easily halved so it's perfect for a quick and yummy supper for one.
Salt
Olive Oil
200g of pasta (or enough for two)
About 70g of bacon lardons or pancetta cubes (or a few rashers of streaky bacon chopped up into chunks)
1 courgette, washed and coarsely grated
1 clove of garlic, finely chopped
1 small red chilli, seeds removed and finely chopped (you can use dried chilli flakes instead here, less than a teaspoon should do it)
Parmesan cheese, finely grated to serve
Black pepper
Start by getting all of your ingredients chopped and ready.
Boil your kettle and once boiled, transfer the water to a saucepan. Add a pinch of salt. Heat over a high heat in the hob. When the water is bubbling, add your pasta and cook according to the packet's instructions.
Heat 1 teaspoon of olive oil in a large frying over a medium heat. You don't want to use too much oil as your bacon will release a good bit of fat once it starts cooking.
The 'sauce' for this pasta will only take about 6 minutes to make, so start when your pasta is 6 minutes away from being finished.
Add the bacon lardons to the frying pan with the hot oil and cook for 3 minutes until starting to brown.
Add the chopped garlic and chopped chilli and cook for a further minute, stirring constantly.
Finally, add the coarsely grated courgette and cook for a further minute, stirring well so that the courgette gets coated in all the lovely bacon, garlic and chilli flavours. Let the courgette cook for one more minute until nice and tender.
Meanwhile, your pasta should be done. Drain the pasta and return to the saucepan. Taken off the heat, add the courgette mixture straight into the saucepan and mix well until the pasta is evenly coated.
It's at this point you could add a tablespoon of crème fraiche and put it back over a medium heat to warm it through.
Serve with a bit of grated parmesan and a sprinkling of black pepper.
TUNE
The amazing Merill Garbus is the lady behind tUnE-yArDs whose album                w h o k i l l  is brilliant for a mid-week audio pick-me-up. Or any time of week really. Click on the link for a listen.
Gangsta – tUnE-yArDs (via The Hype Machine)
Categories: Dinner Tags: Pasta Tuesdays