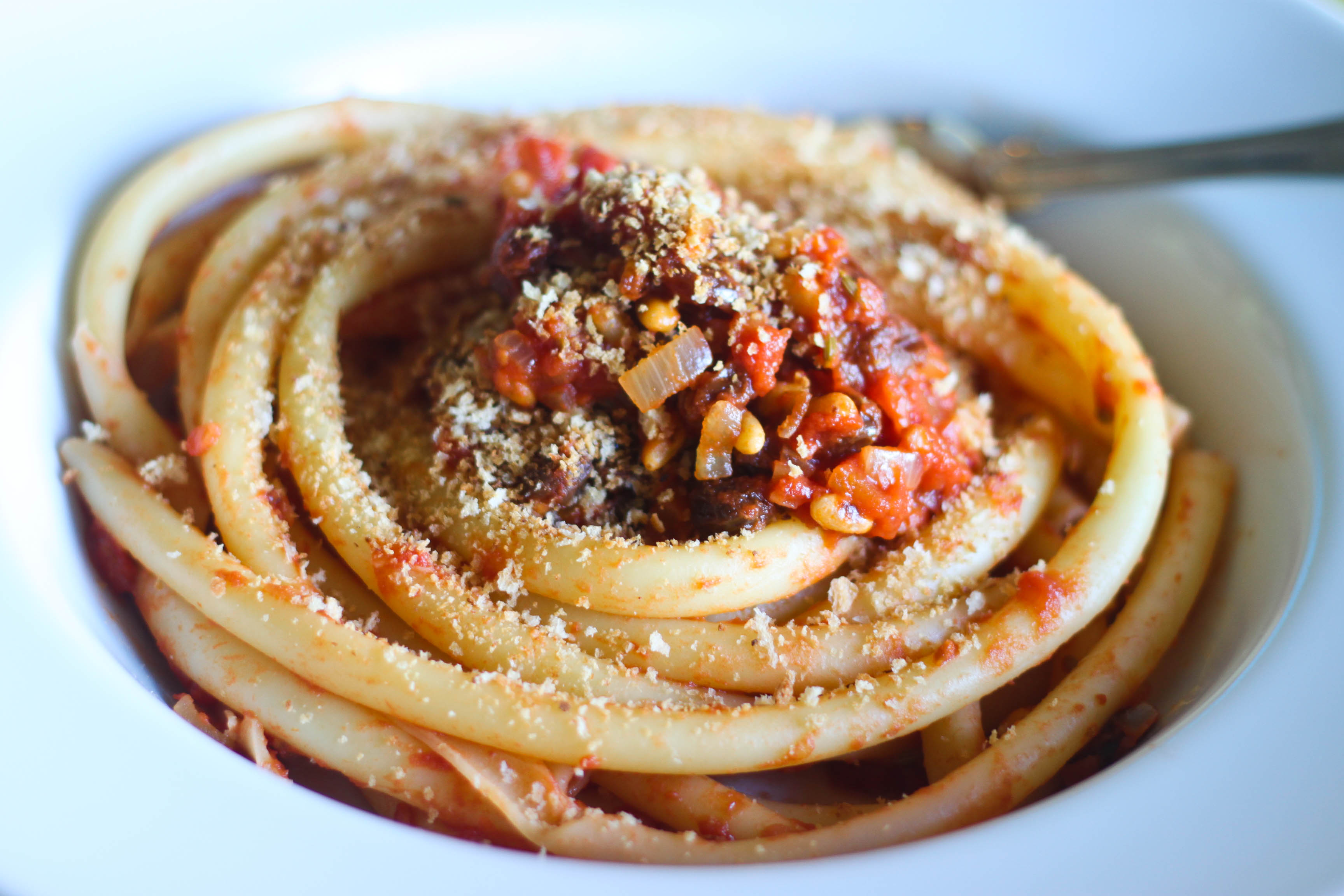 When it comes to the music I listen to, if a song catches my ear I'll (borderline) obsessively listen to it again and again. I do this until I feel like I've understood and consumed everything there is to be understood and consumed about it, often ignoring other music in favour of it. I've been like this since, well, forever, from when I listened to Bohemian Rhapsody every day for all of 1993 or more recently with my aural dependence on tUne-yArDs.
It turns out I'm pretty much the same when it comes to ingredients. My culinary gaze has recently been drawn to the humble anchovy. More specifically, to its power when used as the underlying flavour of a good pasta sauce. Since the puttanesca a few weeks back, and the ah-mazing roasted tomato dish last week, I've found myself day-dreaming about these little flavour-filled fishies.
Which is totally weird.
As this new ingredient addiction took hold, I found myself looking up anchovy based ingredients on-line. I stumbled upon this really stunning looking recipe by Giorgio Locatelli and thought I could adapt it a wee bit to make the anchovies the main attraction.
It took a little more effort than I'd usually put into my pasta on a Tuesday, but the resulting dish's pungently rich and Moorish sauce made it a super early-week treat. The combination of saffron, raisins (or sultanas), fennel and, of course, anchovies make it a little on the out-there side for the more delicate tastebuds. But it's perfect for those of you who love to indulge in the more exotic spices of the store-cupboard.
This recipe is very much influenced by the Sicilian Pasta Con Le Sarde, which highlights the sardines as a culinary wonder. What I've done below is focused more on the anchovies, but kept the flavour makers of the raisins and fennel to the dish, and added the saffron from Locatelli's recipe to keep things interesting.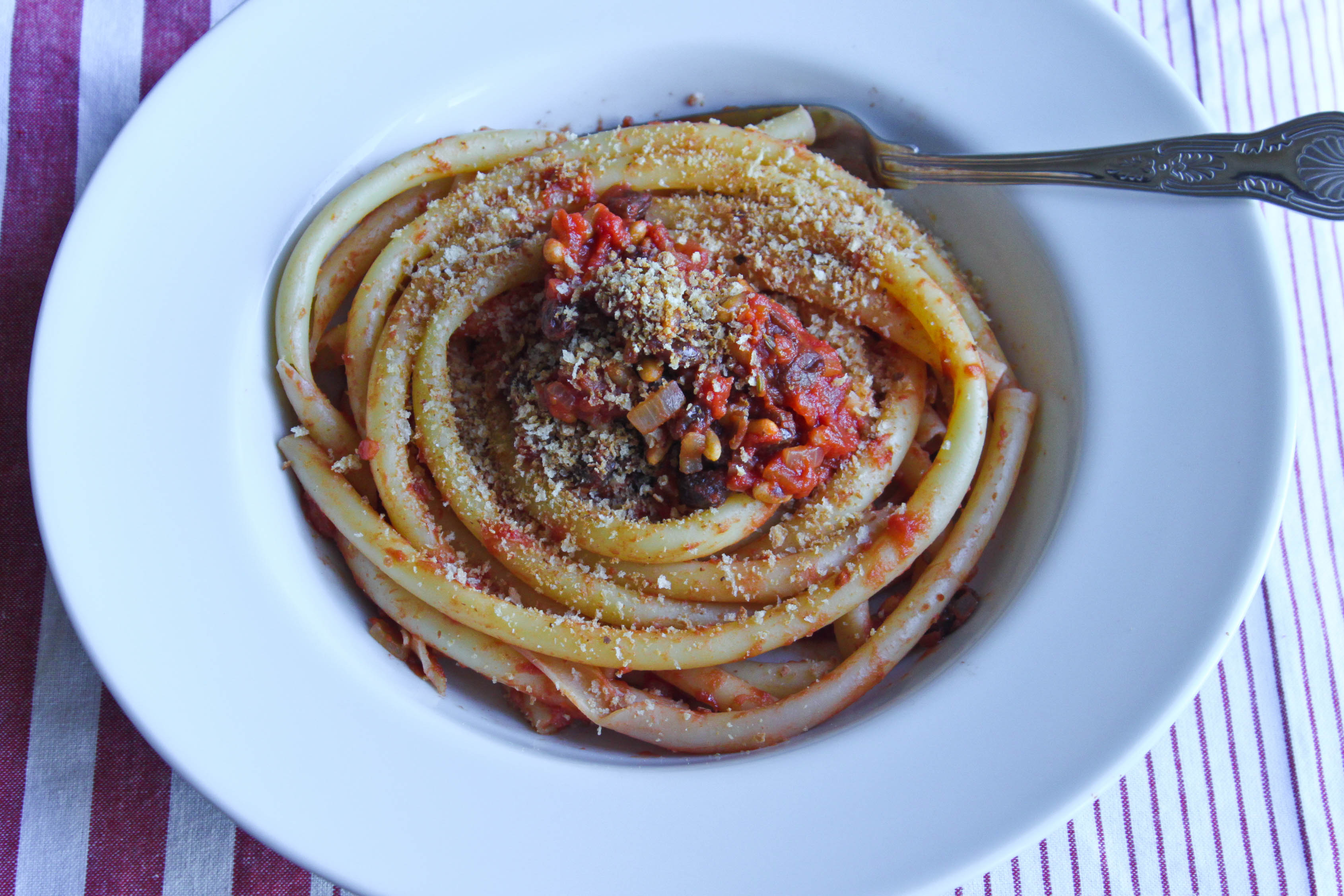 What you need for an Anchovy-based Sicilian-influenced pasta sauce for 2 to 3 
1/2 teaspoon of fennel seeds
Olive Oil
1 medium onion
6 anchovy fillets, drained from their jar's oil
50ml of white wine
1 handful of pinenuts (about 25g)
1 handful of raisins or sultanas (about 25g)
1 pinch of saffron (about 10 to 15 threads)
1 x 400g tin of chopped tomatoes
About 50g of fresh white breadcrumbs
200g (or enough for 2 to 3 people) of long pasta, such as spaghetti, linguine or even the thicker bucatini. In the picture, I've used Ziti pasta which was hilariously hard to eat, as it was so giant. I read the packet after dinner and saw that you're supposed to break it into small pieces before cooking! Ah well, we eat and learn. 
Salt and Pepper
The very first thing you have to do for this recipe is to soak the fennel seeds in water for one to two hours. You only need a drop of water, just enough to cover them. This will help soften them so they're more pleasant to eat. It's not a necessary stage to the recipe, and you can easily skip it if you like.
Start cooking by heating one tablespoon of olive oil in a large frying pan over a medium to high heat.
Meanwhile, chop up your onion. Now fry it in the large frying pan for 3 minutes, stirring often, until it's starting to soften but hasn't coloured much.
Chop the anchovy fillets into small chunks, and once the onion has had its 3 minutes, add the chopped anchovy to the pan. Cook them for a further 1 to 2 minutes, stirring constantly, to help break up the anchovies and helping to coat the onions evenly.
When the anchovies have kind of melted, you can add the 50ml of white wine. Let it bubble until it has completely evaporated. This will take around 3 to 5 minutes.
Meanwhile, put a smaller frying pan on a medium heat. Without adding oil, toast the pinenuts in the dry pan until golden brown, shaking from time to time. This will take about 3 minutes.
When the wine has evaporated and the pinenuts have toasted, add the pinenuts to the large frying pan. Take the small pan off the heat and set aside.
Add the raisins/sultanas, pinch of saffron and fennel seeds (with their soaking water) into the large frying pan. Finally add the tin of chopped tomatoes and stir well. Season with salt and pepper and simmer on a medium to low heat for 15 minutes, until the sauce has thickened.
After about 5 minutes when the sauce is starting to thicken, put a saucepan of boiling water on a high heat to cook your pasta. Cook it according to the packet's instructions. Usually spaghetti-type pasta takes between 7 and 9 minutes.
When the pasta is nearly ready and the sauce has thickened up nicely, you can toast your breadcrumbs. Using the same small frying pan you used for the pinenuts, dry toast the breadcrumbs over a medium heat until golden brown. This will take around 3 minutes. Be sure to shake it a lot so that you're breadcrumbs don't burn! That would be a real bummer.
Once cooked, drain the pasta and return to its saucepan off the heat. Now add the sauce from the frying pan to the pasta and mix everything until the pasta is evenly coated with the sauce.
Serve with a generous sprinkling of breadcrumbs, bringing the leftover breadcrumbs to the table to act as a crunchy alternative to Parmesan.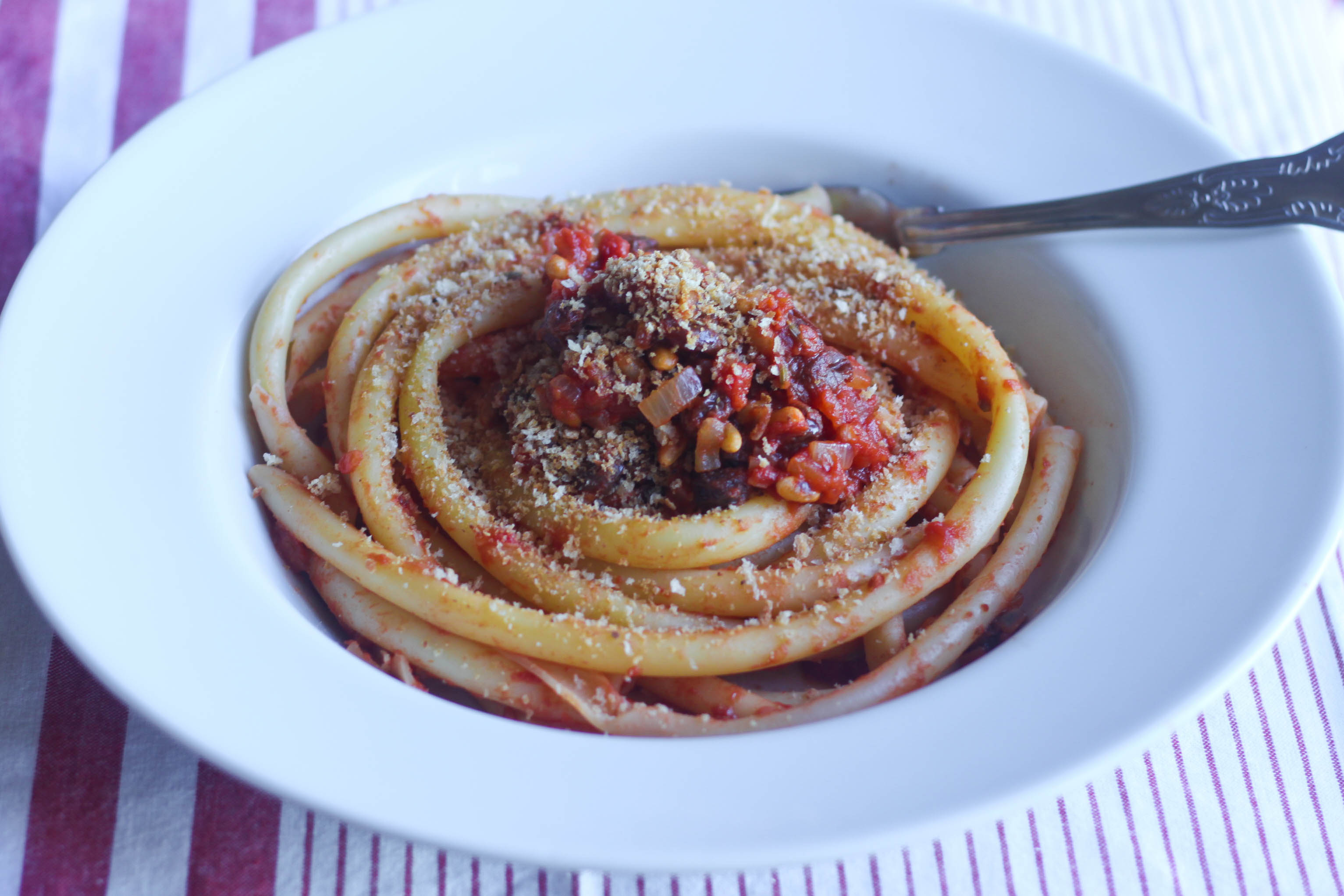 TUNE
This video goes some way to explaining my tUnE-yArDs obsession. Coulis-WOW.