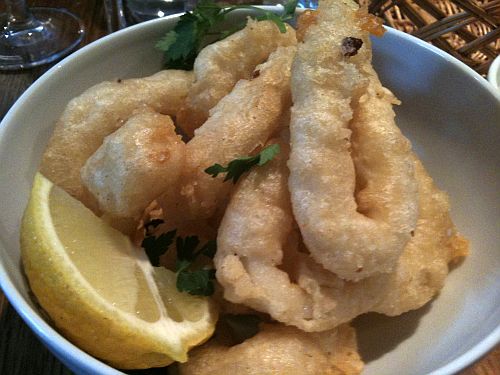 Calamares (€6.50)- you lovely squiddy things, you.
Actually, oh yes, Ochos!
Whenever I see Tapas advertised here in  Dublin, I shudder.  It's down to one too many crap meals in The Market Bar – which I do remember being very good a few years ago but has sadly gone downhill foodwise – and a trip to Seville where we enjoyed the most amazing tapas at ridiculously cheap prices.  Once you get a taste of proper tapas, it makes you dubious of places that purport to serve it over this side of the pond.
We were in Ranelagh on Sunday with our Come Dine With Me buddies Alan and Colette, hungry for lunch after deciding not to bother trying to get into the over-crowded Taste of Ranelagh.  We just missed the lunch at Dillingers, and decided to give Ochos a go,  tapas-trepidation aside.
It was lovely.  Of course, it was way more expenisve than the Tapas in Seville but it was decidedly delish.  We ended up ordering quite similar dishes between the four of us so I only have pics of a few of the dishes on offer at Ochos.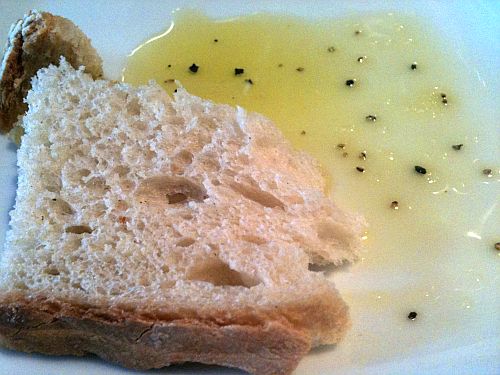 Lovely crusty bread with very good olive oil, which we delighted in not seeing on our bill at the end of our lunch.  It's so scabby to charge for bread and olive oil!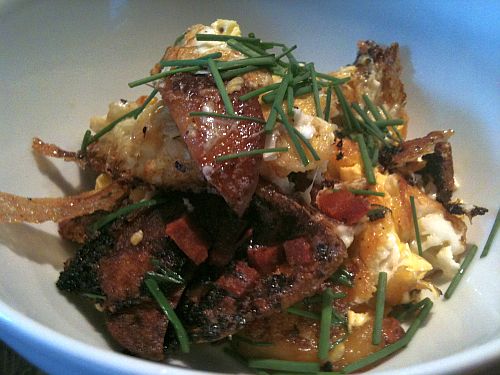 Huevos Rotos – Broken Eggs with Bacon and Chippies – at €7.50 a portion, was yum.  The price of an Irish breakfast in Hobarts next door without the heftiness.  Still.  We weren't looking for a fry-up.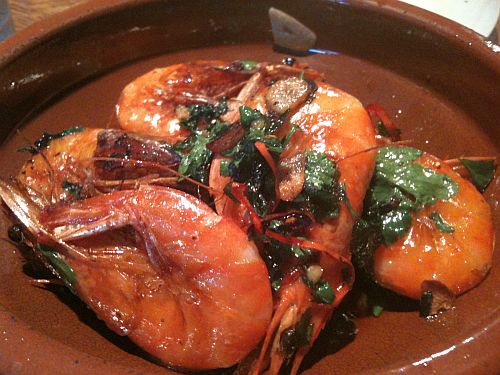 Gambas a la Plancha at €9.50 for the plate.  I didn't have any but apparently they were lovely.  Shells and all.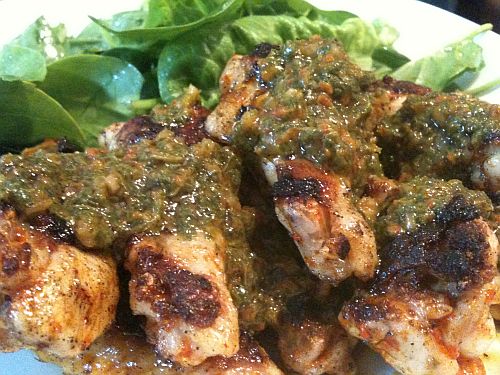 Chimicumi Chicken – basically chicken wings with a sort of Salsa Verde – at €8.00 kind of disappointed Niall.  But he'd been craving Tribeca Chicken Wings so it weren't really Ochos fault.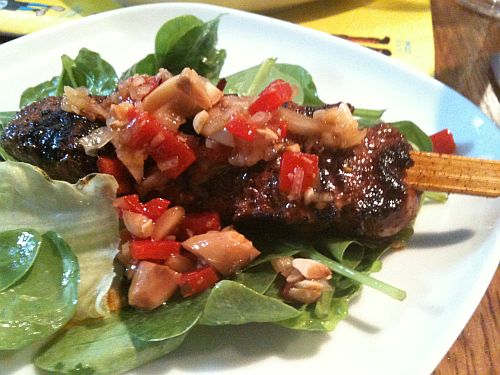 Beef Skewer for €6.50 – didn't taste this but I think it was good.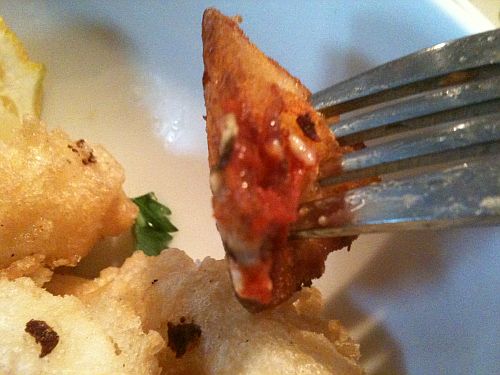 A really crap photo of their delicious Patatas Bravas – I was too engrossed in  scoffing them to take a proper photo, they totally rocked.   They were €5.50 per  bowl.  Yum.
The dishes weren't completely mind-blowing, but we ate very well between the four of us and enjoyed 5 glasses of wine – i won't disclose just who it was in our party who had an extra glass of wine *ahem*.
The service at Ochos was laid-back and polite, although there were rather a lot of unnerving breakages in the hour we spent there.  That's ok though – it was Sunday and no doubt everyone in the whole building was hungover to hell.
The total bill came to €97.50 for 10 tapas and the 5 glasses of wine.  At €25 each, that certainly wasn't bad for an enjoyable lunch with delicious wine and hilarious banter.  Obviously, we brought the banter ourselves, but, you know what I mean.
Overall, it was cool.  A pricey enough lunch but not in any way disappointing.  Here's a tip – they do a 3 tapas for €10 Monday through Wednesday nights so get down there for that bit of Ranelagh Recession Love.  Great value.
Categories: Blog Trips