It's quite a big snack actually…
I would like to lose a little bit of weight.  Just a little bit.  Myself and niall go out to gigs all the time and we drink beer at these gigs.  Over the last two years, an average two to three gigs a week has led me to develop a little pouch of booze that is permanently attached to where my once slim belly used to be.  That's a pretty gross description.  Sorry.
Anyway – my problem is…I like to eat.  And I like to eat cheese and bread and yummy savoury things.  I like chocolate and stuff but not as much as I like a big slice of white doughy bread smothered in melted cheese with wholegrain mustard on top. *sslllobbberr…*
What do I care anyway if at least four people last year said 'Congratulations!  When are you due??'
Actually, I do care a lot about that.  That hurt my feelings.  Especially the taxi driver.  That conversation went like this:
Aoife: (Puff, puff, carrying bags and things) Sorry , I'm not going very far, just to Rathmines please.
Taxi driver: Ah sure…we couldn't have a woman in your condition walking.
*a pause.  A pregnant pause you might say.*
Aoife: *confused*
Taxi driver: So when's the baby due?
*definitely a pregnant pause this time*
Aoife: I'm not pregnant.
*thus followed THE most uncomfortable taxi journey home.  It was only about 8 minutes but it felt like HOURS.  Poor man.  Poor me!*
So my point is – there must be a way to still have delicious late night snacks like what I made for nialler and myself after our lunch with Anna and Ben and not increase the belly to the level of faux-pregnancy.  I think the key is exercise.  It must be.  I have to go back to the pool.  I have to.
Anyway – I dished this up in about ten minutes.  It helped that the tomatoes were left over from the night before.  They're from a fingersmackingly good Jamie recipe which is as follows:
From Jamie At Home – I didn't follow this exactly.  Coz I'm a maverick.

Jamie Oliver's Mothership Tomato Salad
Serves 4
1kg mixed tomatoes
salt and pepper
a pinch of oregano (I forgot all about this but the toms were still yum)
Red wine or balsamic vinegar
Extra virgin olive oil
1 clove of garlic, peeled and grated
1 red chilli, deseeded and chopped.
Jamie suggests getting loads of different types of tomatoes, as many different ones as are available to you.  I used the santini red and yellow tomatoes which are pretty tasty.
You chop up all the tomatoes, bish bash bosh, and put a good big pinch of salt on them.  This releases the flavour of the tomatoes.  You give them a few good tosses and then you let them sit in a colander over a bowl for about fifteen minutes.  You'll see the liquid has started to ooze out of the tomatoes – get rid of that.  Give the tomatoes a bit of a shake to lose any extra moisture.
The dressing for this is delish, really simple, and I'll definitely be using it on other tomato related salads.  You mix together one part vinegar (I used red wine vinegar) to three parts olive oil.  Then you put it all together with the grated garlic and the chopped chilli.  Feckin' lovely it is too.
At this point, you're to put the tomatoes in a big bowl and sprinkle over the pinch of oregano and pour over the dressing, as much or as little as you like.  I served this with some really nice buffalo mozarella along with the strawberry salad (which was really sufficient on its own.)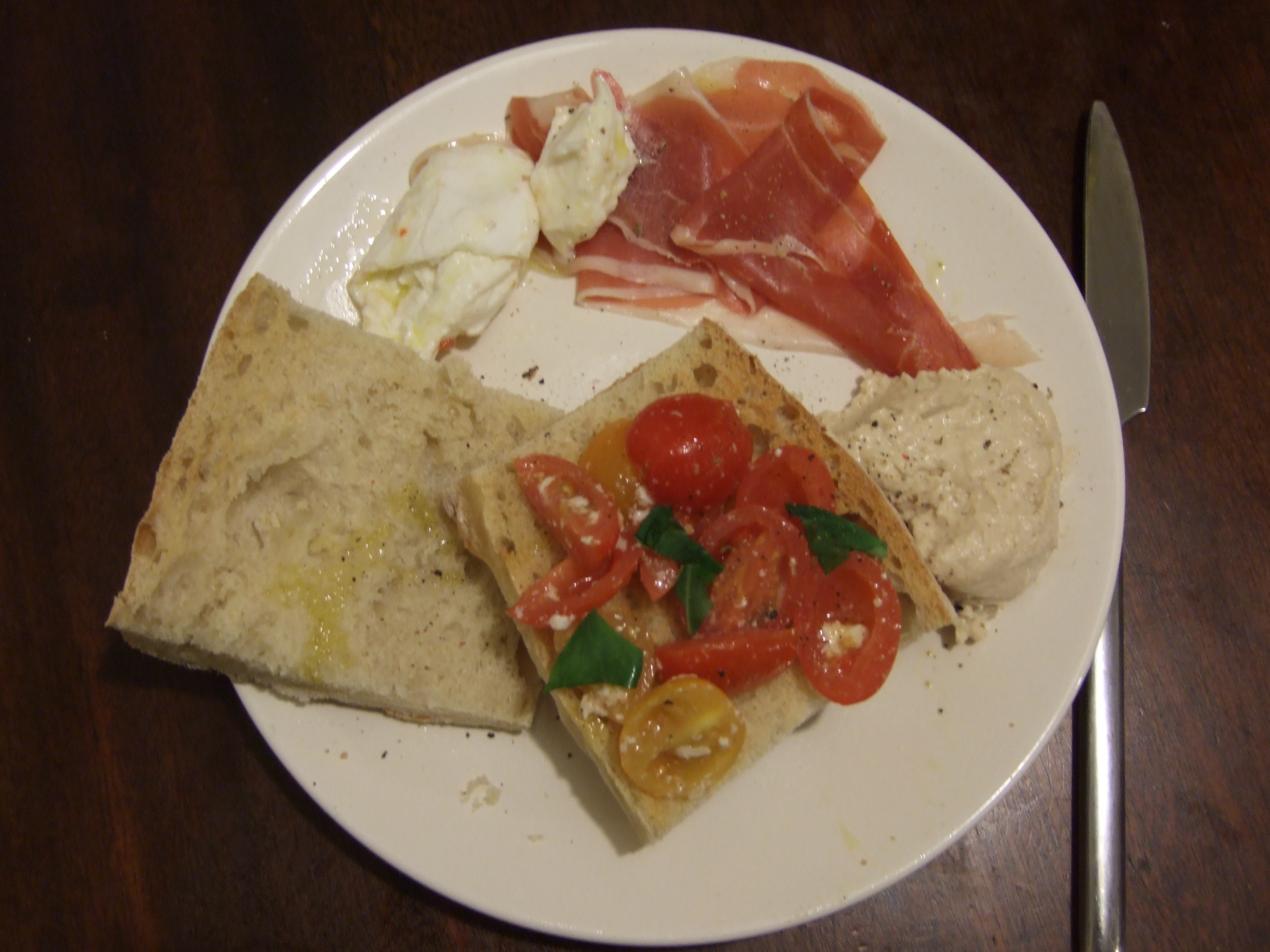 So this snack used the leftover tomatoes, Parma ham and buffalo mozarella from the night before, and I put a few torn basil leaves on the tomatoes. The hummus on the plate is from Tesco.  We always have a tub of this in our fridge – it's the caramelised onion hummus.  If you haven't tasted this yet – go.  Go now.  Get to your nearest Tesco and buy this stuff.  It's incredible.  I made my own hummus last weekend and really – I shouldn't have bothered.  It's never going to be as good as the caramelised onion hummus!!
A bit of toasted ciabatta drizzled in oil – a really quick late night snack.  Quick providing that you had already made the tomato salad.  But it only takes about twenty minutes anyway so it's still quick.
MP3
While I was getting the snack together, I was listening to one of my favourite albums from last year – Stainless Style by Neon Neon.  The band are producer Boom Bip working with Gruff Rhys from the Super Furry Animals.  It's a brilliant concept album based on the life of John DeLorean who made the Back to the Future car.  Seriously!  It's brilliant.  Buy it.
Neon Neon - Trick for Treat (Stainless Style)
Categories: Lunch Tags: Quite a large snack actually