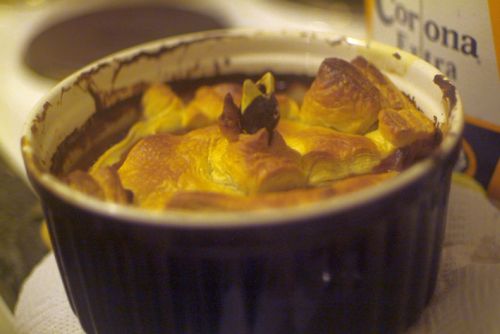 You must think I'm awfully competitive.  But, as I have pleaded before, I am honestly not.  Yet, I found myself involved in another competitive cook-off on Saturday night in my very own home.  Thou dost prostest too much, yee pie lover, etc.
And so it was that Lucy and Rayne from Lola-Lu's Kitchen, Darragh from Tumbling Down The Heap and myself went head to head in the First Annual Pie-Off 2009.  There were tears, burnt pastry, Tia Maria & Milk, spilt drinks and dodgy-tasting venisonin my initial pie sauce before Darragh very uncompetitively came  to my rescue by throwing in loads of brown sugar and balsamic vinegar) all in the course of one evening when 10 of our mutual and new friends gathered in my gaffe to taste three pies and declare an overall winner.
My pie, entitled "Is That a Gamekeeper's Pie or Are You Just Happy To See Me?" came in third place: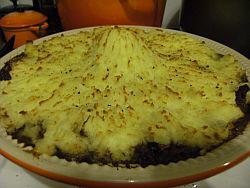 Darragh's pie, entitled "Pie By Night" came in second place: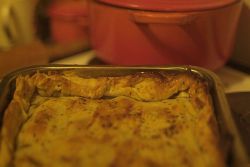 Lucy and Rayne's pie, entitled "Grandma Speed's On The Game Pie" came in first place: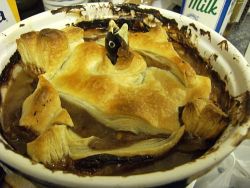 It has to be said that they were all spectacular pies, but there was just something about Lucy and Rayne's pie that transcended our taste-bud bliss to another piey level.  It was absolutely amazing.
Click Read More to find the recipes for these three pies.  It's Pie Season, y'all.
3rd Place Pie: I Can Has Cook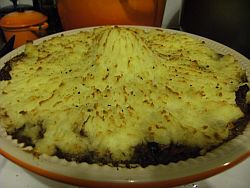 Is That a Gamekeeper's Pie or Are You Just Happy To See Me?
Ingredients

What you need for a big aul' Gamekeeper's Pie (taken from my Ma's  Good Housekeeping Mag)

2 tbsp sunflower oil
800g venison mince
1 onion, finely chopped
1 large carrot, grated
1 garlic clove, crushed
1 1/2 tbsp of plain flour
150 ml full fat milk
2 tbsp port
150 ml red wine
350 ml hot beef or game stock
1 tbsp Worcestershire Sauce
2 tsp dried juniper berries, roughly crushed
1 bay leaf
1.3kg of desiree or similar waxy potatoes, peeled and cut into chunks
About 2 tbsp of brown sugar – such as light muscovado or whatever you have in your cupboards
A few swigs of balsamic vinegar
Salt n peppa
Method
Heat 1 tbsp oill in a llarge pan and brown the mince over a medium heat in batches.  Using a slotted spoon, take mince out of the pan and set aside.
Using the same pan, turn the heat down low, and add the remaining oil and gently fry the onion, celery and carrot for 15 minutes until softed but not coloured.  Add the garlic and fry for 1 minute.  Sprinkle over tthe flour and cook while stirring for 1 minute.
Turn the heat to medium and add the millk, 2 tbsp at a time, stirring until it is absorbed.  Stir in the port and wine and simmer until thickened.  Add the stock, Worcestershire sauce, juniper berries, thyme, bay leaf, brown sugar and balsamic vinegar.  Bring to the boil, return the mince and cover everything.  Simmer for 45 minutes, giving it a stir every once in a while.
Now you can get your spuds ready for the topping.  Make mash as you like it yourself (mine has gallons of cream and oodles of butter).  Set aside and cover to keep warmish.
Once mince is ready, plop it into a big pie dish.  Cover mince sauce with potato topping, with whatever swirly designs you feel like.  My volcanic eruption – or erection as someone said on the night – came about simply because I had some extra spuds left over, and that's what Marco Pierre White does with his Shepherd's Pie on that ad for stock cubes, innit.
I threw some butter on top of the mash to make it go all lovely and crispy.  Then I popped the lot under the grill for around ten minutes, although just keep an eye on it yourself.  You want it to nice and golden and crispy on top.  Yum.
2nd Place Pie: Tumbling Down The Heap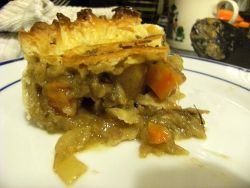 Pie By Night by Darragh

Okay, it was sort of made up on the spot so this might not work out as the best template, but here is my recipe as I remember it!
Ingredients
For the spicey paste
1 tablespoon ras al-hanout (ground)
1 small bunch of coriander stalks (like the amount from a supervalue packet)
2 cloves garlic
1 medium red chilli (chopped finely)
1/2 medium onion (diced)
1 tablespoon salt and pepper
I tablespoon cumin (dry roasted)
1/2 teaspoon cinnamon (ground)
2 tablespoons of olive oil
For the lamb stew
2 pounds of stewing lamb
2 carrots chopped chunky
2 parsnips chopped chunkier
1 Onion chopped coarsely
leaves of the bunch of coriander (chopped finely)
seasoned plain flour for dusting the meat
500ml of liquid beef stock (as in not an oxo cube but still stuff I bought)
Water to top up
A dash of worcestershire sauce or whaterver other secret ingredient takes your fancy
For the pastry:
four sheets of M&S shortcrust pastry studded with roasted cumin seeds
1 egg for glazing
Method
Prepare all the stuff for the spicey paste and pulp it in a morter and pestle until it is about the consistency of thick pesto. Then dust the meat in flower and fry in batches in olive oil over a medium heat until each batch is nicely browned. Once the meat is browned, set it aside in your stew pot and fry the spice paste in the same pan before you deglaze with stock. Fry the spice paste for about 7 minutes or so on a medium heat and add to the meat.
Now, deglaze the pan with some of your beef stock, then add this liquid to the stew pot along with the rest of the stock and the other herb and vegetable ingredients for the lamb stew.If the meat is not just covered by the liquid you can add a wee bit of water. Bring the stew to a simmer then let it cook on a low heat for about 2 and a half hours.
By now the stock should be dark, curried and rich and the meat melty. Line your (buttered) pie-tin with pastry, remove the meat and veg from your stew pot and fill the pie. Reduce the remaining sauce until it is as thick as you like then pour over the meat and veg. Cover with your remaining pastry, fork it in a few places to let off steam, coat it in egg and bake it at about 180 degrees Celsius for 30 minutes or until the crust is golden. Et voila – a posh version of the curried lil pies one can buy at a centra deli counter.

1st Place Pie: Lola-Lu's Kitchen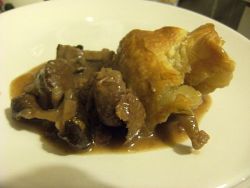 Granny Speed on the Game Pie
High sided pie Dish
Ceramic Pie Blackbird – keeps pastry off filling for extra crispiness and puff – at least that's the idea!
Ingredients
½lb pheasant
2 saddles of rabbit – filleted
½lb venison flank cubed
oil
2 red onions, peeled and sliced
4oz smoked streaky bacon, derinded and chopped
4oz chestnut mushrooms sliced
2 clove3 garlic, peeled and crushed
1oz plain flour
1 bay leaf
1 orange, zest and juice
1 tbsp redcurrant jelly (made by Helen Gee)
½ pint chicken stock
½ pint red wine
12oz puff pastry
Salt and pepper
Method
Heat a tablespoon of the oil and brown the game and venison in batches until well browned. Put aside.
Heat the rest of the oil and cook the onions for five minutes until starting to soften. Add the garlic, bacon and mushrooms and cook for another 2-3 minutes.
Stir in the flour and cook for two minutes. Season well and stir in the bay leaf, orange zest and juice, redcurrant jelly, stock and wine.
Bring to the boil, add the meat and simmer gently for 40-50 minutes until the meat is tender. Cool and then refridgerate overnight.
Heat the oven to 200C
Put the meat mixture in a pie dish. Roll out the pastry to make a lid stick on top of dish. Decorate with the pastry leaves and cut a into your ceramic birds mouth. Glaze with beaten egg.
Bake for 20 minutes and then reduce the heat to 180C
Burn pastry lid
Discard into bin.
Make new lid with remaining pastry
Try again
*Last four steps are entirely optional – aoife mc*
Cook for 30 minutes until the pastry is golden and risen and the filling is nice and ho