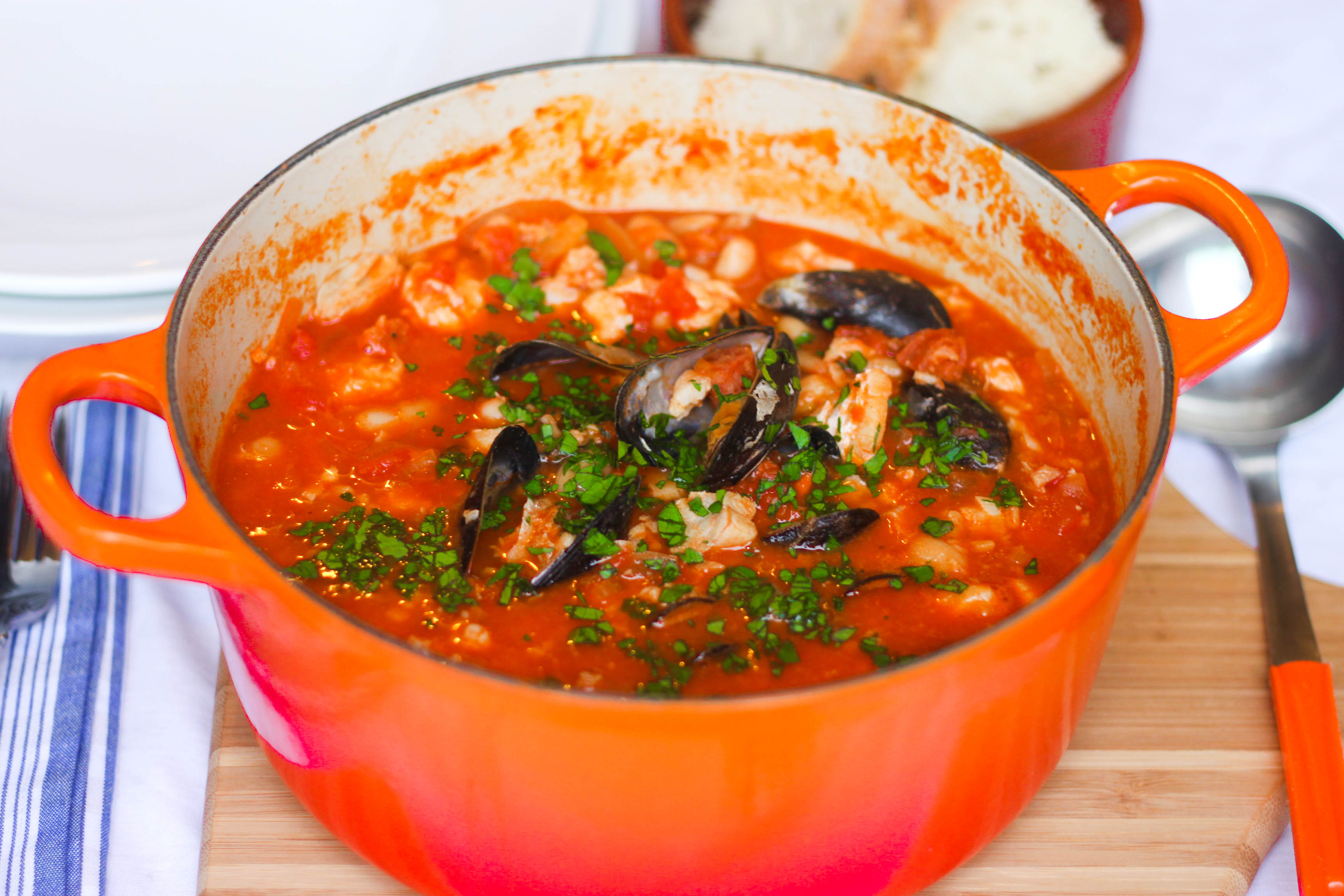 Year-round comfort Fish Stew
Is it just me or does the sun feel "hotter" in Ireland than in genuinely hotter countries?
Today was a *blistering* 21 degrees celsius in Dublin city. Ahem. If you went on holiday to, say, Barcelona, you'd be raging if it was 21 degrees. You'd need a light scarf, for heaven's sake! Yet here, 21 degrees makes one want to set up a paddling pool on one's balcony and get the beers in asap. I think it's because we're so…grateful to feel the sun on our mugs.
As I write, however, our familiar friend Rain has reappeared. That's ok. I'm fine with that. I've lived here enough to accept the weather. I'm (almost) immune to its fickleness.
I think it helps that I've also armed myself with a couple of delicious summery and light comfort dishes, which bridge the gap between summer and autumn. Just like our Irish weather does.
Like this tasty fish stew, inspired by this Fragrant Fish Tagine and this Summer Fish Stew.
So don't worry if the weather changes halfway through the cooking process – this type of dish tastes great whatever the weather.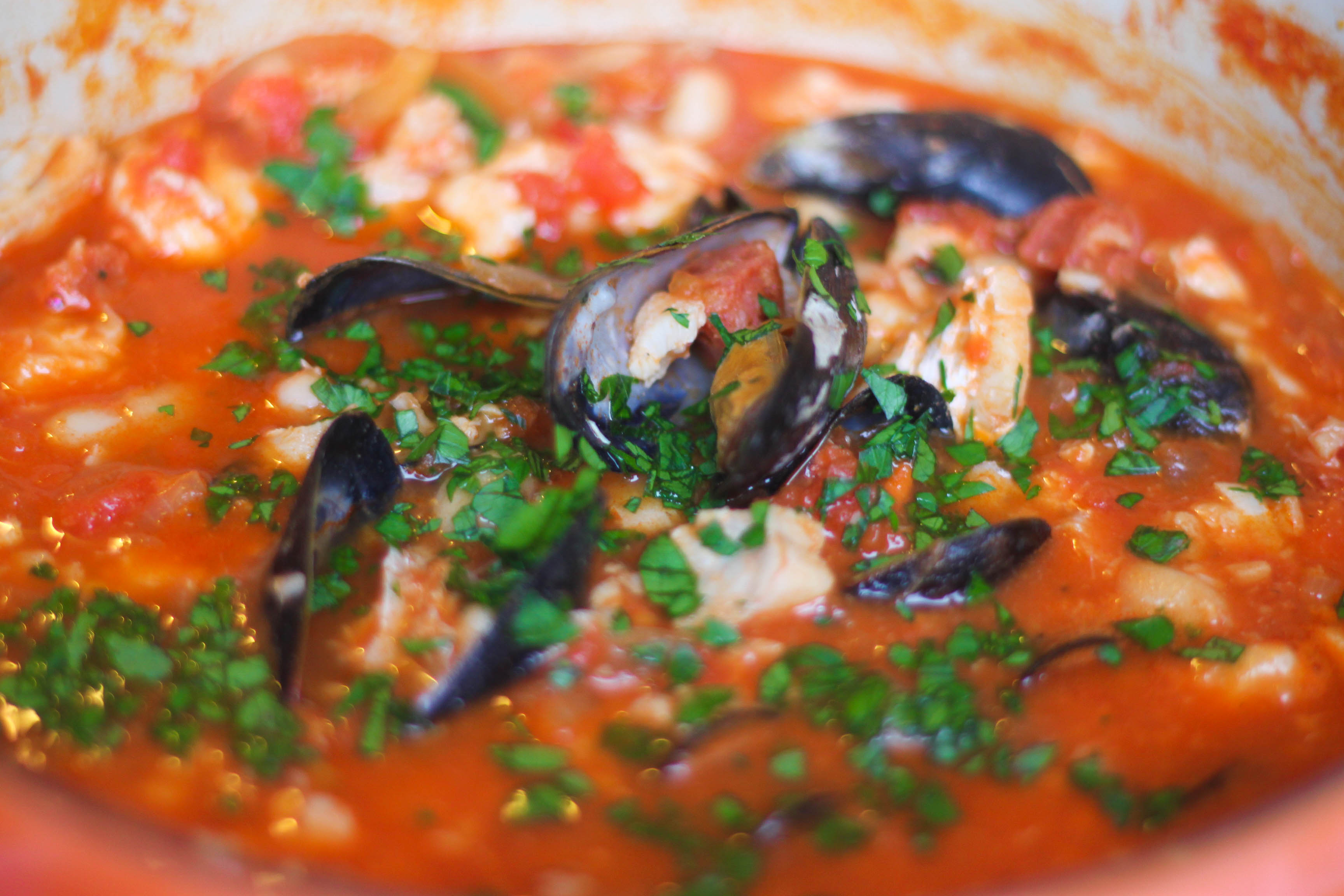 What you need for Summer Comfort Fish Stew for 4
100g chorizo sausage, chopped into small chunks
1 onion, finely sliced
3 cloves, finely diced
1 teaspoon of ground cumin
1 teaspoon of paprika
100ml of dry white wine
1 x tin of chopped tomatoes 
250ml of fish stock (from a cube is fine. You can usually get them in supermarkets but if you can't find it, I'm pretty sure the same amount of vegetable stock would be the best substitute)
1 x 400g of cannellini beans
1/2 lemon, juice and zest
500g of fresh white fish, boned, skinned and chopped into chunks (I got some lovely pollock and haddock from Kish Fish)
300ml of mussels (I got mine fresh from Kish Fish as well)
2 tablespoons of chopped parsley
Crusty bread
Put a large pot over a medium heat, without oil. When hot, add the chopped chorizo. Cook until it starts to release its lovely oil, about 3 to 5 minutes. Stir it from time to time so the sausage browns evenly.
Remove the chorizo from the pot and set aside on some kitchen towel. This will drain the oil from the sausage so that you don't end up with a greasy stew.
Cook the onion and garlic for the 3 minutes in the leftover chorizo oil in the pot. Add the cumin and paprika and cook for a further minute, stirring constantly. Now add the wine and simmer until almost dissolved. This will take about 10 minutes.
Now add the tin of tomatoes and the fish stock. Add the cannellini beans and return the cooked chorizo to the pot. Simmer over a medium to high heat for 15 minutes, until the sauce has reduced and has a lovely glossy sheen.
Meanwhile, have a look at your mussels. If they're lovely and fresh, they'll have barnacles and beards which you'll need to remove with a knife and a scrubber. Examine them closely and if they're in any way open, bin them. They're not fit to eat.
Once the sauce has had 15 minutes simmering, add the lemon juice and zest. Now add the white fish and mix well. Cover and simmer for 3 minutes.
Now add the mussels. Cover and simmer for a further 2 minutes. When you remove the lid, the mussels should have opened. If any remain unopened, bin them.
Serve with a sprinkling of parsley and some good crusty bread to mop up the sauce.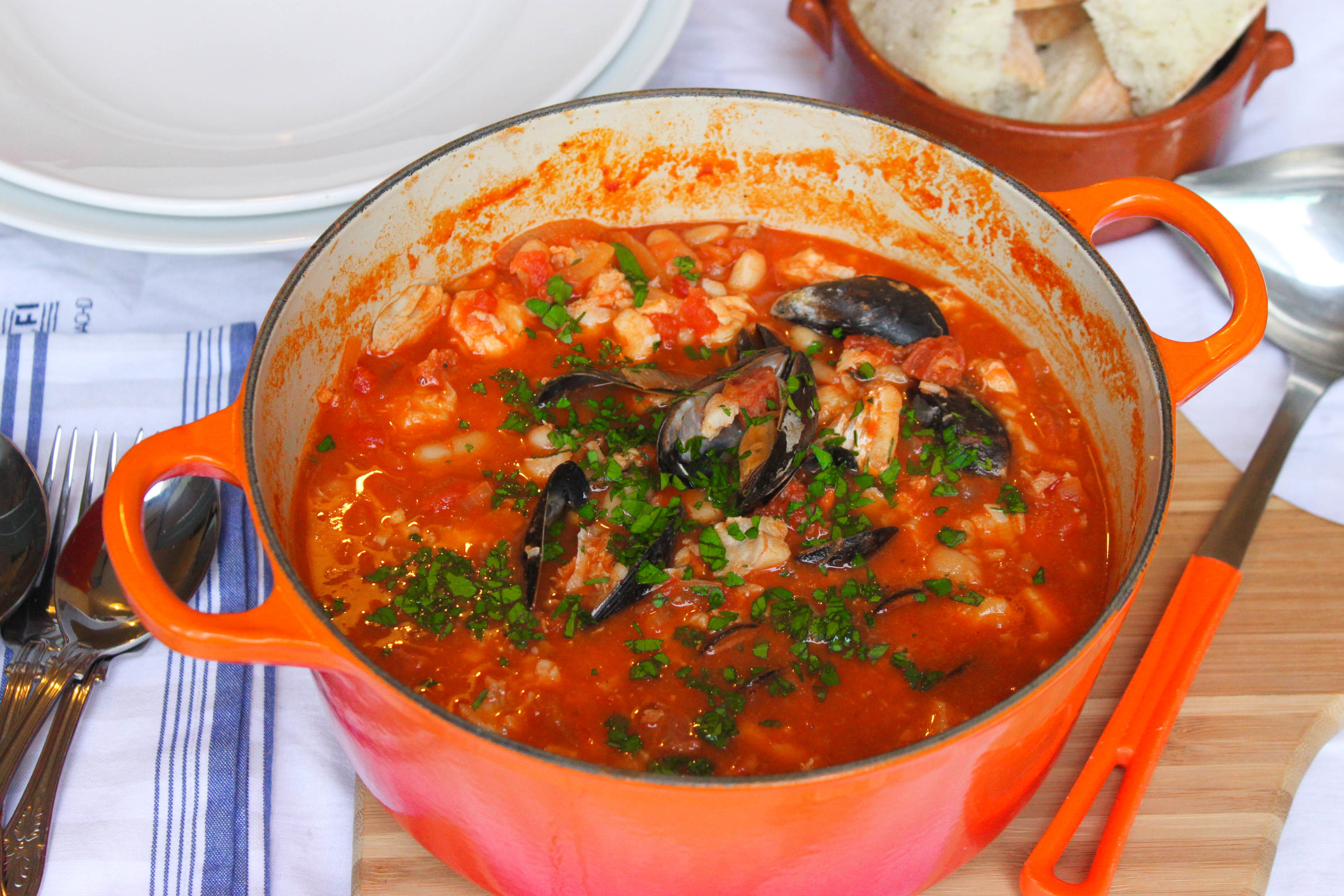 TUNE
My favourite song of the summer, nay, year so far, this is from LA based Pat Grossi who is an ex-choir boy turned singer-songwriter who plays the harp under the moniker Active Child. Wait 'til you hear this tune. Incredamaze.
Hanging On – Active Child (via The Hype Machine) 
Categories: Dinner