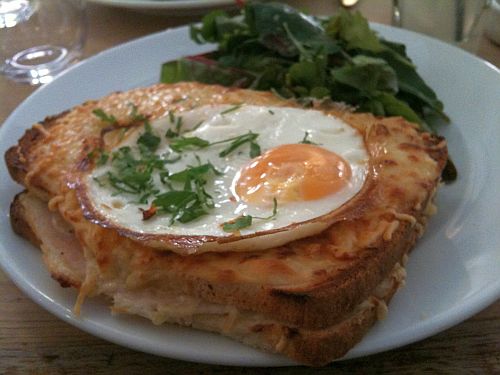 The Bar With No Name, The Secret Bar, No Name Bar or 3 Bar – whatever you want to call this word of mouth cocktail bar on Fade Street, it has indeed lost any of the secrecy it cleverly marketed itself on last year.  Located above L'Gueuleton on Fade Street, having no name outside and looking like the entrance into someone's house, word of its exclusiveness spread throughout town while people flocked to drink in a place that was 'secret'.  Clever stuff.
So, now we all know it's there and serves exceedingly good cocktails, we're totally over it.  I mean, what's the fun in going to a place that everyone now knows is cool?  That would be LAME.
We all know when things/places/bands become popular, it's time to jump ship and find a new obscure hangout.  Like an old man's pub somewhere near a city centre Dart station, where the deceptively crumpled exterior gives way to delicious Guinness and a bartender who loves Krautrock.  Oh, if only a place like that existed…
In saying all this, a girl's gotta eat.  And so against my better judgement, I got off my hipster high horse and decided to give Brunch at No Name a go last Saturday afternoon.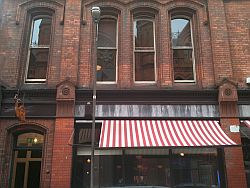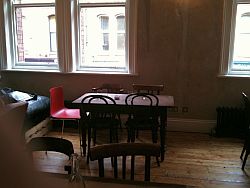 The brunch menu, with around 10 options, includes pretty much everything you need for a straightforward weekend brunch – it has the old faithfuls of Eggs Benedict and Florentine, while offering some more unusual alternatives such as The Black Pudding Croquettes.  I believe there were two vegetarian options – a Mushroom on Toast and the Eggs Florentine.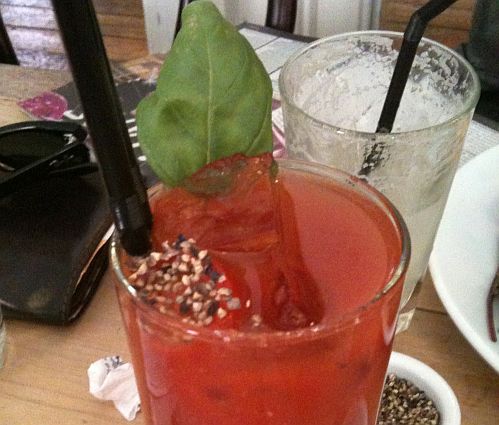 Being a great place for cocktails, I had to give The Bloody Mary (€8.50) a go.  It didn't disappoint in hangover-busting spiciness, although I was disappointed by the absence of a celery stick.  Boo.  This, however, did nothing to stop me from ordering a second glass of the stuff.  Zang.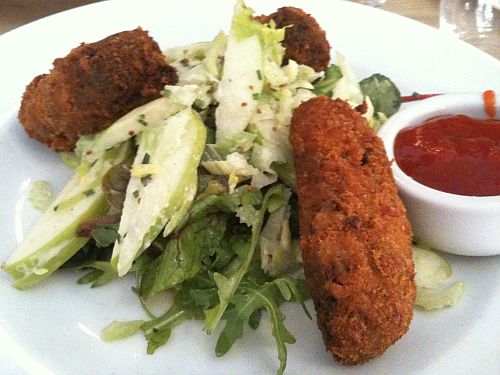 I decided to go for The Black Pudding Croquettes (€9.50) served with a crunchy apple salad with a Mustard Vinaigrette, reported on the menu to be served with Tomato Relish.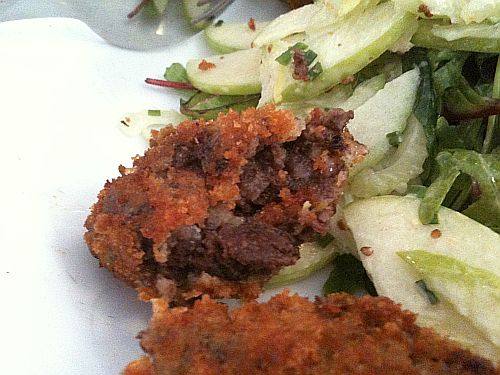 Now, although the plate I was served had tomato ketchup – not even homemade but Heinz Ketchup for goodness' sake - on the side and NOT 'tomato relish', it didn't take away from the guilty-pleasure deliciousness of The Black Pudding Croquettes.  They were lovely and crispy, and so well paired with the crunchy apples.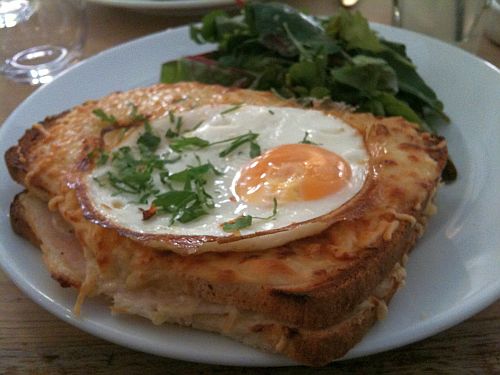 Niall went for the overwhelmingly lush Croque Madame (€9.50) – basically a toasted eggy ham and cheese sandwich with a fried egg on top.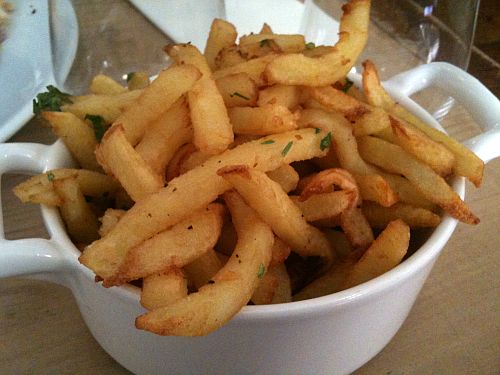 We got some chips (€4.00) on the side, just to be bold.  What the hell, it was a Saturday.
Overall, it was a good value brunch, with the total bill coming to €45.00 – this included two Bloody Marys at €17.00 for 2, a coffee and a lemonade – with laid-back service and a perfect atmosphere for reading the papers on a free afternoon.  Best of all, the food was yum.  Heinz Ketchup incident notwithstanding, I'll definitely be visiting the Secret/No Name/3 Bar for brunch again.  Even if it isn't cool anymore.
Brunch is served on Saturdays and Sundays between 1 and 4pm at 3 Bar on 3 Fade Street, Dublin 2.  Check it out.
TUNE
One thing I will say – they were playing THE WEIRDEST music over brunch.  It was clearly some sub-par World Music compilation bought in a charity shop, featuring Musaqy tabla-drenched bangra followed by generic Cafe Del Mar ambient drivel.  Bah!
If they insist on playing World Music (what does that term even mean anyway?!) someone should turn them on to Daler Mehndi in the Secret Bar so they can modernise, nay, revolutionise, their background brunch music.  Observe below.
Categories: Blog Trips Tags: 3 Bar, No Name Bar, Secret Bar