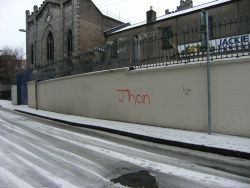 It's amazing how snow makes everything look so pretty.  What was once just a dirty old gutter and a wall with the worst graffiti ever are transformed into glistening icicle fuelled wonderments of beauty.
Of course, snow makes the commute home less appealing, if at all possible.  We're having at least one friend stay on our couch for the night, for they are stranded in the city centre with no where to go.  Or at least nowhere that public transport can take them.
Good thing I made a massive pot of Chunky Minestrone Soup last night.  It was enjoyed by three unexpected guests last night, as well as by myself and Niall for our supper.  It has stretched to my lunch today, and will definitely be feeding our guests this evening.   So that's about eight bowls of soup out of this recipe.
Here is the BBC Good Food recipe that I used.  A few cook's notes:
Don't be tempted to leave out the cabbage.  It absolutely makes this soup, with its crunchy healthiness like an instant vitamin boost.
Instead of using spaghetti for the pasta, I used three cheese filled Tortellini and it was absolutely rocking.
Don't forget to serve with lots of parmesan.  There isn't really a need for bread, as the pasta makes the soup a meal in itself, but a slice of crusty bread wouldn't go completely amiss.
Get this one made – it's a good one.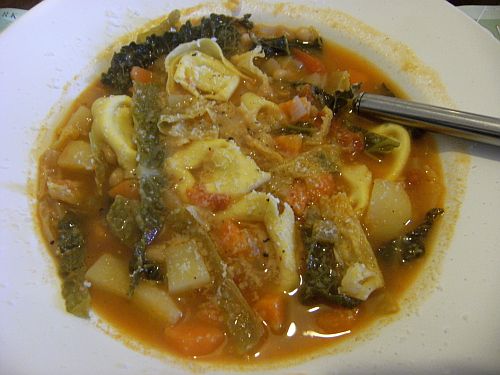 Categories: Lunch Tags: minestrone soup