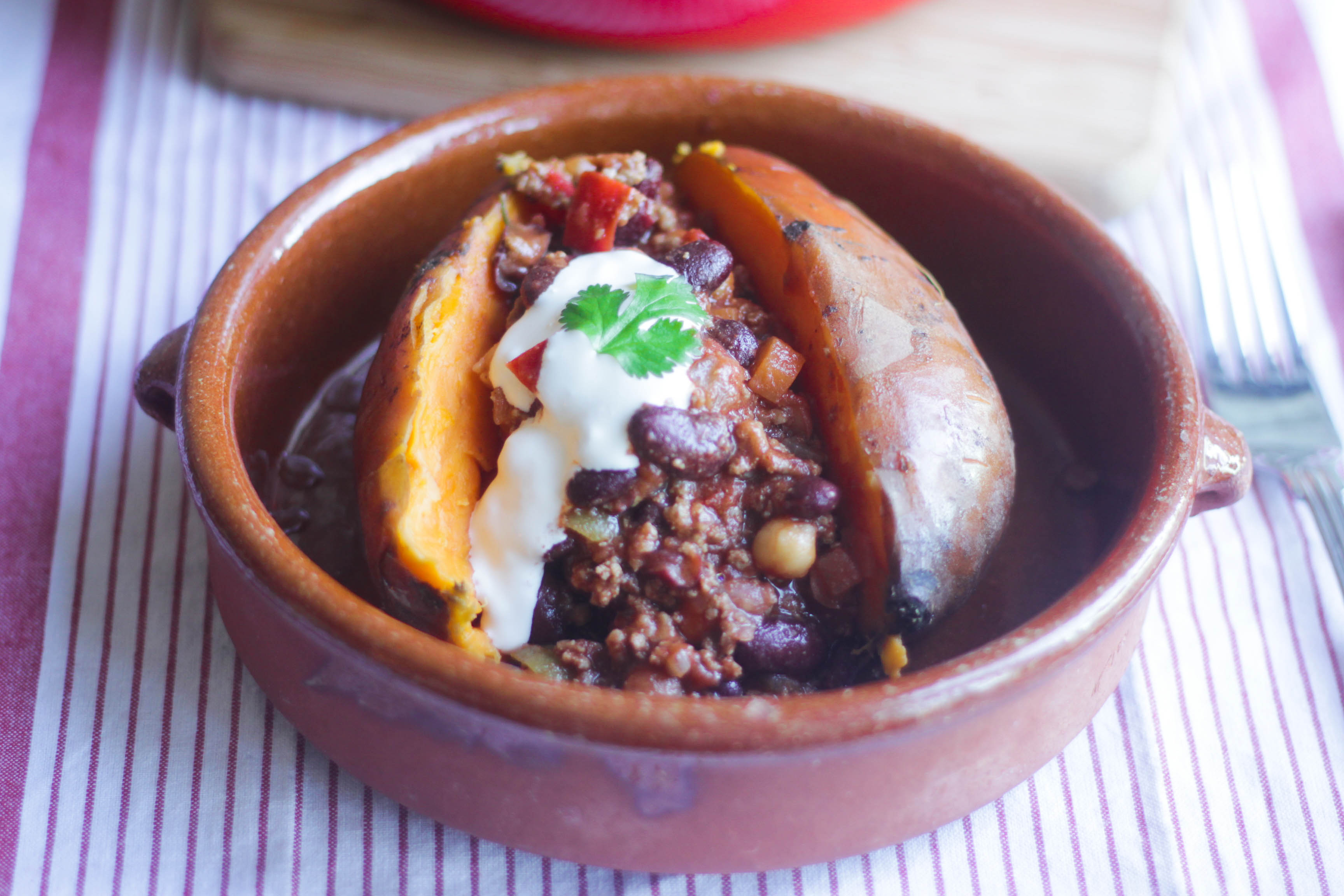 Regardless of whether you like to refer to it as chili or chilli, cupping your hands around a big bowl of spicy tomato-based bean-rich stew has got to one of the most comforting things to do. EVER.
I endeavour to spend a substantial amount of time perfecting my chilli recipe. I've made lots of good variations on the theme but I really want to bring it to another level as we head belly-first into 2012.
I saw this lovely looking vegetarian chilli recipe on Sprouted Kitchen which was served up in a baked sweet potato. Turns out sweet potato and chilli are a match made in kitchen heaven, and I think I'll find it hard to eat chilli without popping a few sweet potatoes in the oven to enjoy alongside it.
Below I've included a chilli recipe which is what I use as a basis when I'm experimenting with this particular comfort dish. It's by no means authentic or traditional, so I'm sorry if some of the ingredients offend any chilli aficionados out there! I follow this recipe loosely but always end up tweaking the amount of chilli or adding a bit more Marmite to max out on savouriness. So feel free to do the same.
There are so many ways to make chilli but I think the really important thing to do is to get really good quality and very lean beef (if you're not going vegetarian, obviously). If you get cheaper and fattier meat, you'll end up with a really oily chilli and it's just very unpleasant. So spend a little extra and make sure you get the leanest beef mince you can.
One of the greatest things about chilli is that it often tastes even better the next day. Which means you can make a huge big vat and pop it in the fridge for later. Or even throw it in your freezer, to be enjoyed when you really need that bowl of comfort with minimal effort.
Sweet potatoes take a good long while to cook (at least 1 hour) so be sure to put them in the oven first. Then you can make your chilli and let it cool or simmer away until your sweet potatoes are ready. If you're making it for friends, why not get the chilli ready earlier in the day and then just bake the sweet potatoes in time for when your friends are arriving? That would be clever!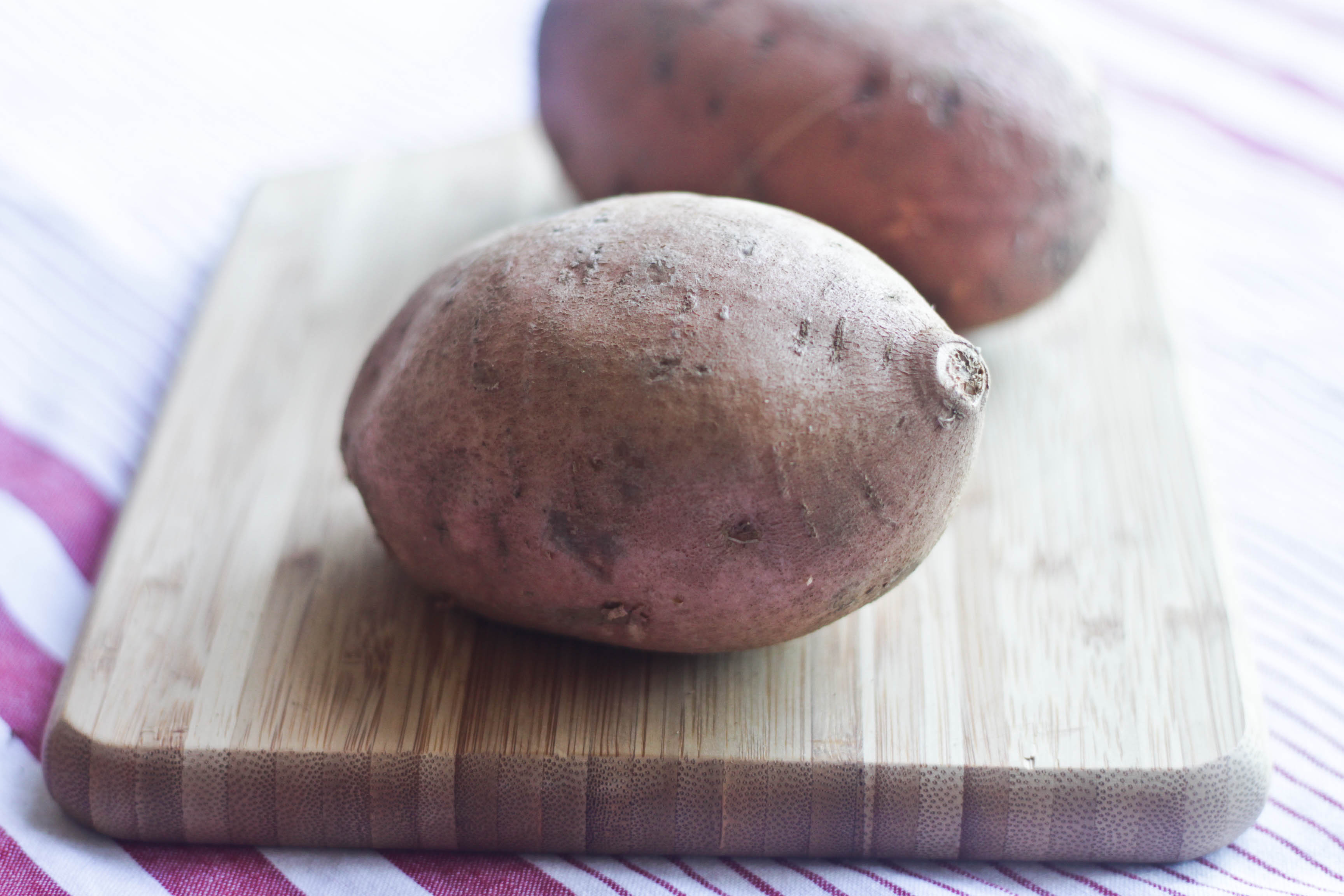 What you need for a Basic Chilli (makes enough for 6)
Sweet Potatoes (one for everyone in the audience – try to get smallish ones so that your guests' plates aren't overloaded)
Olive Oil
1 large onion
2 garlic cloves
2 large carrots 
1 red pepper 
1 heaped tablespoon of hot chilli powder (you can start with less chilli if you like as you can always add more chilli in at the end)
1 teaspoon of ground cumin
500g of good quality lean beef mince
1 beef stock cube
1 heaped tablespoon of Marmite
400g chopped tomatoes
1 teaspoon of brown sugar
Salt 
Pepper
1 x 400g kidney beans
1x 400g chickpeas 
Tabasco sauce (or any other hot sauce)
1 tub of soured cream to serve
Fresh coriander to serve
Start by heating your oven to 200C/180C fan/Gas Mark 6. Wash your sweet potatoes and pierce them all over with a knife. Then wrap them in tin foil and put them in a roasting dish. Put them into the hot oven and roast for 1 hour to 1 1/2 hour, or until you can easily pierce them with a knife.
While they're cooking, you can get on with your chilli. Start by heating a good drizzle of olive oil in a large and deep pot over a medium. Meanwhile, finely dice the onions, garlic and carrots, and chop the red pepper into chunks or strips. Fry all three, quite gently, in the oil for 10 minutes, or until starting to soften. Don't let them brown.
Now add the chilli powder and cumin, mixing well, and cook for another 2 minutes. Mix the beef mince into the pot and, using a wooden spoon, break up the mince and cook it until it is well browned. This will take another 5 minutes.
Now pour in the beef stock and mix in the Marmite. Add the chopped tomatoes and sugar and bring it back to the boil. Taste and add salt and pepper. Now bring it down to a simmer and let it gently bubble away for at least 20 minutes, giving it a stir every once in a while.
The chilli is ready to eat now but it will happily bubble away on a low heat until the sweet potatoes are ready so don't worry about that.
Before you're ready to serve, drain the kidney beans and chickpeas and give them a good rinse. Now you can add them to chilli and bring everything back up a simmer. Keep it on the simmer until the beans have warmed through. (It's good not to add them in too early as they beans can go a bit mushy and gross if left in too long.)
This is kind of a cheat's tip but, just as you're getting ready to serve, add a few dollops of hot sauce to the chilli, mixing well. Taste it and add a bit more if you think you can handle it. This is a really good last minute way to add an extra kick to the chilli.
Serve on a sliced baked sweet potato with a dollop of soured cream and a sprinkle of coriander on top.
Bliss!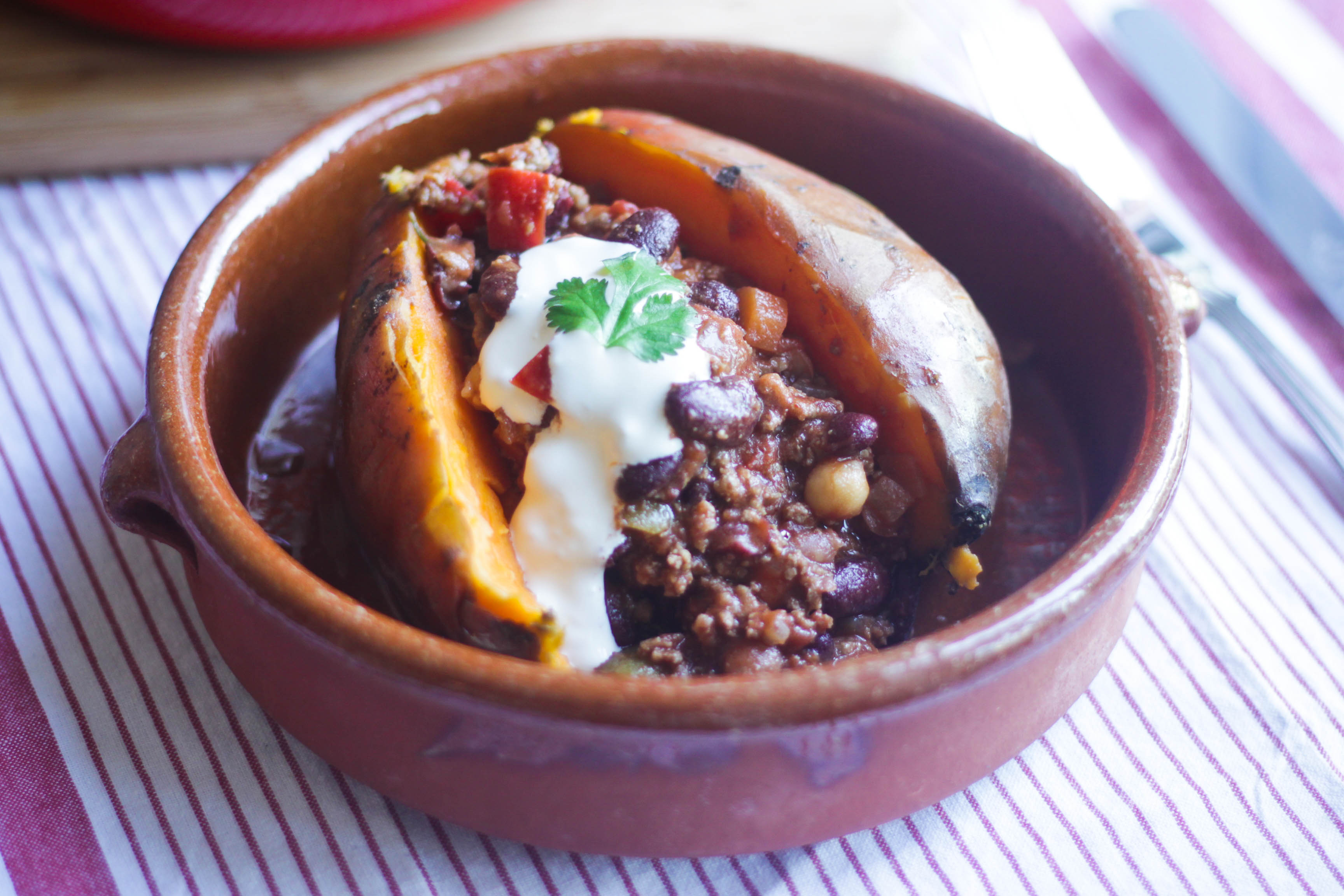 KITCHEN TUNE 
I'm loving this track Lily from Cork band Hush War Cry. Definitely ones to watch.