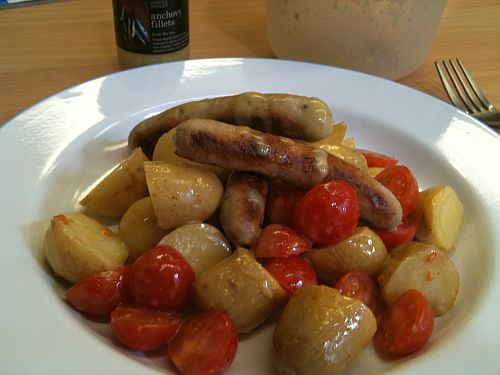 Tasty lunch to bring in to work – WIN.
Not only am I big fan of Hugh Fearnley-Whittingstall's River Cottage TV programme,  I also enjoy his recipes in The Guardian on Saturday.  Twas he who introduced me to the wonderful world of Arancini, after all.
I picked up his River Cottage Every Day cookbook last week in Eason's and was eager to try out something short and sweet (well, savoury actually).  This little treat below for one of the Lunch Box recipes caught my eye and I had a particularly lovely lunch in my staff room at work yesterday.
I took a few sneaky snaps on my iPhone of my lunch as it came out of my tupperware – luckily, my colleagues are well aware of this food blog and my propensity to photograph my food.
What you need for Hugh's Tomato, Chipolata and New Potato Lunch(box) with Mustardy Vinaigrette for 1
About 4 or 5 cold boiled new potatoes, cut into chunks if large, peeled if you like

A handful of sweet, reipe, cherry tomatoes, halved
2-3 cld cooked herby chipolata sausages
For the dressing
1 teaspoon English or Dijon mustard
1 1/2 teaspoons cider vinegar or white wine vinegar
2 tablespoons olive oil
A small pinch of sugar
Salt n Peppa
On Wednesday night, I boiled my new potatoes as per pack instructions.  Meanwhile, I fried my lovely Chipolatas, which I bought in M&S.  So yum.  I left them both to cool and put them in the fridge over night.
I made my dressing in a little jam jar before heading off to bed for the night.
Bleary-eyed but motivated by the prospect of a tasty lunch, I awoke five minutes earlier than usual the next morning so I could pop my potatoes and chipolatas into some tupperware, slice up my cherry tomatoes and add them in, too.
Once lunch time rolled around, I poured the dressing over my salad in my tupperware and made sure everything was well covered.  I emptied the contents out onto a plate – as I hate eating out of plastic or using plastic cutlery for an as yet unexplained reason – and munched heartily on my delicious salad.
Hugh has a few other cute little Lunch Box ideas which I'll happily be trying out, as well as all of the other beautiful mains and fish dishes in the extensive book.  I've also got my eyes on some healthy Breakfast Flapjacks, which could well be my next project from this book.  Stay tuned!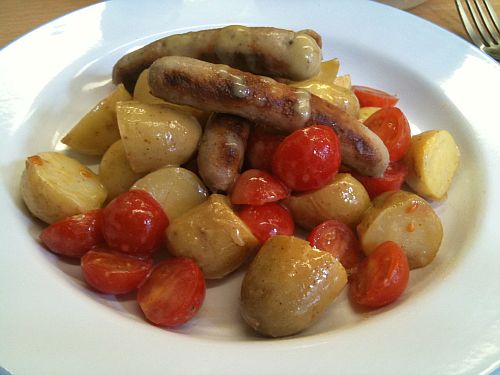 TUNE
This seems to be a fitting song for Hugh!
Every Day I Write The Book by Elvis Costello on The Hype Machine
Categories: Lunch Tags: Hugh Fearnley-Whittingstall