But you know what, fish for breakfast/brunch is decidedly delicious.
I whipped up this Kedgeree by Rick Stein which I found over on, yes, that's right the BBC Good Food website.  I've decided to ban myself from using the site for a whole week, as I think I should try broadening my recipe source horizons.  And also because @ivanvarian on twitter accused me of working on commission, hah!  I wish.  I'd eat my way through the whole site, I tells ya.
Kedgeree has such an interesting history which (for me anyway as I am strange) enhances the flavour.  It's a dish that apparently originated in Scotland, but emigrated to India via the soldiers of The Great Brrritish Empire, and was embraced by the Indians themselves.   It then made the journey back home to the UK with the soldiers, and became a popular brunch option.
It's an unexpectedly light meal, but also has enough substance to sooth a sore head on a Sunday.  Perfect.  I followed the Rick Stein recipe on BBC Good Food and it worked out perfectly.
I made it for two so I halved the ingredients.
I didn't halve the 1/4 teaspoon amount of turmeric in the original recipe, and even then it wasn't really enough.  The rice didn't take on much of a colour, which was the only thing I was disappointed by.
The method Rick Stein outlined for cooking the rice was fantastic, leaving me with deliciously fluffy and moist rice.  I'll definitely be using this the next time I cook rice, with or without the rest of the Kedgeree.
Yum, yum, in my tum.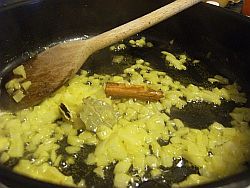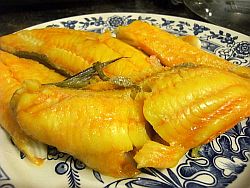 Ooh, look at that lovely smoked haddock.  Beautiful.