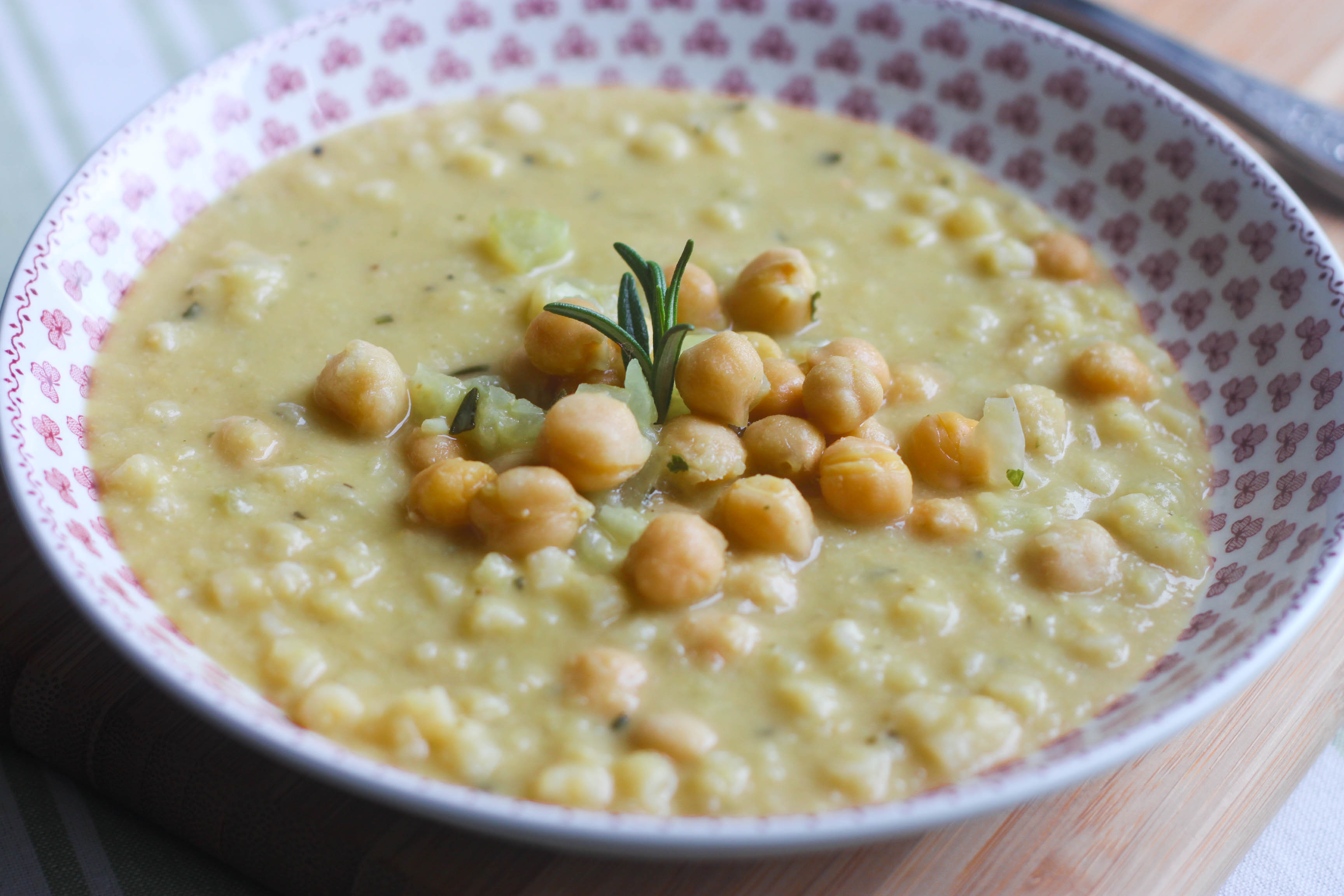 My good friend and past flatmate Ben has always been a great sharer when it comes to recipes and foodie passion. After posting my minestrone recipe using the teeny tiny Ditalini Rigati, Ben emailed me a Jamie Oliver recipe for Pasta e Ceci, translated as Pasta with Chickpeas.
It turned out to be the most curiously scrumptious and thick soup. A chickpea-based dish which uses very simple ingredients, it somehow turns into a broth with intense depth. It also feels uproariously healthy to chow down on, yet comforting because of the pasta that acts as the other main ingredient.
It's a real winner, and one to definitely add to your winter repertoire.
My version came out rather thick, although I did add some extra hot water towards the end. It's up to you as to how soupy or brothy you'd like the dish, although it is supposed to be a thick dish. A pasta dish as opposed to a soup.
When I make it again – which I will most certainly be doing on one of these cold evenings soon – I think I might add a bit more water to thin it just a little bit more, just to see if what it's like with more of a traditional soup texture.
I changed the method slightly by cooking the pasta separately from the rest of the soup, as I thought that could make the soup a little too starchy.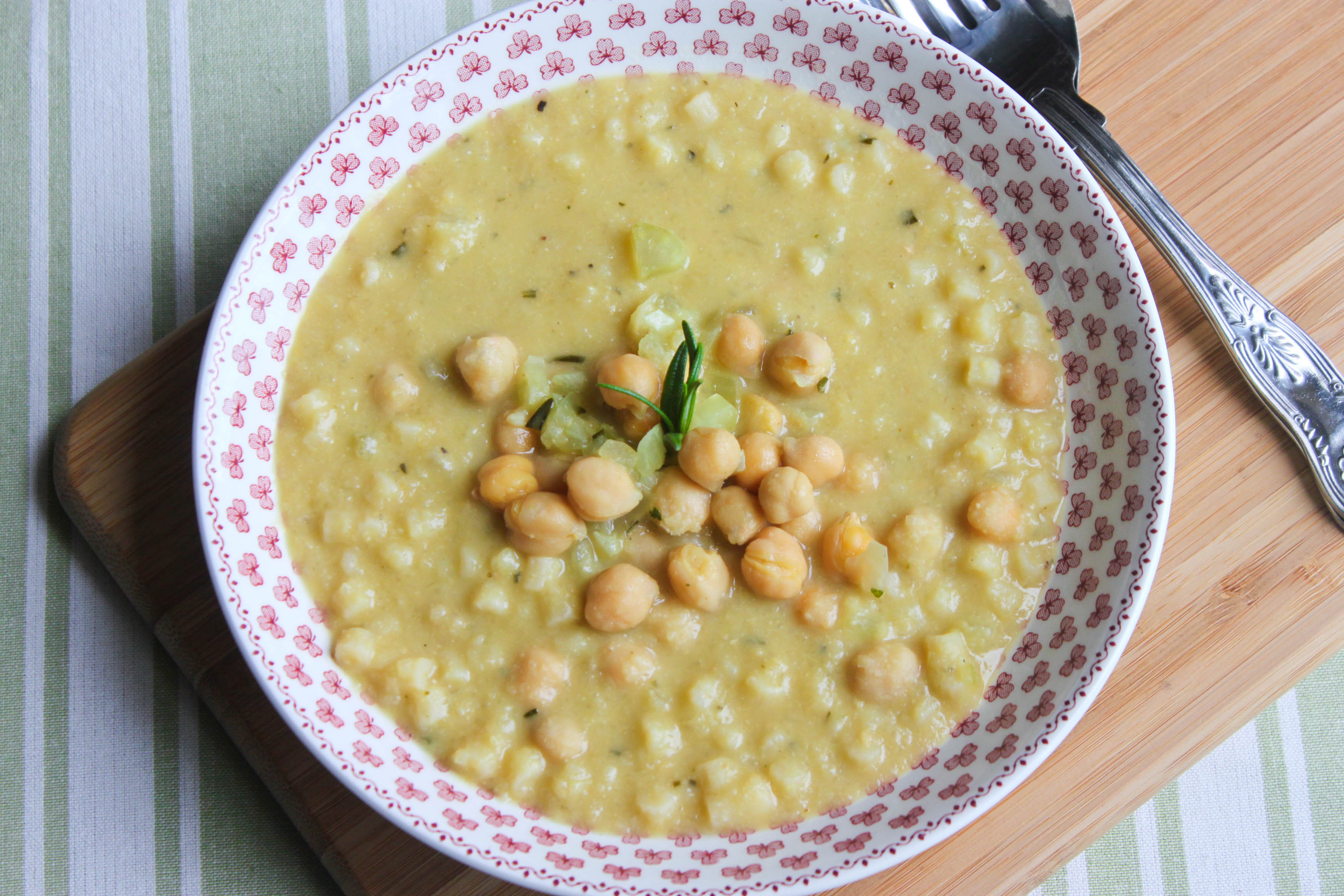 What you need for Jamie's Pasta e Ceci (from Jamie's Italy)
Olive Oil
1 small onion
1 stick of celery 
1 clove of garlic 
1 sprig of fresh rosemary
2 x 400g tins of chickpeas
500ml of good quality chicken stock
100g of ditalini or other small soup pasta
Salt and Pepper
A small handful of fresh basil or parsley, leaves picked and torn (optional)
Heat some olive oil over a low to medium heat in a large deep saucepan, good for soup. Finely chop the onion, celery and garlic. Pick the leaves from the rosemary sprig and finely chop them too. Now put everything in the saucepan with the warm oil and cook gently, covered with the pot's lid, for about 15 or 20 minutes. You want to vegetables to be soft but not coloured. Give them a stir from time to time during the cooking process, to make sure they're coming along nicely.
Meanwhile, drain you chickpeas and rinse them in cold water. When the vegetables have had 20 minutes, you can add them to the pot. Now cover with the (hot) 500ml of chicken stock. Cook gently for half an hour, uncovered.
Now, using a slotted spoon, remove half of the chickpeas and vegetables and set aside. Using a hand-held blender, whiz up the other half of the soup in the pot. Add the reserved whole chickpeas and vegetables to the pot. Taste and add seasoning. Keep it over the low heat.
Meanwhile, cook your small pasta according to its packet's instructions, in a saucepan of boiling water. It will probably take between 8 and 12 minutes.
Once cooked and drained, add the pasta to the soup. Stir everything well. If you think it's a little thick now, I'd add some more hot water until it's at a consistency that you're happy with. Check once again for seasoning and add some more salt and pepper if needed.
Serve it up with a bit of torn fresh basil or parsley, or as I did with a simple sprig of rosemary.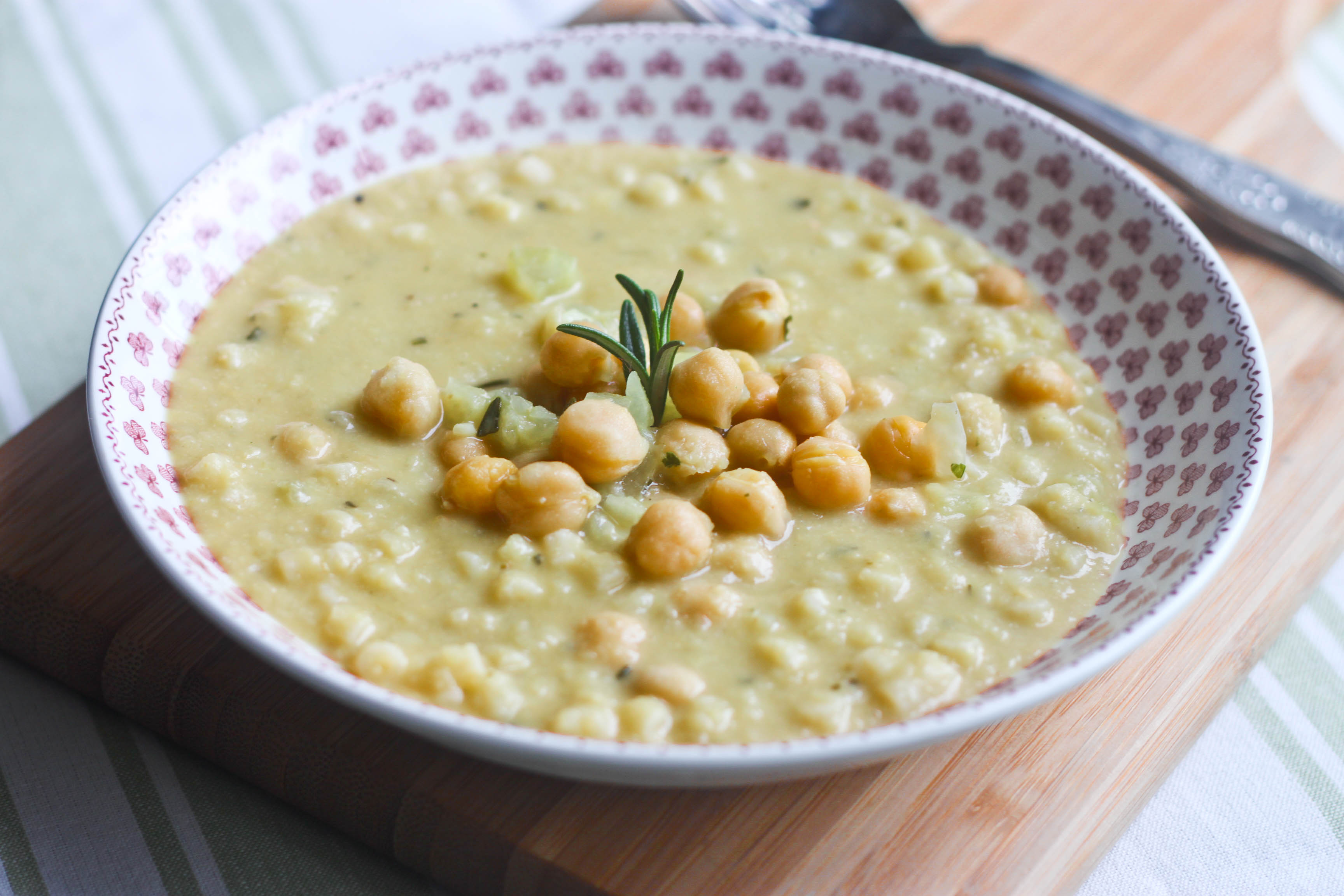 KITCHEN TUNE
Ben is in a band with his partner and my wonderful friend Anna called Herons! and here is their song Neighbourhoods, which just so happens to be my favourite song from their album So Long!
Categories: Dinner, Lunch Tags: Pasta e Ceci