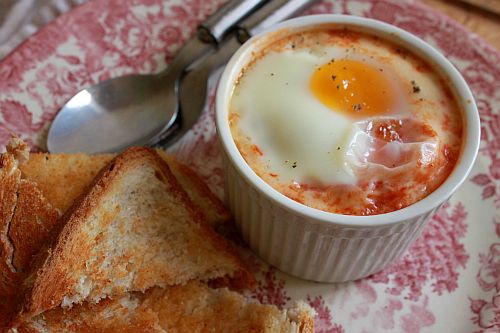 Eggs.  I love them.  Tomato sauce.  Basil. Favourite things.  Together.  In one little ramekin.  Zing!  Brunch delight.
This was very simple to make and no fuss at all.  I was inspired by this recipe but tweaked it a good bit to beef it up.
What you need for Baked Eggs for 2 lucky people
2 free-range eggs
1 x 400g tin of chopped tomatoes
2 garlic cloves, finely chopped
4 slices of Parma ham, chopped into small chunks

1 teaspoon balsamic vinegar
1 teaspoon of chilli powder

Small bunch of fresh basil leaves, torn or roughly chopped
Salt and Pepper
Olive Oil
Start off by making your sauce first.  Heat your oil over a medium to high heat and add your garlic for 2-3 minutes until starting to lightly brown.  Add your Parma ham and fry for another minute or two.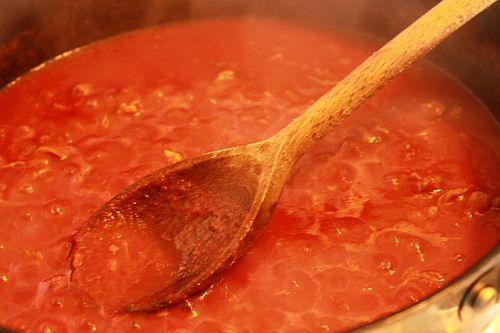 I used Parma ham as it was what I had in the fridge, but Pancetta could work really well here, or even regular old bacon.  If you do substitute the parma ham, I'd start the bacon/pancetta cooking before the garlic.   After all, the Parma doesn't need to be cooked, it's just nice to fry it a bit to release the natural oil to vavavoom the sauce.
Add your chopped tomatoes and season with salt and pepper.
Add the splash of balsamic vinegar – this will sweeten the sauce, a good Jamie Oliver tip – followed by the teaspoon of chilli.
Let the sauce simmer away for 10 or 15 minutes, so the flavours get to know each other and it thickens yummily.
Meanwhile, heat your oven to 180C/160 fan/gas 4.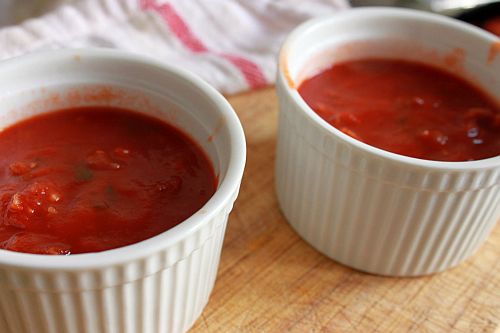 Once your sauce has thickened, add your torn basil leaves to the sauce and give it all a nice stir.  Divide the sauce into two ramekins or individual baking dishes.  Leave enough space to crack an egg on top and pop them into the oven.  Bake for 12-14 minutes, or  until the egg has set.
Now, my eggs were quite well done – not over done but with a set yolk.  I am a big fan of runny eggs so next time I might give the eggs 10 minutes instead.  Mind though, I have a curiously hot oven.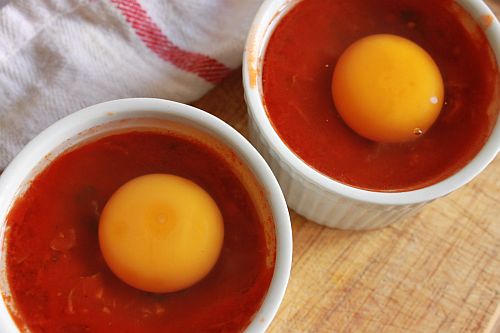 Serve it up – mind the hot ramekins! – with a bit of toast to scoop out all the lovely sauce and eggy goodness.  Total noms.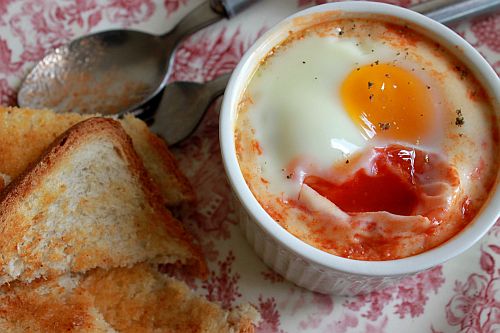 TUNE
Saturday night saw us at The Sugar Club to check out The Middle East, a band from Townsville, Australia.  Check out their song Blood over on The Hype Machine, it's beautiful.
Blood – The Middle East – The Hype Machine
Categories: Breakfast